In terms of job security at the professional level of hockey, there's almost none for head coaches and their assistants. Two Calder Cup championships for Mark French followed by three consecutive first round exits caused a move to the KHL for the former Bears coach after the Washington Capitals decided not to renew his contract. Mike Haviland, coach for the Hershey Bears during the 2013-14 season, wouldn't take that chance.
Haviland moved on to the collegiate ranks in hockey, joining Colorado College as head coach after just one season behind the Bears' bench. He'll look to aid a well-known program in one of the toughest divisions in college hockey, the National Collegiate Hockey Conference (NCHC).
Hershey head coach Mike Haviland has accepted coaching position at Colorado College. Not very often a coach leaves AHL on his own for NCAA.

— Bob Rotruck (@BobRotruck) May 9, 2014
"Mike has decided to move onto the collegiate scene to continue his coaching career," Hershey Bears General Manager Doug Yingst stated in a press release on Friday.  "He can now take additional professional experience back to that stage.  We certainly thank him for his services in Hershey and wish him the very best in Colorado."
Haviland, the 24th coach in Bears history, finished 39-27-5-5 in his lone year with Washington's AHL affiliate, but just missed out on a playoff spot. He previously coached for Norfolk and Rockford in the AHL. Haviland brought accountability to the Bears' locker room along with an extremely likeable and honest relationship to his players.
"I would like to take this time to thank Hershey Entertainment and Resorts and Doug Yingst for the opportunity to coach the Hershey Bears," Haviland said.  "It was a true pleasure to be a part of the most historic franchise in the American Hockey League."
He previously was an assistant coach for the Chicago Blackhawks under the tutelage of head coach Joel Quenneville, who looks to bring the city of Chicago another Stanley Cup during the NHL playoffs this summer. Haviland enters the college ranks with a career 176-104-36 record as a coach in the AHL.
With the departure of Haviland, the Bears begin their search for the 25th coach in team history, along with their third in three seasons. The 46 year old took over for Mark French who was on the Bears' staff for the previous five seasons.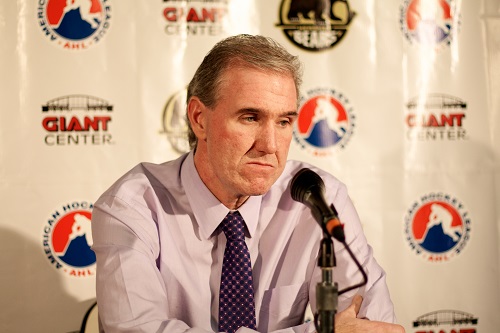 Haviland joins the Colorado College Tigers as the 14th head coach in team history, taking over for Scott Owens who coached the previous 15 seasons and 606 games. He brings over 20 years of pro coaching experience to the Tigers including championships seasons with the ECHL's Trenton Titans and Atlantic City Boardwalk Bullies.
"I'm thrilled to be part of the Colorado College family. I was very impressed with the school's commitment to excellence in academics and hockey," Haviland said in a press release issued by Colorado College. "I have great plans for this team. I expect that we will be national contenders. The school provides every opportunity for us to succeed on and off the ice. This is an exciting opportunity for me and my family."
His ability to relate with players will serve Haviland well during the recruiting process along with developing a family-like atmosphere at the collegiate level. His hockey I.Q. is unquestioned and he believes in his systems. Haviland's experience alongside hockey greats and different situations should bring Colorado College back as a national power.
With Mike Haviland taking job w/ Colorado College. I'm betting former @MonarchsHockey coach Mark Morris lands w/ @TheHersheyBears. #AHL

— Chris Roy (@ChrisRoy78) May 9, 2014
Hershey's head coaching search is underway and likely won't be decided for the foreseeable future, with Washington yet to hire their next General Manager or head coach.
You can follow Matthew on twitter @m_speck and email him at mspeck21@yahoo.com with any questions or comments.
Matthew Speck covers the Washington Capitals organization for The Hockey Writers. He provides coverage of both Washington at the NHL level and prospect related content. Matthew also covers local sports for the Lebanon Daily News in Central Pennsylvania. You can email him at mspeck21@yahoo.com with any questions or comments.