The Hershey Bears have struggled in the early part of this season and continue to do so. After a strong come from behind win in Binghamton Friday night, there was another let down, another chance where Hershey could build up a winning streak, but failed to do so with a 4-2 loss on the road to the Bridgeport Sound Tigers.
They sit 8-8-2-3 heading into tonight's away contest against the Senators in Binghamton. Hershey Bears General Manager Doug Yingst cited heavily the importance of having a strong record at Giant Center. That has yet to become a point of strength on this team, after an 18-15-3-2 record at home last season. The Bears are 4-4-1-0 at their home rink through nine games this season and have been outscored by six goals (35-41).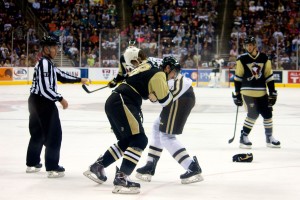 "I want a more aggressive team, I want a team that's in your face," Yingst stated at Haviland's press conference in June. "I want a team that's tougher and a team that's tough to play against at home. Our home record last year certainly wasn't what we wanted it to be or what it should be. I thought it was too easy to come into Giant Center and play against it."
If physical toughness is what Hershey's GM was looking for, he definitely found it. He signed forwards such as Joel Rechlicz, Dane Byers and Brandon Segal, along with longtime Bears' defenseman Patrick Wellar. For this team, mental toughness is clearly the most glaring issue.
Hershey has had the same problems coming back in games as they did last year, going 0-4-0-1 in the early going when trailing after two periods and 0-3-0-1 when tied after two stanzas. The Bears weren't able to notch their first come from behind win heading into the third period until late in the season under head coach Mark French, finishing 1-24-0-2 when trailing after two periods.
The team is 1-28-0-3 in their last 32 games when they trail after two frames, almost a guarantee they can't earn a win in that situation. That should be a concern because it's not a small sample size, showcasing a lack of team speed and in inability to get the puck in the net when they need to most.
Coach Haviland has said repeatedly that his forwards need to "bear down" in certain situations, but the real issue is the Bears don't have prime scorers.  Forwards Casey Wellman and Jeff Taffe are tied for the team lead with 13 points, quickly followed by Peter LeBlanc with 12 and David Kolomatis with 11 on the Hershey blue line. Only three players have six goals or more at past the quarter pole of the regular season and the closest goal scorer has four goals. That's a big drop off.
Like last season, finding a legit goal scorer that could contribute has been an issue. It's been lacking severely ever since the Bears lost forwards Alexandre Giroux, Andrew Gordon and Chris Bourque and has yet to be address. Jeff Taffe provides a great touch to the power play, but he's in no means a sniper. Five of his seven goals this season have come on the man advantage as he continues to play well in his role as a top passer in the AHL.
The Bears feature the same type of roster like they did last year, two capable goalies, an average defense with some solid puck movers and a below average group of forwards. Yingst added a top-notch AHL net minder in David Leggio and once again, a puck mover in David Kolomatis. What wasn't added however was a two-way defenseman. Long time Bears' blue liner Patrick McNeill joined the Columbus Blue Jackets organization this season after Hershey let him walk, du to the increasing amount of veterans on the roster.
Another flaw in the current roster is team speed. They lacked that in their forwards when Jon DiSalvatore, Boyd Kane and Ryan Potulny were here and like the blue line, no big time adjustments were made by the front office.
Penalty killer and undervalued forward Mike Carman, who brought some speed and versatility to the lineup, also didn't return to Hershey. The Bears didn't show much interest in the center and Carman didn't sign till just before the season and he's now playing big minutes for the Wilkes-Barre/Scranton Penguins. He contributed ten points in 62 games for the Chocolate and White last season. The Bears added a similar player to replace Carman, signing veteran Matt Watkins to an AHL deal. The former Bridgeport Sound Tiger recently recorded his first goal as a Bear on Teddy Bear Toss Night.
Back on the scoring issue. Former Bears' Captain Boyd Kane didn't come back due to the fact he joined former Hershey bench boss Mark French in the KHL. Kane brought hitting, goal scoring and leadership to the club, but the team clearly wanted change. However, the grass isn't always greener on the other side.
Kane played a key role in mentoring young forward Garrett Mitchell. While centering Mitchell on Hershey's third line, he helped the right winger notch 15 goals on the season, often freeing up space for his smaller sized line mate across the ice. This season, playing with forwards that have a similar skill set, Mitchell has yet to net a goal and has been a healthy scratch a few times by coach Haviland.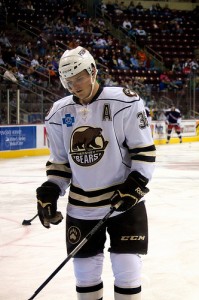 Yingst also signed forwards Brandon Segal (two goals) and Derek Whitmore (four goals) to the mix, to replace the production from Potulny and DiSalvatore. However, on different teams, these players are first line guys. Haviland said during the preseason that he'd look at the roster and see 15 goal scorers on each line. The problem is, they were 15 goal scorers when they received the bulk of the minutes for their previous club.
While these moves seem solid and constructive they didn't add another dimension or change the direction of this Bears' franchise. They simply replaced their past players with similar ones that had the same skill set. They just brought different faces together in hopes of getting back to dominating the East Division. Haviland told me at his introductory press conference that Yingst: "Knows what he wants". That was said almost two weeks before free agency even began.
They currently sit last in the East Division and in the cellar of the Conference. While it takes time for players to jell together and develop chemistry, all this change doesn't secure a division title and certainly not a spot in the playoffs. Hershey is what they are as constructed, and players burying their chances or playing a "full sixty minutes" won't elevate their game to a huge extent.
Time will tell to see if they can improve substantially as a group on the ice, but from the looks of it Hershey faces another first round exit in the Calder Cup playoffs.
You can follow Matthew on twitter @m_speck and email him at mspeck21@yahoo.com with any questions or comments.
Matthew Speck covers the Washington Capitals organization for The Hockey Writers. He provides coverage of both Washington at the NHL level and prospect related content. Matthew also covers local sports for the Lebanon Daily News in Central Pennsylvania. You can email him at mspeck21@yahoo.com with any questions or comments.