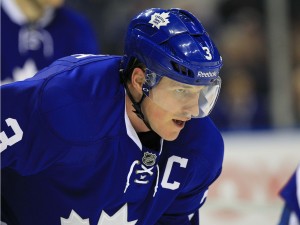 There is a great enduring debate amongst Leaf Nation concerning the importance of captain Dion Phaneuf. Questions are raised to the tune of: is he a true number one defenceman? Should he be re-signed for big-dollars with term? What would the Leafs be like without their big-minute-logging defender? Coincidently, the last of those questions is about to become answered on the smallest of scales, under the worst of circumstances.
Upon receiving a two-game suspension for his hit-from-behind on Boston Bruin defenceman Kevan Miller, Dion Phaneuf will watch from the sidelines twice in a row while his team fights for playoff points against two of the best in the NHL, the Los Angeles Kings and St. Louis Blues, Wednesday and Thursday, respectively.
On the surface, the timing for a Phaneufless stretch of games could not be any worse for the Buds. However, no Dion at such a difficult juncture in the schedule allows for an opportunity; Leafs management can assess the club sans Dion, earning a tea spoon's worth of insight into how the Blue & White would fare without their highest paid defenceman. Two games without the captain won't tell-all, but in those two games, things will be learned about Jake Gardiner and Cody Franson (Rielly if he cracks Carlyle's lineup), who like Phanuef, are also due for contract extensions before the start of next season.
Phaneuf's current contract – signed when he was a member of the Calgary Flames – is worth an annual cap hit of $6.5 million, according to the always reliable Cap Geek dot com. Chances are, his next contract will be larger in hit, and spread out over seven or eight years. Phaneuf has paid his dues, assembled an impressive resume, and earned the right to charge greatly for his services. The question Leafs general manager Dave Nonis is faced with answering is: should the Leafs be the team to pay Dion big money, at long term?
It was revealed last night on Twitter by TSN Insider Darren Dreger that the NHL's expected cap ceiling for next season will be in-and-around $71 million per team.
2014-2015 NHL salary cap projection delivered at Board of Governors meeting.Upwards of $71 million next season. CDN TV rights also ratified.

— Darren Dreger (@DarrenDreger) December 10, 2013
If Dreger's cap projection is accurate, Nonis and Co. now have a better grasp on how much they can pay the captain moving forward. However, as good as Phaneuf is, and with foresight in mind, it must also be considered that a long-term deal for number 3 isn't part of a viable plan to build a sustainable Stanley Cup contender capable of hitting full stride in three or four years, which seems a realistic timeframe at this point, barring a magical Cup run. In fact, the Leafs own president Tim Leiweke doesn't believe they are quite ready yet.
The two games without Phaneuf won't answer the pressing questions about his value to his club, but they may, in the slightest possible way, plant the seeds of knowledge that will help paint a clearer picture.
Phaneuf is a big body with experience – the most experience on the Leafs. He's durable, consistent at point-getting, and occasionally he throws a bone crunching body-check that brings people to their feet. In Phaneuf, the Leafs have a player who isn't perfect defensively, nor is he a threat to win the defenceman scoring race, but he is a guarantee to be top ten in most statistical categories, yearly. Despite never having played a minute of hockey beyond the first round of the Stanley Cup playoffs, and even though he has become the poster boy for events such as "the 18 wheeler falling off the cliff" and the "blown lead in Beantown", he is the best they've got right now. 
Lengthily signing the best defenceman you've got right now isn't always a great long-term idea, especially when your franchise's most impressive young depth can be found at said position. For example, in recent Leafs history the club signed its number one centre to a significant contract extension, and we all know how that turned out for both the Leafs and Mikhail Grabovski. Phaneuf and Grabovski aren't comparable, but their situations are. The point is, just because a player is the best you've got, doesn't mean he is your best long-term solution.
This is debatable, but I'd say Dion Phaneuf isn't an elite number one defenceman. He's a very good defenceman – definitely above average in the league – certainly a player who has proven himself enough over the years, and is worthy of acclaim and credit where it's due. But from where I'm watching, great defencemen do things Dion either doesn't do, or does do infrequently.
On a nightly basis, great defencemen control the pace of a game – they dictate its flow – decide its tone – excel at both ends of the ice with an all-star's prowess, and I don't see what I've described from Dion Phaneuf. If my assessment is similar to the beliefs of Dave Nonis and his team (anything is possible), then it's reasonable to consider the Leafs are still undecided about the captain's long-term status with the club.
If you, like me, accept that the Leafs are still in the process of building a Cup contender, then you also believe their next few major moves are of incredible importance – lest we not forget the Muskoka Five. Bad contracts can be handcuffing.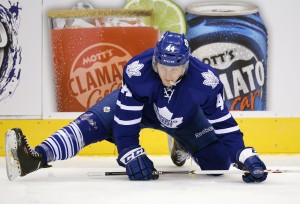 The Leafs' brass may believe they have a future superstar in Morgan Rielly. And Jake Gardiner ain't too shabby either despite his propensity to take one step forward, two steps back. But Jake is still young, and in his good moments he does things Dion Phaneuf has never been wont to do on the ice. It's not conclusive by any means, but Rielly and Gardiner have the potential to be in the number one defenceman class, whereas Phaneuf, who has leveled off for the most part, will probably never be. Do the Leafs give term to a 30-year-old defencemen, who is not a superstar, knowing that the club is still building a contender, and the finished product could be a few years away? It's a tough call and I don't envy Nonis for having to make it.
I know it's risky to make franchise altering decisions based on projections because Rielly may never be great, and for all we know what you see is what you'll always get from Gardiner. But the desire to believe Rielly and Gardiner will become much more is hard to ignore in their moments of brilliance, when the mobile defenders move with the fluidity of the Duncan Keith/Brian Campbell combo that backboned a 2010 Chicago Blackhawks Stanley Cup victory. These are the dilemmas of a general manager, I guess.
Where Leaf Nation splits on Phaneuf is largely on the following differing opinions:
One school of thought insists that Dion Phaneuf is pretty darn good, should be re-signed by any means necessary, and surrounded with better defencemen. If the Leafs give up 50 shots a night with Dion in the lineup, how awful might they be without?
Some believe that by the time this team is ready to truly challenge for a Stanley Cup title Phaneuf's contract will be hindering, and younger players like Gardiner, Rielly, and possibly Stuart Percy (or an asset he could potentially be traded for one day) will be the big minute men on the Leafs' blueline. The argument here is that there are too many questions concerning the Leafs young defencemen.
The third possibility, of course, is that all the above mentioned Leaf defencemen can unite to form a great defence corps in the near future. All scenarios are possible, but only one of them is the most right.
The decision won't be easy for Dave Nonis. Both re-signing the captain or choosing not to are actions that could potentially blow up in the GM's face. But a few games without Dion may make Nonis's looming decision a decimal point easier. And certainly, if the captain is not signed by season's end – a miss of the playoffs, should that happen, will ensure that with or without Dion Phaneuf, the Leafs need to re-evaluate, as all teams do when they fail to qualify for the postseason with one of the highest payrolls in hockey.
Featured Writer | Contributing Leafs Writer for TheHockeyWriters.com | Editor & Founder at TheHockeyDaily.com | FOX Sports affiliate | Yardbarker Network | Follow on Twitter @S_Ientile & @TheHockeyDaily for daily hockey featured stories and discussion.