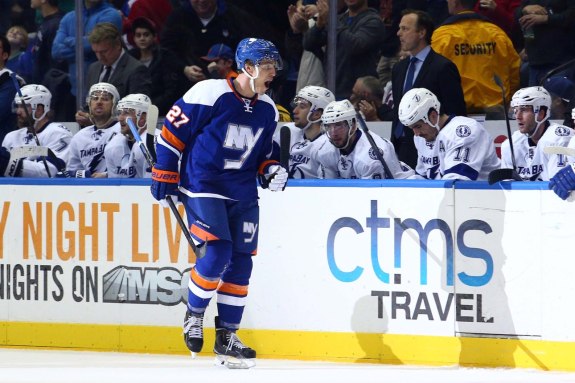 One of the most exciting constants in the world of hockey is seeing promising young players work their way up to the NHL and, in the case of an elite few, become superstars.
Diehard hockey fans no doubt remember the massive amount of hype that surrounded Sidney Crosby and Alex Ovechkin before their rookie seasons in 2005-2006, and it's been a treat to watch their careers grow and evolve ever since.
The enjoyment that comes from watching a young player move forward on his path to NHL success, however, is not just reserved for the cream of the crop when it comes to prospects. As much fun as it is to follow players like Crosby and Ovechkin, sometimes it can be just as exciting to watch players like Jamie Benn and Gustav Nyquist unexpectedly become star players.
To celebrate this, I've compiled a list of the league's Top 10 forwards that might not be as well known right now, but are going to be in the not too distant future.
10) Anton Lander – Edmonton Oilers
It's been a long, rocky road, but it looks like the Edmonton Oilers are finally going to get what they expected out of Lander after drafting him 40th overall in 2009. He had 31 points in 29 AHL games to start the season and then followed that up with 11 points in 22 games in Edmonton.
9) Cedric Paquette – Tampa Bay Lightning
The Lightning have an embarrassment of impressive young forwards already on their roster, but Paquette is the most surprising of the bunch with 12 goals in 55 games. Scrappy as they come, the former 4th round pick is quickly developing the hard-working two-way game that championship teams always covet.
8) Brandon Pirri – Florida Panthers
Pirri was a dynamite AHL scorer for four years but for some reason was never really given much of a chance to shine in the NHL. Well, with 10 goals in his last 14 games for a Panthers team that's unexpectedly closing in on a playoff spot it looks like he's now taking matters into his own hands and creating his chance for himself.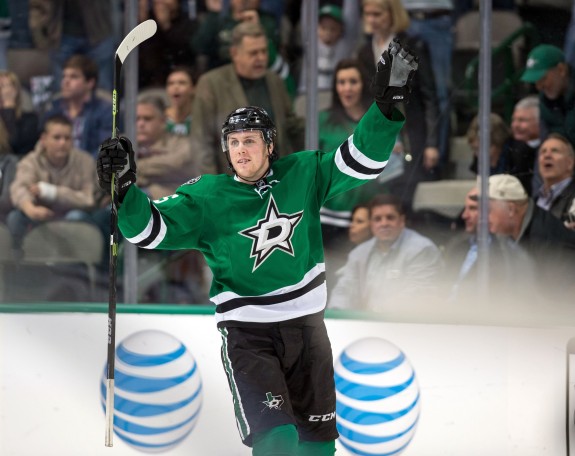 7) Brett Ritchie – Dallas Stars
At first glance Ritchie's six points in 20 career games don't seem like much, but make no mistake, he's going to be a key forward for the Dallas Stars very soon. They've already tried him on the team's top line alongside Tyler Seguin and Jamie Benn a few times throughout the season and will keep giving him opportunities to play big minutes until he's fully ready to take the reigns.
6) Markus Granlund – Calgary Flames
He's not as well known as his big brother Mikael, but Markus might end up being just as skilled. The Flames have a glut of talented young forwards in their pipeline, but Granlund is right near the top of the group and will be a dangerous offensive weapon for years to come.
5) Vincent Trocheck – Florida Panthers
Trocheck, 21, has been a prolific point-producer everywhere he's played, so it's a safe bet to assume that he's going to keep doing it in the NHL. He's split the last two seasons between Florida and their AHL affiliate in San Antonio, but with 17 points in 36 games for the Panthers they're probably not going to be sending him back down to the minors any time soon.
4) Ryan Spooner – Boston Bruins
For a team that's struggled to score as much as the Bruins have lately it's surprising that it took them this long to bring Spooner up to the NHL full-time, but better late than never, right? Small but highly skilled, the 23 year-old former 2nd round pick has six points in 12 games and is proving that he belongs in Boston.
3) Sven Baertschi – Vancouver Canucks
After a promising start to his career the former 13th overall draft pick from 2011 got stuck spinning his tires in Calgary, posting no goals and only four assists in 15 NHL games this season and getting passed on the depth chart. However, Baerstchi was given a fresh start at the trade deadline when he was was traded to the Canucks, and seems poised to use his finesse and offensive instincts to find a permanent home with his new parent club.
2) Anders Lee – New York Islanders
The future is now for the upstart Islanders, and Lee is turning out to be a big piece of that young group, both figuratively and literally. The hulking 6'3″ 24 year-old has 22 goals and 36 points on the season so far and seems like he's only going to continue being a fixture on the team's top two lines.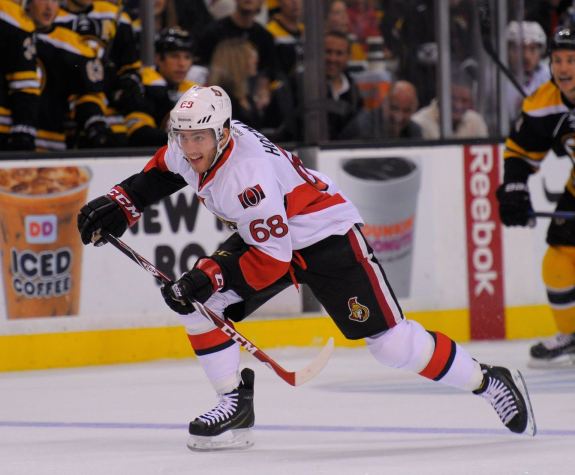 1) Mike Hoffman – Ottawa Senators
Considering Hoffman is leading the Senators with 24 goals it might seem strange to put him on this list, but he's not being utilized to his full potential yet. Despite his torrid scoring pace he's only 8th among team forwards in ice time per game and a baffling 9th for powerplay time, so he could increase his production even further if Ottawa finally starts relying on him as much as they should.
Derek Neumeier primarily covers the Dallas Stars, but also other various topics related to the sport of hockey. A Journalism graduate of Mount Royal University, Derek also writes for Defending Big D, and has done previous work with the Edmonton Oilers as a communications intern and Hockey Canada as a freelance writer. You can follow him on Twitter at @Derek_N_NHL