Every NHL team needs 'heart and soul' players; players that are willing to do anything to help the team win. These players aren't always the most talented, but they are often among the most respected. They are the players you love to hate on the opposing team and the players you'd love to have on your team. Brandon Dubinsky of the Columbus Blue Jackets is one of those players for sure; he plays with passion, wears his heart on his sleeve, is willing to stand up for a teammate on the ice and off it and he's a talented player. He's an asset to any team looking to be successful — he wins face-offs, can also play the wing, he goes to the dirty areas of the ice to score those grimy goals and he plays in all situations.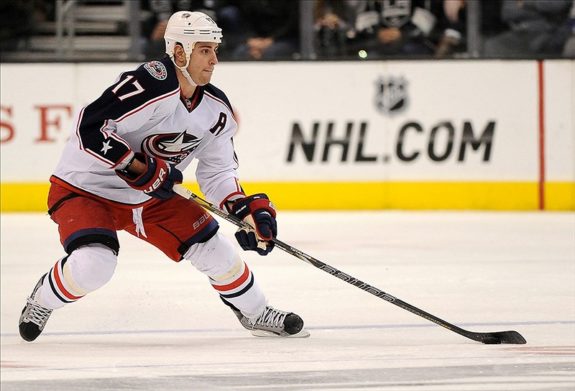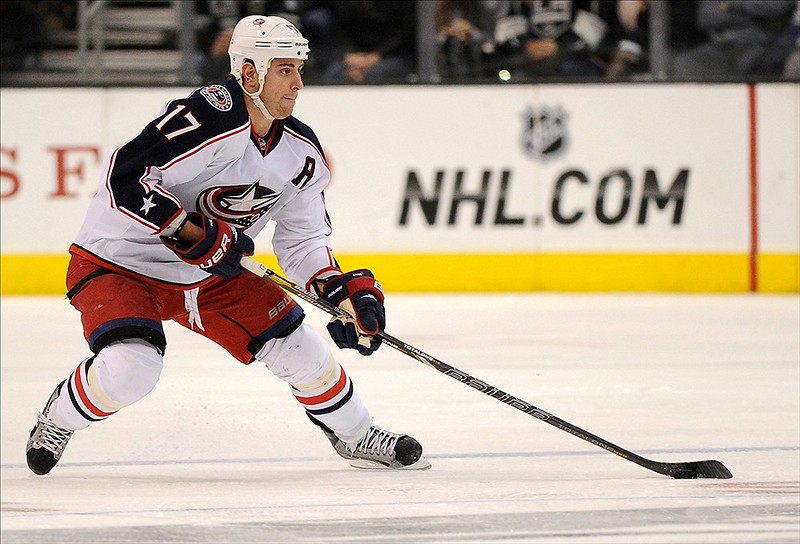 After spending parts of six seasons with the New York Rangers, Dubinsky was traded to Columbus in the Rick Nash deal following the 2011-2012 season. Now the Anchorage, Alaska native is 28-years-old and in his third season with the Blue Jackets; although he doesn't wear the captain's C (no one does currently) he is most definitely a leader and a strong voice in that locker room.
After a recent game in New Jersey The Hockey Writers talked with Brandon Dubinsky to find out how he was feeling after a scary spill, what it's like playing alongside two former enemies and how much influence another Alaska native has had on him.
The Hockey Writers: You looked really good out there tonight in your return to the lineup from a neck injury; how did you feel?
Scary stuff after his goal Brandon Dubinsky lands on his head:
https://www.youtube.com/watch?v=T58tZxSSAPE
Brandon Dubinsky: I felt good; I had a couple of good days of practice. I was only out a couple of days so I didn't have too much of a chance to lose my conditioning. It was a scary spill for myself; like I've said before it was more neck pain than concussion; that was the diagnosis because of the symptoms, you just want to be careful and cautious with those things. I'm just happy to get on the ice as soon as I could with these guys.
THW: A good road game by your team tonight, and you snap your losing streak; did the early goal give your team confidence?
BD: I liked the way we started the game; we were forechecking and obviously we were able to get one there, like you said, early. They had some chances, they put some pressure on us, especially there in the third; they're a good team over there, we expected a push from them. Our goalie made saves when he needed to and our guys did a good job. It was nice to get a big win here in a tough building.
Brandon Dubinsky scores a goal in his return to the lineup:
https://www.youtube.com/watch?v=w2JXwNIj9ZA
THW: It must be nice for you guys to finally have your no. 1 goalie Sergei Bobrovsky back in the lineup?
BD: Absolutely. But, we also cant look past the fact that Curtis (McElhinney) gave us a chance to win every time that he was in net. We're comfortable with him too. Obviously Bob is a world-class goaltender and he gives us a chance every night.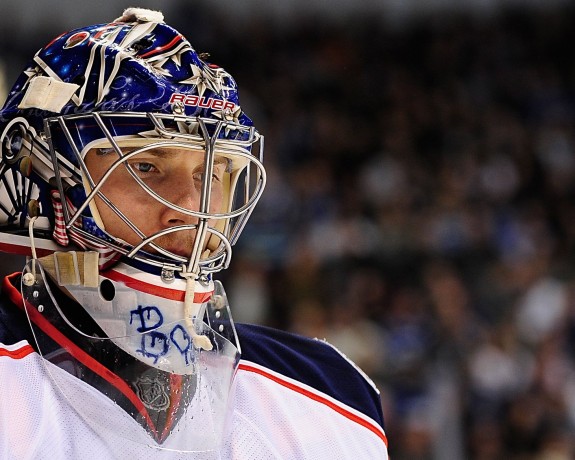 THW: A couple of years ago if we had told you that you'd be on the same team as Scott Hartnell, and David Clarkson…would you have smiled like you just did?
BD: I would have probably yeah (continues smiling). Now we just need to get Mike Richards here; we could have the (old) Atlantic Division trio (of my old enemies) here. They're both good guys, hockey guys are that way — you battle hard on the ice, and they're guys that you want on your team. I'm happy to have them as my teammates.
THW: Personality wise with the media, and a little on the ice you remind us of Scott Gomez. Would you say that's accurate? Was he a big influence on you when you were teammates with the New York Rangers?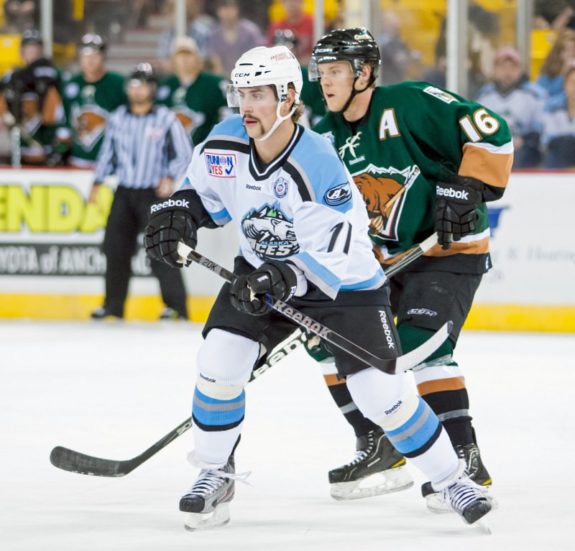 BD: Scotty is a great guy and a very good friend of mine from back in Alaska. We played together in New York…it's different in the NHL. I was young then, but it was cool having the opportunity to play with him during the lockout. We both played for Alaska in the ECHL; it was more relaxed obviously, more fun for us and we got to know each other a little bit better. We developed a bit more of a friendship; he's a great player. We're really proud of him, he paved the way for Alaskans in the NHL. He was able to play in his 1000th game this year, which we were pulling for him; thought he'd get it last year. We weren't sure if it was going to happen; he's a guy that deserves that honor, he's done a lot for us.
THW: Do you talk to him throughout the season?
BD: Yeah, absolutely; I'll probably go over there and say hi to him right after this.
Dan Rice can be reached via Twitter: @DRdiabloTHW or via Email: drdiablo321@yahoo.com
Dan Rice is in his 9th year of reporting for THW & has covered NJ Devils home games for 15+ years at various websites. He began his journey working for legendary broadcaster/writer Stan Fischler from 2002-04 & completed an internship at the ECHL; he also has been writing features for the NWHL (nwhl.zone) website since 2016.