It is February 27th, 2015 and the Jonquière Marquis of the Ligue Nord Américaine de Hockey (LNAH) are hosting the Saint-Georges Cool FM 103.5 at the Palais des Sports. The Friday night match-up has attracted the usual crowd of hockey fans who still yearn for that "old time" hockey mentality. The LNAH and its eight teams pride themselves in offering that brand of hockey, week in and week out. The games are not always high scoring, but the emotion and fisticuffs are always a guarantee and Sean McMorrow couldn't be happier.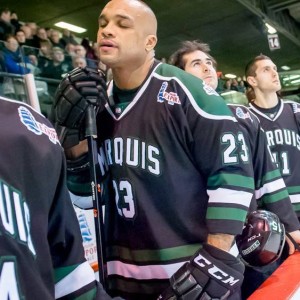 The weekend games not only provide entertainment to the fans but also a chance to get behind a team that is blue collar in every way possible. For many players in the LNAH, this league and these towns are the last stop in their careers. They aren't making millions a year and don't drive sport cars. The players are here because they love the game and want to be able to make a living doing it for as long as they can. The fans know this and therefore can relate more to the players that they come to cheer for. Nobody ever had to "work" hockey but as the work week comes to an end for the fans, the players of the LNAH are just getting started.
The Palais des Sports is almost half full as the players begin to line-up on their respective blue lines for the singing of O Canada. The warm-ups are over but the stare downs and intimidation tactics are just beginning. Some players seem to be vibrating off the ice or on the bench in anticipation of that first shift, hit or fight. However, as you scan the Marquis starting line-up you will find one player standing perfectly still with his eyes closed. While other players are planning on who they may "dance" with first, this player is giving thanks and being grateful for the opportunity to be there, in that very moment. Let me introduce you to Sean McMorrow.
Sean McMorrow was born on January 19th, 1982 in Vancouver, British Columbia. He would grow up in Scarborough, Ontario and make his mark playing for six different teams in the Ontario Hockey League over three years in the early 2000's. The Buffalo Sabres would go on to draft McMorrow in the 8th round, 258th overall in the 2000 NHL Draft. The 6'4, 225 pound right winger would finish his OHL career as the heavyweight champion with 443 PIM, 6 goals and 8 assists in 176 regular season games.
McMorrow Gets a Brief Taste of the NHL
McMorrow would go on to sign a two-way entry-level deal with the Buffalo Sabres and attend training camp the following year, where he took on Shane Hnidy and Chris Neil in the preseason. He would start the season with the Rochester Americans of the American Hockey League, racking up 43 fighting majors in 64 games. Sean was willing to do whatever it took to win and often times that meant dropping the gloves with some of the toughest players to ever lace the skates up. The Buffalo Sabres were beginning to take notice of the player they had plucked in the final rounds of the draft and he would soon be rewarded.
On March 22, 2003, almost three years after being drafted, McMorrow made his NHL debut with the Buffalo Sabres at the Air Canada Centre against his home town Toronto Maple Leafs. "I can't begin to explain to you the feeling and the excitement that rushed over me when I got the call", describes Sean, "My dream had come true". All the practices, injuries, broken bones and sacrifices were worth it, this was something nobody would ever be able to take away from him. However, this would not only turn out to be McMorrow's first NHL game but his last.
The Fan Favourite
Over the next few years, McMorrow would continue to grow as a player within Buffalo's farm system, being awarded the Most Improved Player award in 2005. He was also doing his part off the ice, volunteering in the community and helping out with hockey schools all over New York. Sean would go on to be named "Man of the Year" three different times over his AHL career, an award given to players for their contributions and volunteering in the community. However, behind the scenes there was a five year investigation going on that would eventually flip Sean's world upside down.
In March of 2010, McMorrow was playing overseas with the Belfast Giants of The Elite Ice Hockey League (EIHL) when he was charged with drug trafficking, following an extensive investigation by the FBI. Ironically enough, Sean's tough style of play had garnered him the nickname "The Sheriff" in the United Kingdom. "I was in shock when I heard about the charges, but knew that I had to return home and face them like a man", explains Sean. He was released on a $25,000 bond and was allowed to travel anywhere but the United States. A whirlwind of events to say the least, but the worst was yet to come for "The Sheriff".
The following day after his court appearance, McMorrow woke up to newspapers and reporters lashing out at the once "Man of the Year". "It was totally crazy because these newspapers used to print pictures and articles about me in the community and now they were calling me a psychopath", explains Sean, "To wake up to that was a real blow for me". The accusations and theories came quick and hard as everyone began weighing in on the FBI investigation and what had really happened. "I wasn't a choir boy and had definitely made some mistakes up to then but I was never a drug kingpin", says McMorrow.
The following season McMorrow decided that despite his charges, he would return overseas, this time with the Dundee Stars and continue his hard work on and off the ice. "I can't thank the Belfast Giants and the Dundee Stars enough- they both supported me through the entire time I was with both organizations", Sean explains. "The Sheriff" was back playing hockey and chasing his dream of making it back to the big leagues, while trying his best to not think of the indictment. "My lawyer kept telling me that it would blow over and just not to talk about it, even though I wanted to clear my name", recounts Sean. Unfortunately, nothing was "blowing over" and the District Attorney was getting set to take direct aim at "The Sheriff".
On May 30th, 2012 he returned to court in New York for his sentencing. He was the last person to sign a plea deal which involved numerous couriers and participants in a drug ring that McMorrow was allegedly the leader of. "I can't describe the feeling to you of having to sign this piece of paper saying I did things which I didn't do", McMorrow remembers, "Everyone had pointed the finger at me and like I've said before- I will admit my participation in some things but in the end, I was signing my name to a list of conspiracy theories." Sean's lawyer had told him that he would receive probation and he would be able to go back to Canada the same day. McMorrow showed up to court with 25 of his family members and had a party planned back in Toronto later that night to celebrate the end of this nightmare. He would never make it to that party.
McMorrow Hits Rock Bottom
The U.S judge who had been rumoured to be leaning towards sentencing McMorrow to probation, made a last minute change in his decision and sentenced the former Buffalo Sabre to two years in prison. "I didn't know what to say, what to feel or what to think", recalls Sean. With much of his family in attendance, including his fiancé, the man who fans had called "The Sheriff" was led away in cuffs. The player who had suited up in front of 18,000 fans at the Air Canada Centre nine years earlier, was now on his way to a debut at a far less known and attractive venue: The Moshannon Valley Correctional Institution in Philipsburg, Pennsylvania.
**************
Sean McMorrow Locked Up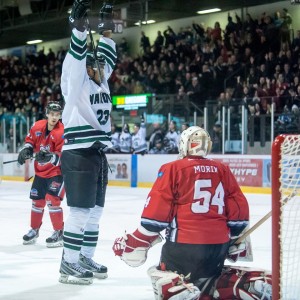 Twenty- four months. The words echoed in Sean's head as he said goodbye to his family and was led out of the courtroom. "The Sheriff" was now in the custody of the state of New York and their sheriffs. He was shackled and transported by van to Seneca County Jail, located about an hour east of Rochester. From there he was transferred to a unit in Ohio for five weeks, as they evaluated his security level. "My mind was racing and the waiting was the hardest part- I was going to spend the next two years of my life in prison, not a county jail", explains McMorrow. Due to the fact that his charges did not involve weapons and that he was a first time offender, Sean was ordered to serve his time in Pennsylvania, at a low security prison.
Sean's entire world was crumbling before his eyes. He had planned to return home and continue playing hockey, but now was headed to live with criminals for the next two years. "I can remember thinking that this was a real fork in the road for me", he describes, "I can go in here with a bad attitude and a chip on my shoulder or I can take this time to better myself". However, it wasn't himself that Sean was most worried about but more so the other inmates who he would be living with. "Just like getting mentally ready for a game, I had to get mentally ready to go to prison and be aware of what might happen while I'm in there", says Sean, "I knew that I might have to protect myself and I was ready for that". Sean McMorrow arrived at The Moshannon Valley Correctional Institution on May 24th, 2012.
Living and Growing in the Prison
When Sean stepped off the bus in Philipsburg, Pennsylvania, he was pleasantly surprised with what he saw. "Moshannon Valley is set up almost like a college campus with dorm style living arrangements", says Sean, "There was no outdoor rink but we had separate bunks and individual showers- people always ask about the showers". Even though he was surprised by the accommodations, he still recognized that this was prison and he needed to keep his guard up. The former heavyweight champion of the OHL also always kept one other thing in mind, the promise to himself that he would stay on the straight and narrow. He was here to serve his time, but that didn't mean he couldn't try and better himself while there.
After getting settled into his new living arrangements, Sean immediately sought out different activities and programs that he could enroll in to occupy his time. He began taking college classes, meditating daily and trying to keep his body as pure as possible. It also didn't take long for McMorrow's, "good teammate" mentality to kick in and soon he was teaching GED classes, along with working as a personal trainer with some of the inmates. "Nobody ever challenged me to fight while I was in prison and I only saw about six or seven tilts the entire time I was in Moshannon", he recalls. However, that didn't stop prison guards, counsellors and other inmates from looking up the fights Sean had on YouTube. "I would have guards coming up to me and asking about this guy or that fight", says McMorrow, "I would make time to talk with them or the other inmates, as I always wanted to maintain that level of respect".
McMorrow would continue his good behaviour throughout his stay in Pennsylvania and was released four months early, having only served twenty of his twenty-four months. His family who had supported him throughout the whole indictment, made over twenty trips down to Moshannon during Sean's stay. "My family was behind me the entire time and really encouraged me to maintain that positive mentality which helped to make sure I stayed out of the shit while I was inside", Sean describes. "The Sheriff" had served his time and was free to leave, with a criminal record only in the United States. He could move on with his life and use some of the things he had learned from the college courses to enter the workforce. However, "The Sheriff" had some unfinished business on the ice.
Back In Town
On July 17th, 2014, the Marquis de Jonquiere signed McMorrow to a contract to play for the LNAH powerhouse in the 2014-2015 season. The Marquis had kept in contact with Sean and his family during his incarceration and when Sean expressed interest in returning to the game, they signed him immediately. "What hurt more than having to go to prison, was the way that the media portrayed me", Sean explains, "Yes I did mess up but I wasn't a monster and there was one thing I always prided myself on-my interaction with the fans". He needed to show his fans that he had not been broken and he was still the same player who would stay for hours after games signing autographs.
The singing of O Canada is winding down at the Palais des Sports as players from both teams start cheering, putting their helmets back on and getting a last few hard strides before puck drop. Amidst the yells and tapping of sticks, you can see McMorrow standing in complete stillness waiting for the end of the anthem. "The Sheriff" is back and is forever grateful to be with the Marquis, who sit among the top of the league standings. As the last lyrics end and his pregame meditation comes to a close his eyes open and a smile creeps across his face. Even though he will go on to fight Samuel Duplain of Saint-Georges in the first period of this game, Sean is at peace. He is back with his family, back with his fans and back playing the game he loves.
Writer's Notes: I did not know Sean before I interviewed him but I feel like I know him now. Sean is not perfect and has made mistakes- that much is evident. However, throughout the process of interviewing him and corresponding via e-mail, phone and text, I have come to a conclusion of my own. We define champions by the awards they win or the records they break but it shouldn't stop there. You hear people say, "It's all in the journey" and I believe that in every sense, whether that journey was from last place to first or underdog to favourite. Sean McMorrow was at the top, playing under the lights of the Air Canada Centre. He was also at the bottom, rock bottom, paying his debt to society in prison. Sean has taught me that champions don't always hoist trophies and aren't always found standing on top of a podium. Champions never give up on their dreams or themselves. Champions fall down nine times and get up ten.
McMorrow is on his own journey of redemption and in my books, a champion.
Former CJAHL hockey player turned coach, turned scout.