Brandon Dubinsky has spent his entire professional career with the New York Rangers. For the 2012-13 season, though, he's trading in his Blueshirt for a Blue Jacket.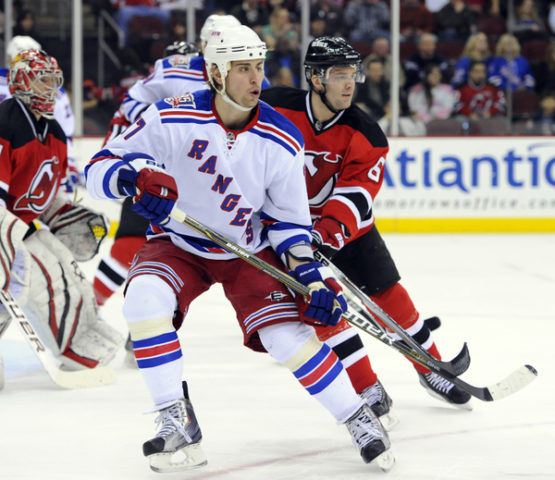 His path to Columbus started 2,000 miles west of Nationwide Arena at the Veterans Memorial Coliseum in Portland, Oregon.
Playing in his hometown Anchorage All-Stars, Dubinsky was planning to move to the college ranks, likely with the University of Alaska at Anchorage. At least, that was the plan until he visited the Western Hockey League's Portland Winterhawks' training camp, in an attempt to get some extra ice time, he told USA Hockey Magazine.
The Alaska native began his career with the Portland Winterhawks of the Western Hockey League.  His teammates included future NHL players  Braydon Coburn of the Flyers, Cody McLeod of the Avalanche, Jannik Hansen of the Canucks, and Michael Sauer, with whom he'd play on the Rangers. Dubinsky joined the team at age sixteen. In 44 games, he scored eight goals and eighteen assists for 26 points. The team struggled during his first season, posting a record of 19-40-8-5.  Though they made the playoffs, they lost in the first round to Spokane. Dubinsky managed two goals and two assists in the series.
His first full season with Portland saw significant improvement both for himself and for the team. The Winterhawks increased their win total from 19 to 34, largely on Dubinsky's shoulders. His 30 goals, 48 assists, and 78 points led the team, and were good enough to place him eleventh in the league in scoring. He also made his presence felt physically with 137 PIM in 71 games.  The team would lose another first round playoff matchup – this time to the Tri-City Americans – with Dubinsky held to just two assists in the five game series.
Despite a weak showing in the playoffs, the New York Rangers liked what they saw in Brandon Dubinsky, enough so to select him in the second round of the 2004 NHL Entry Draft.  Aside from current Rangers captain Ryan Callahan, selected in the fourth round, Dubinsky was the Rangers best of the remaining twelve players chosen by the club that year, proving better than fellow draftees Lauri Korpikoski, now with the Phoenix Coyotes, and  Al Montoya, currently the backup goaltender in Winnipeg.  Hockey's Future weighed in on the selection shortly after the draft:
"With their final pick of the second round, the Rangers took center Brandon Dubinsky from Portland of the WHL. Dubinsky is a highly skilled forward who led his team in points, with 30 goals and 78 points in 71 games. He has excellent puck skills, good on-ice vision and a competitive streak, but his skating is weak and has not committed to defense. At only 5'11, 180 pounds, size is also a concern."
With the pressure of the draft behind him, Dubinsky's 2004-05 numbers slipped. While the team improved ever-so-slightly – picking up one more win than the previous year – Dubinsky regressed.  His 59 points, 23 goals and 36 assists were only good enough for third on the team in scoring.  He also logged a career-high 160 minutes in the penalty box, showing his tendency for undisciplined play.   Dubinsky turned it on in the post season, netting a team-leading seven points in nine games, though the team once again was eliminated in the first round of the playoffs.  It was that playoff series where Jess Rubenstein of the Prospect Park took notice of Dubinsky:
"To me the one play that told me "here is a future NHL player" happened in the 2005 WHL playoffs as Dubinsky was taking a face off against Everett in the offensive zone. I was sitting next to Everett GM (and former Ranger himself) Doug Soetart in the press box and it seemed only we knew what was going to happen."

"Dubinsky saw something because using a couple of nods and a shoulder shrug he set in motion a "bang bang" play that had Dubinsky win the draw to his right where his winger had moved and in the same motion fired a shot that beat the Everett goalie. Want to talk about a play that totally silences a crowd then this was it."

"Up in the press box, Soetart could only shake his head as he saw it coming and it was one of those plays where you knew what was going to happen and there was nothing you could do to stop it. It was an NHL level play that had totally turned the game around. I asked Brandon about the play and all he would say was he knew he could win the face off and put the puck where he wanted."
In his final year with Portland, Dubinsky found his scoring touch.  Despite only playing 51 games, his 21 goals and 46 assists were good enough to lead the Winterhawks and put him seventeenth in the league in scoring.  He showed better discipline as well, having reigned in his penalty minutes to a manageable 98. The Winterhawks, a .500 team in the regular season, picked up their game in the postseason.  For the first time in Dubinsky's career, he saw action in the second round.  Portland defeated the Seattle Thunderbirds in the opening series but couldn't make it past Vancouver in the Western Conference semifinal, losing in five games. Dubinsky led the way through this playoff charge, leading the team with five goals and ten assists in twelve games.
Dubinsky didn't stay off the ice for long. With his WHL team eliminated, Dubinsky signed a three-year entry level deal with the Rangers, making him eligible to join the Rangers' AHL farm team, the Hartford Wolfpack, for the Calder Cup playoffs.
 "It gets you excited, getting the opportunity to step up and play for the big boys," Dubinsky told The Oregonian.
He continued scoring at just under a point-per-game pace, even against the tougher competition in the AHL. Dubinsky picked up ten points – five goals and five assists – in eleven games, good enough for fourth on the team in scoring.  The Wolfpack would only make it as far as the second round, where they were eliminated by – ironically enough – the Portland Pirates.  (Unlike Dubinsky's previous club in Portland, Oregon, the Pirates play in Portland, Maine).
Though he had a strong showing in training camp and in the preseason with the New York Rangers, Dubinsky started the 2006-07 season with Hartford.  In 71 games with the club, he piled up 21 goals and 22 assists for 43 points, along with 155 PIM.  Dubinsky's development continued through the year, with his strong play earning him a late-season call up. His Rangers debut was March 8, 2007, against the New York Islanders.  He went on to play five more games with the Rangers that season, but was held without a point.  Back in Hartford, the team finished with a 47-29-3-1 record, second in the Atlantic Division.  Both the team and Dubinsky just couldn't get going in the postseason, as they lost their opening round series to the Providence Bruins, with Dubinsky limited to one goal and three assists.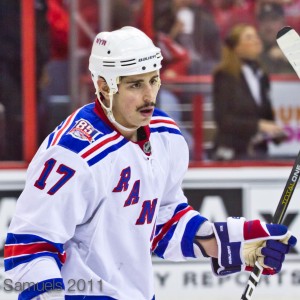 The following season, 2007-08, Dubinsky had a strong camp and started the season with the Rangers.  He was good out of the gate, showing greater confidence than he had the prior year.  It took only sixteen games for Dubinsky to score his first NHL goal, which came in a 4-2 victory against the Pittsburgh Penguins.
Despite playing on a squad that had just acquired highly-coveted free agent centers Scott Gomez and Chris Drury, Dubinsky soon found himself centering future Hall-of-Famer Jaromir Jagr. His 'north-south' play complemented Jagr's style, with both enjoying their complementary partnership.  Coach Tom Renney praised Dubinsky's commitment to his style of play, and on not trying to change his approach to fit in with Jagr:
 "Brandon plays his game. He's a big, strong kid who is only going to get bigger and stronger. And he's unflappable when it comes to the movement of the puck, where it has to go."
Dubinsky was rewarded for his strong play with a spot on the Young Stars team at the 2008 NHL All Star Game, where his two goals and one assist earned him the MVP of the game.
He went on to finish the season with 14 goals and 26 assists for 40 points and 79 PIM.  In ten playoff games, a first-round defeat of the Devils followed by a second-round loss to the Penguins, Dubinsky netted four goals and four assists.  Dubinsky was awarded the Rangers' Steven McDonald Extra Effort award, as voted by the fans, and the Rangers' Rookie of the Year, as voted by his teammates.  Dubinsky also garnered consideration for the Calder Trophy, where he finished tenth in voting.  He also won the praise of future Hall-of-Famer teammate Brendan Shanahan:
"He's developing, I guess, as you would wish every player you draft develops. He's really trying to become all things needed in a hockey game. Whoever drafted him [current Phoenix Coyotes GM Don Maloney] should be very proud."
Dubinsky avoided the dreaded sophomore slump in 2008-09, though just barely, as he remained nearly consistent on the score sheet in his second full year with the Rangers. Jagr, lost to the KHL, was replaced by Nikolay Zherdev as Dubinsky's right winger.  Dubinsky got off to a torrid start to the season, with eleven points in his first eleven games, but quickly had his confidence shaken.  After taking two undisciplined penalties and arguing them with the officials, Rangers coach Tom Renney benched the pesky forward.  Dubinsky's confidence and his scoring touch were derailed. Dubinsky struggled after his benching, enduring a stretch of twenty games without a goal – part of a 33-game run with only one goal and ten assists.
Dubinsky, via New York Post article by Larry Brooks, commented on his struggle:
 "I'd never gone through anything like that at any level. I've gone through stretches of time where I didn't play well and didn't score for a while, but those were times when I recognized that I wasn't working hard enough or was cheating. This was the first time where I felt like I was doing the right things but couldn't score, and it definitely was a burden to me. "
Dubinsky eventually rediscovered his game, finishing the year with 13 goals and 28 assists for 41 points, fifth on the team, while racking up 112 PIM.   His game picked up under the tutelage of new head coach John Tortorella, who took over for Tom Renney in February.  The Rangers made the playoffs but lost a tough seven-game series to the Washington Capitals. Dubinsky finished second on the team in playoff scoring with four points and was one of only two players with a positive postseason plus/minus score.
At the end of the 2008-09 season, Dubinsky became a Restricted Free Agent.  Unable to come to terms with the team, he held out of training camp. Dubinsky told the New York Post:
"It's killing me not to be in camp with my teammates. I feel terrible about it. I didn't come to New York three weeks ago to start skating and training in order not to be there, but we haven't been able to reach a deal. I don't want to comment on the negotiations, but this is all part of the business, and it's unfortunate."

"I get the team concept, I get the importance of being there with the guys and going through a tough camp with them from the get-go. It's not a question of not wanting to be there. Everybody knows how much I love New York and playing for the Rangers."
Eight days into his holdout, both sides agreed on a two-year deal valued at $3.7M. Though he'd only missed a little over a week, there were concerns about Dubinsky's conditioning, preparation, and focus going into the season.  Dubinsky shared these concerns with the Daily News:
"I'm excited and obviously relieved to have a deal done. I just want to go in and play. There's definitely going to be questions – 'Is he ready to go, because he's missed a week now? Is he fit enough? Will he be prepared to start the season?' They're all valid questions. I've just got to prove I'm prepared."
By missing training camp, Dubinsky also missed an opportunity to get acclimated to his new teammates.   Gone were Scott Gomez, Markus Naslund, and Nikolay Zherdev; in came Vinny Prospal and Marian Gaborik.
Dubinsky put up three points in the first two games of the season.   After that, his scoring practically stopped.  It took him nine games to score three more points.   Over twenty games, he scored just one goal.
Then, in a game against the Calgary Flames on November 7th, Dubinsky broke his hand blocking a shot.  Eighteen games into the season, with only three goals and seven assists, he was on Injured Reserve.
Returning to the lineup on December 14 against Winnipeg, Dubinsky was still a step behind.  Right before Christmas, though, his game began to round into form.  He finished the calendar year with six points in five games, and kept on rolling in the New Year.  Though he missed thirteen games, Dubinsky finished the season with 20 goals and 24 assists for 44 points, good enough for third on the team.  The Rangers failed to make the playoffs, missing out via shootout loss to the Flyers on the final day of the regular season.
Heading into the 2010-11 season, the final year under his contract, Dubinsky stepped up his game.  The Rangers' top six forwards were ravaged by injuries.  Gaborik missed 20 games, Callahan missed 22, Prospal missed 43, and captain Chris Drury missed 60.  With ice time available, Dubinsky seized the opportunity, carried the load, and posted career highs in goals (24), assists (30), and points (54), and led the Rangers in all three categories.  His 100 penalty minutes were third on the team.  The Rangers bowed out of the playoffs in the first round in five games; the game-winning goal in their lone playoff victory was scored, appropriately, by Brandon Dubinsky.   In a contract year, he couldn't have picked a better time for such a standout performance.
The summer of 2011 saw the Rangers re-sign their two key 2004 draftees, Ryan Callahan and Brandon Dubinsky.  Coming off a career year with his new four-year, $16.8M contract, expectations were high in New York.  Disappointment came quickly.
It took fifteen games for Dubinsky to score his first goal of the season.
Fans were hoping that, by finally breaking through, the goals would keep coming.  They didn't.
It would be another seventeen games until Dubinsky scored goal number two, though, to be fair, it was a beauty.
While he never really sparked offensively, Dubinsky did play a solid, hard-checking, defensively-responsible game.  Unfortunately, that just wasn't enough, especially under the weight of his freshly-inked, multimillion dollar contract.
Trade rumors were swirling at the deadline that Dubinsky was going to be dealt. Dubinsky addressed them:
 "It happens every year. Maybe with the exception of last year, I feel like I've been a topic of trade rumors quite often. Is it hard? No, I don't think so. Would it be hard if it happened? Of course. I love this organization, I've been here for a long time and put a lot of blood, sweat and tears to this team, so that would be tough. I don't look at it; I don't focus on it. They are what they are, rumors. Until the day [general manager Glen Sather] tells me I'm going somewhere, I'm going to continue to come in here and enjoy every day as a New York Ranger and continue to try to help the team win games."

"If I get traded for Rick Nash … he's a great player. What can I do?"
The trade deadline came and went, and Dubinsky remained a Blueshirt.   He continued his solid-if-not-spectacular play.  In the postseason, Dubinsky played a gritty, feisty game.
Against the Ottawa Senators in the first round of the playoffs, Dubinsky was ejected as the third-man in on a blindside hit by Matt Carkner on Brian Boyle.  Many disputed the automatic ejection, as Boyle never had a chance to fight back and the linesman, watching the one-sided attack, declined to break it up.  Famously, Dubinsky served drinks on his way off the ice.
Dubinsky would come back.  Though he was nearly held off the scoresheet, his one assist in the series was a big one. In the pivotal game seven, Dubinsky made a key play to set up the series-winning goal.
Dubinsky suffered an injured foot in the same game, and missed the entire series against the Capitals. He returned for the final two games against the Devils, scoring one assist, before the Rangers were eliminated in the Conference Finals.
After the season, the Rangers resumed their pursuit of Blue Jackets winger Rick Nash. While aggressive, the team was hesistant to give up any core players.  Ultimately, they were forced to part with Dubinsky.  GM Glen Sather, as reported by Newsday's Steve Zipay, acknowledged that both Dubinsky and Artem Anisimov "were pieces of the core, but we think with Kreider coming along . . . and we have more young kids going to come in sooner or later. This kind of quality hockey player doesn't come along very often."   Moving his $4.2M cap hit helped to offset Nash's $7.8M contract, and Dubinsky's potential was appealing to Columbus, a team with a solid, young defense but thin up front.
The Columbus Dispatch reported that Dubinsky wasn't exactly shocked to find out he'd been moved:
"I've heard my name attached to the trade for months now. But even though you expect it, it still comes as kind of a shock. I've never been traded before, so this is tough. It's a tough day.   It's one of those things where I knew if it was going to happen, I'd be a part of it."
He addressed the season leading up to the trade with Steve Zipay of Newsday:
"I think that having the season I had last year sort of opened the door for this trade a little bit more than it was before, but I was traded for a world class player, so it's nothing that I'm terribly upset about, because in order for the Rangers to get the player that they wanted, they had to give up some good players. And I know the organization thought highly of me and still does. So I don't really hold any grudges or hold that against them."
In Columbus, Dubinsky will take the ice with some familiar faces. Coming along in the trade to the Blue Jackets were Artem Anisimov and Tim Erixon. He'll also be reinuted with former Rangers teammates Fedor Tyutin and Vinny Prospal, as well as Team USA teammates Nick Foligno, James Wisniewski, and Jack Johnson.
In the past, when presented with an opportunity, Dubinsky has stepped up.
There has never been a bigger opportunity for him than this.
Josh is a life-long hockey fan. He grew up as a fan of the New York Rangers, but thanks to their general mismanagement and years of mediocrity, has developed a great appreciation for every team across the league.
He's been writing about hockey on various sites since 1995. In addition to his work at The Hockey Writers, he also keeps tabs on the referees over at ScoutingTheRefs.com.