Earlier this week, the New Jersey Devils signed right wing Bobby Butler to a two-way deal. Butler is coming to New Jersey from the Ottawa Senators organization, where his once-promising time in Ottawa went south this past season.
Butler was with the Senators the last two years, spending much of the 2010-11 campaign with the Binghamton Senators of the AHL. There, he had 33 points in 47 regular season games and helped Binghamton win the Calder Cup while posting 17 points in 23 playoff games. He was also the MVP of the 2011 AHL All-Star Game.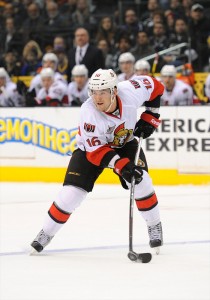 He received a call-up to Ottawa that season, posting 21 points in 36 games. Although he had a minus-16, he received 15:25 of ice time and was sixth with 2:12 of ice time on the power play.
Butler showed promise this year, but did not live up to it, often being scratched. He also lost some ice time to new acquisition Kyle Turris, who had 16:51 of ice time per game and was seventh with 1:48 on the power play.
Butler, meanwhile, had 11:28 of average ice time and barely played on the power play. He finished the year with 16 points and a plus-eight in 56 games. However, he was tied for second on the team with four game-winning goals.
His contract was brought out this past summer after the Sens signed forward Kaspars Daugavins to a one-year deal.
Now that Butler has a chance to establish himself in a new organization, he could very well break out with the Devils. For one, he can take some of the power-play minutes left by Zach Parise, who signed with the Minnesota Wild last month. Parise was third on the team with 3:26 of power-play ice time. Also, Petr Sykora, who was sixth with 1:58 played on the man advantage, might not return to the team, which gives Butler an additional chance at playing time.
The 25-year-old forward can also use this year to set himself apart from Devils forwards in contract years. Four forwards will be unrestricted free agents after this season, while three will be restricted free agents.
His competition for playing time, and possibly a long-term contract, spans across the Devils roster, starting with career-long Devil and 36-year-old Patrik Elias, and going down to Calder Trophy finalist Adam Henrique. Elias was 10th in the NHL this year with 78 points, and Henrique earned a Calder Trophy nomination by registering 51 points and ranking fourth in the league with four shorthanded goals.
Henrique also had a strong playoff run, finishing first in the league with three game-winning goals, including two series-clinchers.
Butler will also have to play better than or on the same level of Travis Zajac and Jacob Josefson, two players who are looking to make a mark after missing time with injuries last year. Zajac started his comeback in the playoffs, posting 14 points in 24 postseason games.
Josefson, meanwhile, missed 37 games with a broken collarbone this year and had nine points in 41 games. Despite a lengthy layoff, he still finished fifth on the Devils with a 51.1 percent faceoff-win percentage.
Some of Butler's other new teammates up for new deals after the 2012-13 season are Dainius Zubrus, a 34-year-old winger who has at least 30 points in four of his five seasons with the Devils. David Clarkson, meanwhile, will be looking to get close to his career campaign of 30 goals and 46 points in 2011-12.
Lastly, Mattias Tedenby is a prospect who has spent the last two seasons between New Jersey and the Albany Devils of the AHL.
The Devils may not have the space to bring back all seven free-agent forwards for 2013-14, but Butler can force the organization's hand to keep him around. He already has a championship to his name and can produce when utilized properly.
However, New Jersey is on the rise in the Eastern Conference, and Butler will have to be able to contribute right away. If he can't produce, as was the problem in Ottawa, he will once again find himself in the press box and looking for another new team in 2013-14. He performed fine when the Sens were a weaker team in 2010-11, but could not step up when they were in the playoff hunt.
But a new season means a new start for every team and player in the NHL, and Butler will be no exception. He just has to make the most of that opportunity and show Ottawa it made a mistake.
Alison is currently covering the Wilkes-Barre/Scranton Penguins of the AHL for The Hockey Writers after writing about the NHL's New Jersey Devils from 2011-2012. She is currently employed for the fast growing sports website Bleacher Report as a quality editor and hopes to one day have a media relations career with a professional hockey team. Follow her on Twitter @AlisonM_110.