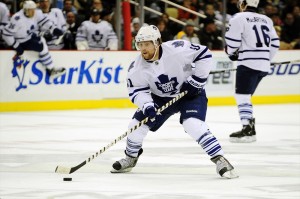 They will, they won't. They will, they won't.
They will.
It's a topic that has created divide among fans of the Toronto Maple Leafs and members of the media, and one that my own personal opinion on has changed multiple times. Will the Maple Leafs make the playoffs?
Many people say no solely based on the fact that they are coming off one of the NHL's worst collapses in recent memory. Sure, the Leafs have an inexperienced goaltender, lack a number one centre and aren't the deepest team on the back-end, but that doesn't mean another failed season is on the horizon.
It's what is beyond that people need to look at. The valuable experience that also results in improved leadership, a full season under a more suitable system and what the team has shown us they can do.
If the collapse that began roughly halfway through the 2011-2012 campaign taught the Maple Leafs anything, it's how to avoid such an issue again, what not to do when the team begins to struggle and how to work their way out of a troubling scenario. It was the same slide that had to of brought the team closer.
Now the team is a family, and one with depth up front. The challenge is to show that on the ice, which, with an improved work ethic, may not be so hard after all.
Starting up front, the Leafs have a solid one-two punch down the middle with Mikhail Grabovski and Tyler Bozak. Both provide unique play making and scoring abilities that compliment Phil Kessel and Joffrey Lupul nicely, giving head coach Randy Carlyle the option of which line they should play on.
There is also newly-acquired James van Riemsdyk, who could even find himself playing down the middle for the Leafs this season. Even if that plan doesn't quite work out, van Riemsdyk should be able to contribute offensively to the Leafs' top-six. That is, of course, if he can continue to develop in the NHL, but there aren't too many concerns regarding that.
The acquisition of van Riemsdyk gave the Leafs nice depth to their top-six forward group. There are now five wingers; Kessel, Lupul, van Riemsdyk, Nikolai Kulemin and Clarke MacArthur will all battle for the spots they deserve, but one will fall short and wind up on the third line from time to time. Even better, the Leafs no longer have to worry about a prospect like Nazem Kadri having to fill the role of second line scorer in the case of an injury.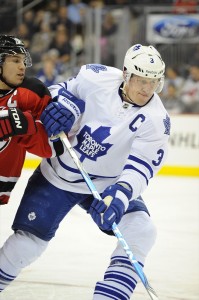 It's another fresh start for Dion Phaneuf on the Leafs' blue line. Much like 2012-2013, last season was exactly that for him, as the departure of Tomas Kaberle left no doubt that it was Phaneuf's team to lead. Things got off to a great start, but tailed off. With Luke Schenn now gone, Phaneuf is the face of the Leafs' defence and will surely take control of his blue line.
Below Phaneuf are John-Michael Liles and Jake Gardiner, who will play different roles this coming season. Liles, like Phaneuf, will take on a veteran leadership role while providing offence from the back-end. Gardiner will also contribute offensively, but as a sophomore, he will surely be given a slightly longer leash to commit errors.
There's no need to worry about the Leafs' blue line for now, at least not as much as some people are led to believe. While the addition of a stable defensive defenceman would benefit the team greatly, Phaneuf, Liles and Gardiner are reliable enough to get the team to the post-season.
Cody Franson has also proven to be a solid defender at times and Carl Gunnarsson is arguably the Leafs' most consistent blue liner.
The only gaping hole on the Leafs' defence is the final spot; will Mike Komisarek take it again or will a rookie step in and steal the spotlight? Gardiner showed us last season that the latter is possible and there is no doubt he would lend a helping hand to any rookie that might step in to the Leafs' lineup this fall.
Finally there is, dare I say it, goaltending. It's the one area where fans really need to be concerned heading into the 2012-2013 campaign, as no one is entirely sure if third-year netminder James Reimer will be able to regain his rookie form and become one of the NHL's top goalies. If he does, it will allow the Leafs' defenders to be more aggressive and their forwards to take more risks.
What's benefiting Reimer is the system that Carlyle has brought to the Maple Leafs. Unlike Ron Wilson's run-and-gun style of coaching, what Carlyle teaches is a more locked down and defensive style that relies on the goaltending much less.
A closer, more experienced squad, the depth at forward, a young, yet impressive defence corps, a full season from James Reimer and a system more fit for the "Burke style of play" are just five reasons why the Toronto Maple Leafs will make the playoffs in 2013, assuming there is a season.
You can take that one to the bank.
Twitter: @LukasHardonk | Email: lukas.hardonk@gmail.com | Lukas' archive
For every Leafs article on THW, follow @THW_MapleLeafs on Twitter.
Check out Maple Leafs Central, a THW Network site.