A morning chock full of news out of South Florida buried a big announcement in junior hockey. The prestigious Ivan Hlinka Memorial Cup will begin to be hosted by Hockey Canada in Edmonton on a biannual basis.
The U18 tournament has traditionally been held in the Czech Republic and Slovakia on alternating years. The tournament will now rotate between being played in Edmonton and Europe, with every other European appearance alternating between Czech and Slovak hosts.
The annual August tournament, founded in 1991 to honor Hlinka, brings together eight nations for a best-on-best U18 tournament that has seen many of the NHL's premier stars pass through its doors.
"The Ivan Hlinka Memorial Cup is a significant event on our calendar for many reasons, the first of which is that it honors a great player and coach who was taken from us far too soon," said Tom Renney, president and chief executive officer of Hockey Canada. "The event itself is uniquely positioned on the calendar to truly allow for all of the participating nations – and for the hundreds of NHL scouts who are attracted to the event – to take part in a best-on-best competition with the top under-18 players from around the world."
The 2018 tournament will be the first time the tournament has ever been held in Canada. Proceeds from the 2018, 2020 and 2022 tournaments will be re-invested in grassroots hockey initiatives across Alberta.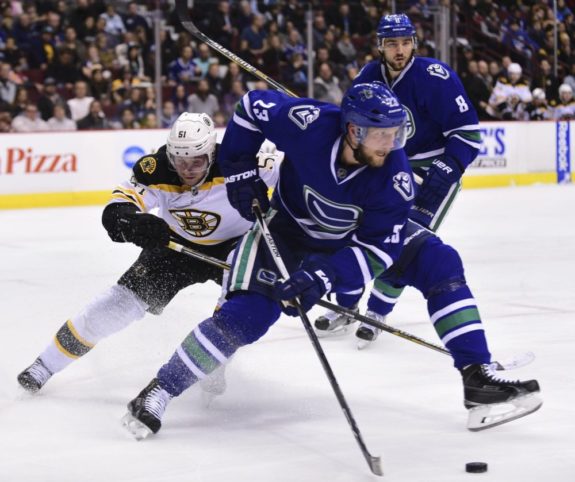 Edler to Have Surgery
The Vancouver Canucks will attempt to recover from a bad stretch early in the season without the services of defenseman Alex Edler. He was scheduled to have surgery on a fractured left index finger Monday.
The recovery timetable has him out for the next four to six weeks.
Defenceman Alex Edler will undergo surgery today for a fractured index finger on his left hand. His expected recovery is 4-6 weeks. pic.twitter.com/xKkt4Kawqo

— Vancouver #Canucks (@Canucks) November 28, 2016
Through 21 games this season, Edler has a goal, two assists and a -1.57% adjusted CF%Rel.
Wings Lose a Defenseman
Detroit is one of the NHL clubs who can least afford to lose a defenseman, but they have. Brendan Smith will miss around four weeks, according to Ansar Khan of MLive.com.
The defender suffered a knee injury on Nov. 26 and the recovery will take him out until the end of December at the earliest.
#RedWings defense pairs at practice:
DeKeyser-Green
Ericsson-Sproul
Kronwall-Ouellet

— Ansar Khan (@AnsarKhanMLive) November 28, 2016
Khan also reports rookie Tyler Bertuzzi will miss three to five weeks recovering from an ankle injury suffered against Montreal. The time frame is an estimate coming from coach Jeff Blashill, according to Khan.
Specifics about the injury aren't available, but he doesn't have any broken bones and isn't using a walking boot to get around the rink.
Fayne Waived
The Edmonton Oilers have placed defenseman Mark Fayne on waivers.
The #Oilers have placed Mark Fayne on waivers.

— Edmonton Oilers (@EdmontonOilers) November 28, 2016
Fayne has played just one game this season and was injured on Oct. 18. With his track record, it's difficult to foresee one of the league's 29 other franchises putting in a claim given his $3.625 million cap hit over this season and next.
If he clears, it will allow the Oilers to send him to the AHL where he'd at least be getting some ice time and able to rehab from his injury.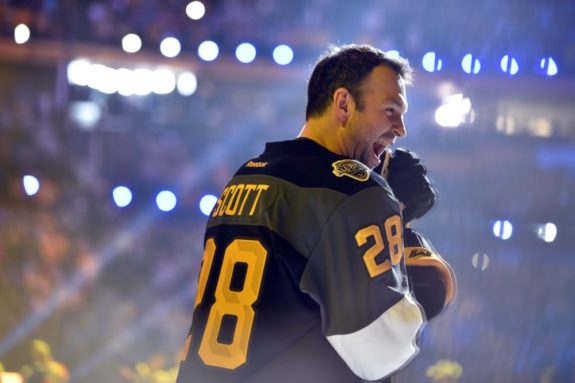 All-Star Game on NBC
For the first time since 2004, NBC will be carrying the NHL All-Star Game, set for Jan. 29 in Los Angeles, the network announced Monday.
"As the NHL celebrates its Centennial, we're excited to bring the pace and energy of the NHL All-Star Game to a network-television audience for the first time in more than a decade," said Sam Flood, executive producer at NBC Sports and NBCSN.
"This move, combined with the addition of games featuring rising young stars like Auston Matthews and Connor McDavid, as well as our upcoming 'Star Sunday' matchups, continues to illustrate our commitment to showcase the best talent in the NHL and grow the game of hockey in America."
They may be wishing they had aired the 2016 All-Star Game starring John Scott.
Ruff Remarks
One of the odd roster situations in the NHL this season has been Dallas consistently carrying eight defenders and giving almost all of them a chance to play. Coach Lindy Ruff made some interesting remarks about the situation to the Dallas Morning News' Mike Heika on Monday.
Lindy Ruff on scratching Johns and Hamhuis: "There's a couple of things in play. We really feel we're going to use eight defensemen." (1)

— Mike Heika (@MikeHeika) November 28, 2016
Ruff (2): " The other thing with Johns is if I play him tonight and play him tomorrow, that's four games in five nights."

— Mike Heika (@MikeHeika) November 28, 2016
Ruff (3): "So you pick which games you want to get him in. For Nemeth, he's a big strong defenseman that we want to get back in the lineup."

— Mike Heika (@MikeHeika) November 28, 2016
Odds & Ends
– College standout Mark Jankowski will make his NHL debut for the Flames on Monday.
As per Glen Gulutzan, Mark Jankowski will make his #NHL debut tonight. pic.twitter.com/b64JfOoHeo

— Calgary Flames (@NHLFlames) November 28, 2016
– The Arizona Coyotes have reassigned forward Tyler Gaudet to the Tucson Roadrunners of the AHL.
– The Tampa Bay Lightning have reassigned forward Erik Condra to the Syracuse Crunch of the AHL.
– This week's college hockey polls are out and the University of Minnesota-Duluth remains atop the heap. They're followed closely by Denver and Boston College. Also notable is the first appearance of Ohio State in the top 10 since 2012.
With weekend off, @UMDMensHockey stays No. 1.@OhioState_MHKY breaks into top 10 for first time since 2012.https://t.co/HDPcqckKKe pic.twitter.com/NAKXqNIavO

— NCAA Ice Hockey (@NCAAIceHockey) November 28, 2016
– Ahem.
Sometimes you can't help but dance. pic.twitter.com/qaKNEvboQr

— Sudbury Wolves (@Sudbury_Wolves) November 28, 2016