This is part or our Hockey 101 series for the new fan, click here for the entire series… 
Heavy hits are a common part of the game. The best ones are the legal ones, however. Violent hits can result in penalties. Boarding and charging are similar rules as they deal directly with contact between players. In recent seasons, the NHL has cracked down heavily on these types of hits because they are often the cause of head injuries. Especially egregious hits can garner fines and suspensions.
Boarding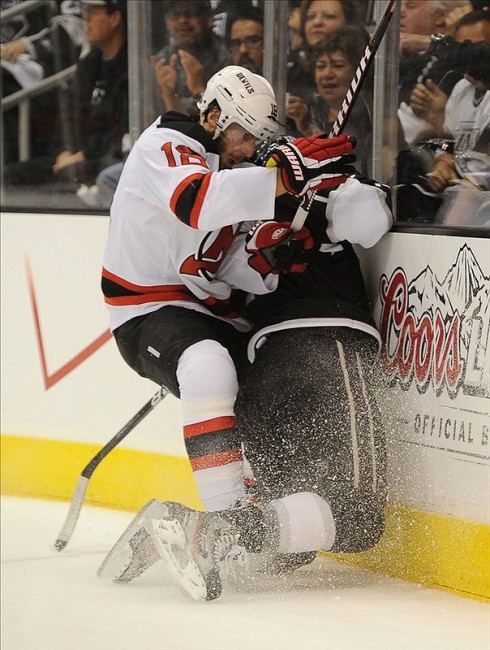 Boarding is the penalty called when a player checks a defenseless opponent violently into the… well… boards. A defenseless player is defined as one that has his back to the checking player, no longer has a play on the puck, or other situations at the referee's discretion.
When checking a player, it is the responsibility of the hitter to do it correctly. A correct hit is defined as using the shoulder to hit above the waist but below the neck area and avoiding hitting a player in the back. So, in the event of a hit, the aggressor must try and alter his course or attempt to avoid the player if he becomes defenseless. Exceptions are made if the other player was determined to have put himself into a defenseless position intentionally.
Charging
A charge is a similar offense to boarding but can take place in open ice. It can also occur along the boards. A charge is defined as a violent hit as a result of "distance traveled." This translates to a heavy hit that is a result of a skater taking multiple strides and deliberately slamming into another player. It can also mean that the aggressor left his feet to hit the other player. This "distance" is at the discretion of the referees, but to the spectator, a charge is very easy to spot.