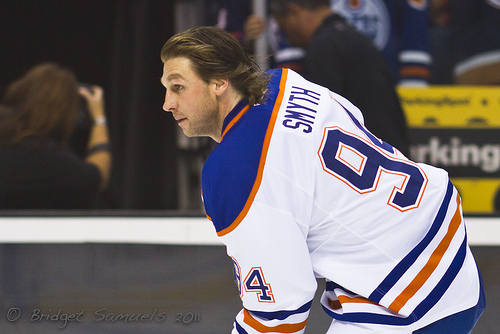 In 1994, then Edmonton Oilers general manager Glen Sather was looking to draft a player with "lots of guts". Edmonton believed they found their guy in an 18 year old left winger from the Moose Jaw Warriors in Ryan Smyth. Flash forward 20 years later and the Oilers aren't regretting the selection in Smyth.
On Friday, Ryan Smyth announced his retirement from the NHL after 18 seasons. Smyth embodied what it meant to be an Edmonton Oiler and throughout the late-90s to early-2000s, Smyth was the face of the franchise. Current Oilers general manager Craig MacTavish said,
"There are many players that have worn the Edmonton Oiler jersey but there are no players that have worn the jersey that had more passion than Ryan Smyth,"
That is saying a lot considering all the great players who wore an Oilers sweater. Players like Gretzky, Mark Messier, Jari Kurri, Grant Fuhr, Paul Coffey, Glenn Anderson, but Ryan Smyth wore an Edmonton Oiler sweater prouder than all of them.
Smyth never complained and never asked for a trade. He played on some really bad Oiler teams, but he was always a team player and always kept a professional demeanor, in today's NHL world, that is a rare find.  Although he was never a captain with the Oilers, he was as close as anyone could have been.
When the Oilers traded Ryan Smyth to the New York Islanders in 2007, it was a very emotional scene for the kid from Banff, Alberta. He gave his all to the Oilers, but they had no choice but to deal him
Smyth would eventually return to the Oilers, but in a different role. During Smyth's first tenure in Edmonton, he was the star of the team and a player the team was going to build around. More recently though, Smyth has seen a diminished role and serves as a mentor to a very young Edmonton team. Current young Edmonton star Taylor Hall said about Smyth's leadership and mentoring,
"He's brought a lot to our young group. Just him talking to our group this morning, really emphasizing the fact that it's a privilege to play this game and he just reiterated that it is a lot of fun to play this game and to be a part of the group of guys that we have and day-after-day coming into the rink is truly something you should be grateful for. There's a lot of things you can take from Smytty, a lot of things he did on the ice so well and in the room as well. He's just a cheerful guy and a pleasure to be around."
Next year's team won't have Smyth as it's mentor anymore, but he has made them a better team because of his leadership. If there is any player any of the young Oilers should emulate, Ryan Smyth should be the guy.
One regret I'm sure he has is that he was never able to deliver another Stanley Cup to Edmonton, although he had some close calls. In 2006, Edmonton came within one game of winning the Stanley Cup as an eight seed before falling to the Carolina Hurricanes. Smyth left the Los Angeles Kings one season too early before the Kings won the Cup in 2012.
Ryan Smyth might have only played in one All-Star game and he might never be a Hall of Famer, but Ryan Smyth will forever be a legend in Edmonton Oiler lore and that is something you can hang your hat on.
What will you remember the most about Ryan Smyth? Comment below or send me a Tweet, @MarkWGraham