The Jimmy Vesey Sweepstakes
If you've ever wondered what the phrase "dog days of summer" actually means, consider the fact that a 23 year-old college player, who has never suited up for an NHL game, is the center of a media-fueled frenzy. That's how you know the news cycle is a little slow. In Vesey's defence, it's mainly the media that has thrust him into the spotlight rather than the kid himself, but it's almost become laughable. Is the story as big a deal as Twitter would suggest? Probably not, but this is the world we live in.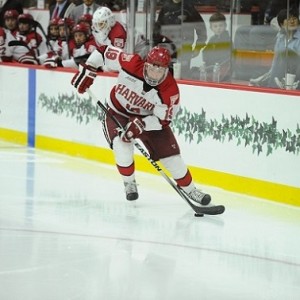 No one has any idea how Vesey will perform in the NHL. Highly sough-after college free agents are hit and miss, though often saddled with expectations that they can't possibly meet (see: Justin Schultz). The hoopla over Vesey shows how desperate teams are to find good players, particularly players that they don't need to protect in the expansion draft. He's had a couple of great seasons at Harvard, scoring 56 goals in 70 games. The talent and potential is there, hence why the Nashville Predators were disappointed that the former 66th overall pick elected not to sign with them.
The Buffalo Sabres (who acquired his rights in a trade) are still in the running, the Boston Bruins are there, the Chicago Blackhawks are a favorite (because they deserve more talented players for nothing, of course), even the Pittsburgh Penguins are making a pitch. Which team will Vesey choose? We likely won't know until later on the week, and this drama will finally be over with. While I think the perception of Vesey is entirely overrated, I'd imagine that his suitors know exactly what to expect.
In other words, for as much as we're all getting tired of hearing about a completely unproven rookie, GM's are level-headed about it. He might be great, he might struggle. They have nothing to lose really, other than the cost of an entry-level contract. It's worth the risk. For his sake, let's hope he pans out, or he'll forever be known as the most hyped player who wasn't nearly worthy of the attention. [The Hockey News], [Sportsnet], [Toronto Star]
In Other News…
If the Canadiens stumble out of the gate, is Patrick Roy the heir apparent to be their coach? [Montreal Gazette]
What exactly happened with Roy and the Avalanche? [Mile High Sticking], [TSN]
Are the Senators a playoff team? [Ottawa Sun]
Radim Vrbata is back in Arizona. [Puck Daddy]
Can the Red Wings make a hockey deal involving Jimmy Howard? [Winging it in Motown]
Is Robin Lehner a legitimate number one goalie? [Today's Slapshot]
How about this guy to play with John Tavares? [Lighthouse Hockey]
And finally, these teams need a captain. Who should they choose? [SB Nation]
Marcy, a former hockey player, is a hockey correspondent on CTV News and TSN radio. She began her career as a Sports Journalist in 2009 and has been part of The Hockey Writers since 2010, where she is currently a senior writer and editor.