After stealing Artemi Panarin away from the KHL to play alongside Patrick Kane, Stan Bowman is aggressively pursuing a player that could play next to Jonathan Toews for the foreseeable future. That player, of course, is the heavily-recruited former Harvard standout, Jimmy Vesey.
Enough has been written about the hotly-contested sweepstakes to land Vesey that providing a complete recap of his situation in this piece is unnecessary. What should be noted, though, is essentially everything in the following tweet from Corey Pronman (with more of an emphasis on his note on Vesey's true skill level):
Jimmy Vesey stuff and end of the summer. pic.twitter.com/mXpyK9WYpg

— Corey Pronman (@coreypronman) August 15, 2016
Despite knowing this ahead of time, NHL teams and the media-at-large are losing their minds over where Vesey will eventually decide to sign. Because of this enormous amount of hype, it now seems highly unlikely that Vesey will live up the unrealistic expectations fans will have built up for him. But for the Blackhawks, the pursuit of Vesey has never been about adding another star to the roster.
Vesey Is a Perfect Fit
Instead, all the Blackhawks would need from Vesey is for him to play better than Richard Panik — at least for the short-term. And he seems like a player more than capable of providing exactly that kind of performance.
Standing over six feet tall and weighing just under 200 pounds, Vesey is bigger than many of the other forwards on Chicago's roster, which makes him a good fit for the style of play Toews has adopted for the top line. He also has excellent vision on the rush and the awareness needed to play effectively at or below the goal line. He is also left-handed, which provides depth for a team with plenty of good players that can play the right wing.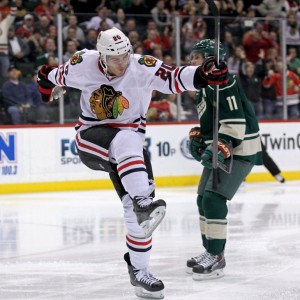 In case you didn't pick up on this by now, those same traits also belong to Brandon Saad: one of the most successful left wingers in the Toews-Hossa era on the top line. Just because those two share a few traits doesn't mean that Vesey will be able to repeat Saad's production, but it does help illustrate how well he fits into the Hawks' lineup.
The Hawks Would Work for Vesey Too
But this isn't a one-way street either. Using Saad as an example one more time, remember that he received a $36 million contract from Columbus because of how well he played next to Toews. I can imagine that Vesey would like to see such a payday present itself to him as well, and the Hawks are the most talented team he could sign with to help that materialize.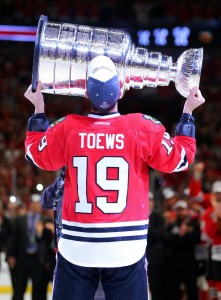 I am also assuming that Vesey wants a chance to play sometime soon, which also makes the Hawks a good fit for him. That spot to the left of Toews on the top line is perfect for the young forward as long as he can impress Joel Quenneville enough upon signing.
And with potential linemates like Toews, Patrick Kane, and Marian Hossa, Vesey wouldn't need to be the best player on the ice at all times in order to be successful. Less established teams like the Maple Leafs or Sabres would struggle to surround him with similar talent capable of lifting Vesey as he would them.
So while the Blackhawks are far from the clear-cut favorites to sign Vesey this week, his fit with the team is undeniable and shows that the team would be happy with his signing regardless of whether or not he reaches superstar levels.
David is entering his final year as a sport management and operations and information management double major at UMass Amherst. Originally from the West Suburbs of Chicago, David has enjoyed watching the Blackhawks for as long as he can remember. When not watching or writing about hockey, he can be found working on the McCormack Future Leaders Conference on the UMass campus.