P.K Subban Pokes Fun at Former Team
When exiled Habs defenceman P.K Subban sat down for an interview regarding his trade out of Montreal, he was very diplomatic, and was careful not to throw anyone under the bus. At his Comedy Gala during the Just for Laughs festival, however, things were a little different. Subban threw some jabs the way of Canadiens management and coaching, while aiming a dig at the team's Stanley Cup aspirations. It was all in good fun, and Subban made sure to communicate his love and appreciation for the fans of Montreal. He also raised $130,000 for the Children's Hosptial.
Full story here: [The Hockey News], [NHL.com]
Subban wasted no time endearing himself to the Nashville Predators faithful, making an appearance in the city shortly after he was dealt. His counterpart Shea Weber, however, has yet to visit Montreal. There's no particular timeline for when a player has to present themselves, but obviously Habs fans want to see Weber in his new digs. But it's really part-in-parcel of the differing personalities. Subban loves the spotlight, and wants to exercise his star power in his new city as soon as possible.
Weber on the other hand, is continuing his normal summer routine, and has no intentions of making any grand spectacles in Montreal. Shea's agent says there should be no concern over his client's lack of gusto to visit the city. The situation serves as a reminder of why the Habs wanted a guy like Weber. He's all business, no flash, won't draw attention to himself. Although you could argue his absence thus far is a drawing a little bit of press. [Montreal Gazette]
In Other News…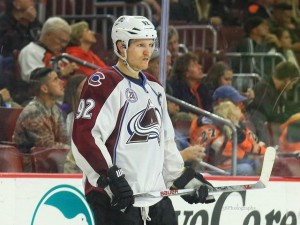 Gabriel Landeskog wants everyone to take concussions more seriously. [The Score]
Sam Gagner is officially a member of the Columbus Blue Jackets. [Sportsnet]
The Coyotes have bought out Antoine Vermette. [Calgary Herald]
Tyson Barrie and the Colorado Avalanche finally came to terms on a new contract. [The Denver Post]
Oscar Klefbom had some choice words about his former teammate. [Copper N Blue]
The Oilers have hired Keith Gretzky as their new assistant GM. [TSN]
Toronto has re-signed defenceman Martin Marincin. [Hot Stove]
Jonathan Bernier is looking forward to a fresh start. [ESPN]
How about this for a shoot-out goal? [For the Win]
And finally, if you haven't read Bobby Ryan's article about his mom, you really should. [Players Tribune]