Martin Havlat has started skating with HC Kometa Brno of the Czech Extraliga with the intention of coming back to the NHL for the 2016-17 season, his agent Allan Walsh reported on Tuesday.
S Kometou trénuje Martin Havlát. Touží se vrátit do NHL – https://t.co/j1zioVHcT3 pic.twitter.com/OMo57AoAcE

— HC Kometa Brno (@HCKometa) August 2, 2016
Havlat, 35, last played in the NHL when he played in two games with the St. Louis Blues during the 2015-16 season. Havlat signed a one-year contract with the Blues on Nov. 6, 2015, but was placed on unconditional waivers a week later and it was reported that he was leaving for personal reasons.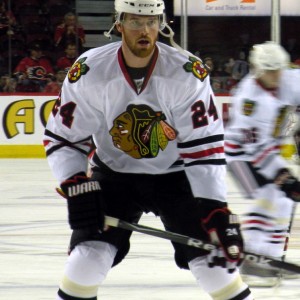 Havlat has played in 790 career NHL regular season games and registered 242 goals and 594 points. In 75 postseason games, he has added 21 goals and 52 points. During the 2008-09 regular season with the Chicago Blackhawks, Havlat set career highs in games played (81), assists (48) and points (77). He followed by scoring five goals and 15 points in 16 playoff games.
After the 2008-09 season, Havlat was named the team's MVP but was only offered a one-year contract by former Blackhawks general manager Dave Tallon. On July 1, 2009, Havlat signed a six-year, $30 million contract with the Minnesota Wild and spent parts of the next five seasons with the Wild and San Jose Sharks.
On June 27, 2014, the Sharks bought out the final year of his contract and Havlat became an unrestricted free agent. On July 1, 2014, Havlat signed a one-year contract with the New Jersey Devils and reunited with fellow Czechoslovakian teammate and friend, Patrik Elias. After an injury-plagued season limited him to just 40 games, Havlat was left unsigned by the Devils.
Havlat was originally selected by the Ottawa Senators 26th overall in the 1999 NHL Entry Draft.
Steven is a lawyer and writer with a passion for the game of hockey. He's the Lead Writer covering the Tampa Bay Lightning with THW. He's also been press credentialed through the Lightning since 2016. His work has been published at The Fourth Period, LightningInsider.com, Bolt Prospects, The Sports Daily Network, U.S. College Hockey Online and College Hockey News. He's had radio appearances on TSN 690 in Montreal, Lightning Power Play Live and multiple podcasts to give insight and analysis on the team. He can be reached on Twitter @StevenDiOssi and by email at sdiossi@gmail.com.