Every hockey executive, scout and coach is looking for that player that possesses the "it" factor. The player with the perfect combination of ability, durability, and intelligence. Thanks to cognitive training used in a software service product, Hockey IntelliGym can be used anywhere. Whether in a personal home, or the new Mayo Clinic Sports Medicine Center, Hockey IntelliGym is making the search for the game's next big thing a pool of growing candidates. But what has Hockey IntelliGym delivering this type of enhancement to players at all levels of the game?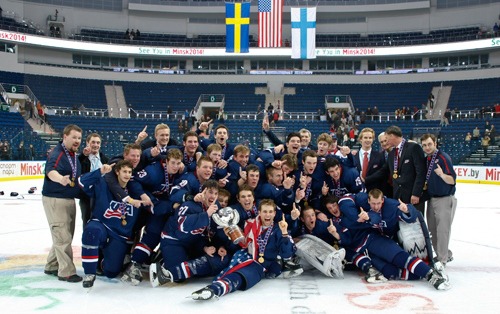 What is IntelliGym?
IntelliGym is a cognitive therapy training system, originally designed to enhance the performance of Air Force pilots. Applied Cognitive Engineering (ACE) has now taken the the theory developed by the Defense Advanced Research Projects Agency and used the same type of training for hockey players. In other words, the mental exercises that made handling situations in aviation combat second nature has since been used to make hockey players more progressive in the mental and physical aspects of the game.
"What we have discovered is that a key factor for an effective transfer from training environment to reality is that the training program ensures 'Cognitive Fidelity,' this is, it should faithfully represent the mental demands that happen in the real world," said Daniel Gopher, a fellow of the U.S. Human Factors and Ergonomics Society. "Traditional approaches focus instead on physical fidelity, which may seem more intuitive, but less effective and harder to achieve."
The aftermath of the program produced overwhelming success for the U.S. and Israeli fighter pilots who took part in this ground-breaking advancement.
"The results were mind-boggling. The researchers identified a record improvement in flight performance – more than 30% in two of the leading air forces in the world – for cadets who had undergone only 10 hours of focused attention training in Gopher's simulated 'game.'" — Intelligym.com
From Airplanes to Hockey
The developers of Hockey Intelligym have since established software pertaining to the mental facet of the game of hockey. Although this cerebral training is still somewhat new, more than a handful of hockey organizations have already reaped the benefits of this training method.
"The Hockey IntelliGym addresses an under-utilized aspect of training, and that is the mental side of the game. The deep learning sessions enable our players to work on a variety of situations in a controlled environment and continue to train their minds even after a day of practice and workouts," said Danton Cole, head coach at USA Hockey's NTDP.
Participation is easy, requiring only an hour per week (two, 30-minute sessions), a laptop, and an internet connection. The program allows players to track their progress, much like a golfer logs his scores to improve his handicap. All the while, the players' coaches have access to their growth. This is anything but a "one-size fits all" program, however. Each player is evaluated according to his own strengths and deficiencies, allowing the player to improve in both areas.
"We found a lot of similarities between jet flying and competitive sports," said Applied Cognitive Engineering CEO Danny Dankner. "We realized we had the technology to improve performance of people in information-condensed environments with a lot of data coming in, and where fast decisions need to be made under duress."
"Cognitive training has taken off amongst thousands of players and hockey programs of all levels in recent years. The Hockey IntelliGym has been used by Major Junior clubs such as the Seattle Thunderbirds, Niagara Ice Dogs, Ottawa 67s, Regina Pats, and Portland Winterhawks. Major US College squads, such as the Union College Flying Dutchmen and the Air Force Falcons have also used the program." — PRWeb
These Major Junior teams are not the only ones who have improved their overall awareness and ability through Hockey IntelliGym. The USA U-18 men's hockey team were the first to participate in IntelliGym, introducing it to their program in 2008.
"…The mind is the most powerful tool that we have…We can develop our minds just like we can develop our skating…and that's what this program allows us to do," said former U-18 coach, Kurt Kleinendorst.
The results have been anything but lacking. The U.S. not only went on to capture gold in the following year, they successfully retained their right to the gold for four consecutive years. To date, the U.S. U-18 team has won five of the last six gold IIHF Championships, including this past year in Finland.
In the 2009-10 season, the performances of the U.S. U-18 and U-17 teams were mere proof that Hockey IntelliGym was paying off, and in a big way. The U18 team wan 41% more of their games, while the U17 team won 34% more of their games.
"The beta results with the National Team Development Program had coaches cheering: In January 2009, the U17 team won the World U17 Hockey Challenge, beating teams from Canada, Russia, Sweden and the Czech Republic. That same year, the U18 team increased their win ratio from 29% to 70% after after going through the IntelliGym™ program, eventually winning the IIHF World U18 Championship – skating all the way to a gold medal." — USA Hockey IntelliGym
Hockey IntelliGym's Impact on the NHL
The NHL is already starting to be peppered by those who have taken advantage of Hockey IntelliGym. In last year's NHL Entry Draft, 13 players who utilized Hockey IntelliGym were selected. The Nashville Predators selected Seth Jones fourth overall, and the Montreal Canadiens took Michael McCarron later in the first round.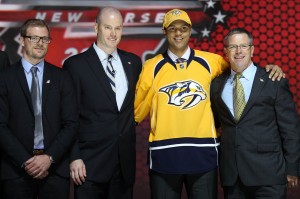 Other notable names who have benefited from the training include, Chicago's Brandon Saad, San Jose's Matthew Nieto, and Carolina's Justin Faulk.
Saad, who spent one season with the USA U-18 team (2009-10), has established himself on one of the Blackhawks' most successful lines with Patrick Kane and Andrew Shaw. At just 21-years of age, Saad has already accumulated 74 points in 126 NHL regular season games. Furthermore, he has 23 points in 44 playoff games with Chicago, including 16 points in this year's post-season.
Justin Faulk, who just completed his third season in the NHL, tallied 66 points in two seasons with the U.S. U-18 team (9th all-time in points by a defenseman). His two seasons under Hockey IntelliGym has spring-boarded the South St. Paul native to a USA roster spot in the 2014 games in Sochi, as well as 69 career NHL points in 180 games played.
Matthew Nieto, who finished his USA U-18 career 10th in all-time points and assists, played 66 games this past season with the San Jose Sharks. Nieto scored 10 goals and added 14 assists to round out his rookie campaign with 24 points.
Other notable names who've either introduced themselves to the league, or will be doing so in the near future are Jacob Trouba, Reid Boucher, Adam Clendening, J.T. Miller, and Ryan Hartman.
While there are plenty more who can be listed, the list is sure to grow. The results are in and we are all beginning to see Hockey IntelliGym delivering an advantage to those who use it to improve or develop hockey sense and awareness. In year's past, the "it" factor was just a rare God-given attribute. Today, Hockey IntelliGym is now manufacturing that ever so elusive virtue.
For more information, please visit: USA Hockey – The Hockey IntelliGym