It wasn't so long ago that Dustin Byfuglien was being lauded for his leadership in the handling of the Evander Kane situation. I felt the passive-aggressive manner in which Kane's clothes were thrown in the shower was childish, though many disagreed with me. Now yes, I've been in hockey dressing rooms, and I know there's a particular dynamic in there, but I felt that Byfuglien was getting praised for something that could have been attributed to bullying. (No I'm not trying to be over-sensitive). But anyway I digress. The reality is, Byfuglien was having a great season, a big reason why the Winnipeg Jets are in a playoff spot. He seemed to be growing into the exact type of leader they needed.
Big buff has been known to dish out the occasional dirty hit, but his cross-check on Miller couldn't have come at a worse time. Rightly so, he's been suspended for four games, and at this point in the season, he has really put his team in a precarious position. The Jets playoff spot is far from secure, and they are fighting for every point they can get. Byfuglien's selfish, unnecessary play has put his team at a disadvantage, and it could cost them a postseason berth. Even with Byfuglien in the line-up, the Jets have lost a couple of heart-breakers this year and left crucial points on the table. They won games while he was injured, so the suspension may not be the reason they miss the playoffs, but it certainly doesn't help.
Details on the Byfuglien suspension: [Yahoo Sports]
Captain Andrew Ladd found a way to defend his teammate: [Winnipeg Sun]
Meanwhile, the Kings playoff hopes may be on the rise. [Today's Slap Shot]. Playing the Oilers certainly helps. [Copper N Blue]
Tanner Pearson signed a new contract with L.A. [Sportsnet]
The Oilers have re-signed Anton Lander to new, and very affordable, contract extension. [CBC]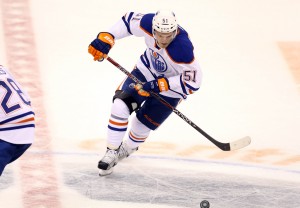 Updated NHL standings: the Kings are now in a Wild card spot, one back of the Flames, and hold the tie-break over the Jets. Meanwhile in the East, the Senators won but so did the Bruins. Is it too late for Ottawa? [NHL]
Alex Ovechkin is a new player, but still the same great goal-scorer. [ESPN]
Will the Sabres win their way out of 30th place? [HockeyBuzz]
The Rangers are Metro division champions. [CBS]
Jaromir Jagr continues to make history. [The Score]
And finally, apparently the Ducks used fake tweets. [The Royal Half]
Marcy, a former hockey player, is a hockey correspondent on CTV News and TSN radio. She began her career as a Sports Journalist in 2009 and has been part of The Hockey Writers since 2010, where she is currently a senior writer and editor.