Here are the stories catching our eyes for Thursday, Aug. 20:
Alex Ovechkin has stated that he will play in the 2018 Olympics, no matter what the NHL decides. [Stars and Sticks]
The superstar said he would be "very happy" if the Capitals signed his best friend, Russian defenseman Ilya Nikulin. [Russian Machine Never Breaks]
Bridgestone has discontinued their sponsorship of the Mark Messier NHL Leadership Award. [Puck Daddy]
The Jets' Blake Wheeler feels that jersey ads would "tarnish" the experience of wearing an NHL sweater. [CBC.ca]
An NHL uniform is a sacred thing and it's an honor to wear one. Putting corporate sponsors on the front would tarnish that. Don't do it

— Blake Wheeler (@BiggieFunke) August 18, 2015
Whether you like it or not, NHL jerseys will have ads at some point. [For The Win] Flyers jerseys could have a strange new look when Adidas takes over. [Broad Street Hockey] The term "It's a business" applies to more than just trades and contracts. [Stanley Cup of Chowder]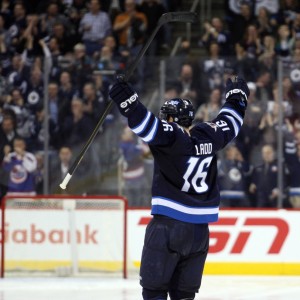 How much will Andrew Ladd's next contract be? [Winnipeg Sun]
Sidney Crosby played goalie for a Penguins' employees' dek hockey team. [CBS Sports]
Patrice Bergeron ranked in at No. 20 on The Hockey News' top-50 players list. [NESN]
There's a California Seals documentary on its way. [SI.com]
Here's the best team that the $71.4 million salary cap can buy. [Today's Slapshot]
Seguin won't get into talks about his former team in Boston. [The Score]
I am a former NHL media member and reporter for the St. Louis Blues, working for various media outlets. Currently, I am an NHL News Writer and Editor for The Hockey Writers. I live in St. Louis and work as a freelance copywriter in numerous industries.