When Sidney Crosby scored just 10 seconds into the game, you got a sense that the Penguins may actually pull this off. And when they went into the first intermission up 3-0, you couldn't help but feel it still wasn't over. This is a team that is completely incapable of playing a full sixty minutes. They cannot protect leads. The Penguins are in serious danger of missing the playoffs, and if they do, it's well deserved. Yes, their injury depleted defence (lost Derrick Pouliot against the Sens) is pretty bad, but when you're leading a must-win game 3-0, you can't meltdown like that.
The Senators on the other hand? They have shown plenty of fight, and desire, and it's paying off. Granted, leaving a point on the table to the Leafs, and letting the Pens get a point may end up keeping them out of the playoffs, but realistically, I think they get in. The Penguins are facing the New York Islanders next, and Pitt cannot beat teams in their own division. Then, the Pens close off the season to the Sabres. A game they should win, but considering their performance over the past few weeks, there's actually a decent chance Buffalo wins.
The Senators face the Rangers, who have nothing to play for after securing the President's Trophy, and then the Flyers, which may pose a problem, but you have to like Ottawa's game right now. Pittsburgh is tired, undermanned and running out of time. There is no evidence they can turn things around, and they inspire zero confidence. But on a brighter note, how about that Mark Stone? Rookie of the year? [Senshot]
A couple of angles on the plight of the Penguins: [Trib Live] and [HockeyBuzz]
But really this is less about the Penguins, and more about what the Senators are accomplishing. [Sportsnet]
And now to the rest of the NHL…
The Islanders went from jubilee to face palm really quickly. [Lighthouse Hockey]
No Byfuglien? No problem. Just need Ondrej Pavelec. [Winnipeg Sun]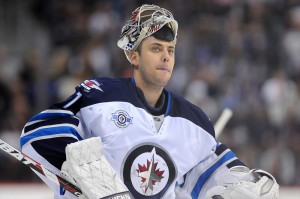 Patrick Kane might be back for the first round, which is obviously huge. [CBS Sports]
Poor Jack Johnson is in even more financial trouble. [Jackets Canon]
It feels like 1994 for the New York Rangers. [NY Post]
The Kings lost to the Oilers last night, while the Flames, Jets and Wild all won. [Puck Daddy]
And finally, do we even understand Joffrey Lupul anymore? [Hockey Feed]
Marcy, a former hockey player, is a hockey correspondent on CTV News and TSN radio. She began her career as a Sports Journalist in 2009 and has been part of The Hockey Writers since 2010, where she is currently a senior writer and editor.