On Wednesday, I wrote a column calling into question Mike Babcock's use of his players. Included in there was the lineup I would like to see the Leafs use as often as possible. One forward line you'll see I didn't tamper with was the top-line trio of Zach Hyman, Auston Matthews and Willy Nylander.
An Unconventional Path to Stardom
Hyman's road to the NHL was atypical. He comes from a well-to-do family, whose driveway was occupied by the Porsche that often was Zach's mode of transportation to practice. He went to a prestigious private school in Toronto, and was coached by his father for the majority of his minor hockey years. A Globe and Mail article on Hyman referred to the Leafs' feisty winger as the quintessential "overdog" who truly had it made.
One of five hockey-playing sons of Stuart and Vicky Hyman, Zach played three years in the Ontario Jr. Hockey League with the Hamilton Red Wings from 2008 to 2011. He had committed to Princeton University as a 15-year-old, and was drafted by the Florida Panthers 123rd overall in 2010.
Instead of signing, he suited up not for Princeton, but for the University of Michigan for four years, after which he was signed by the Leafs, who acquired his rights from Florida and signed him as a college free agent on June 23, 2015.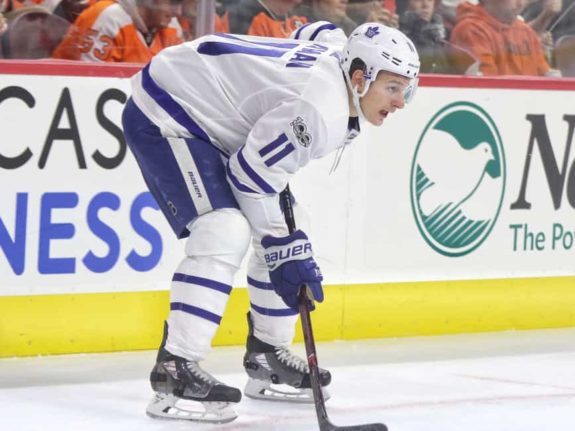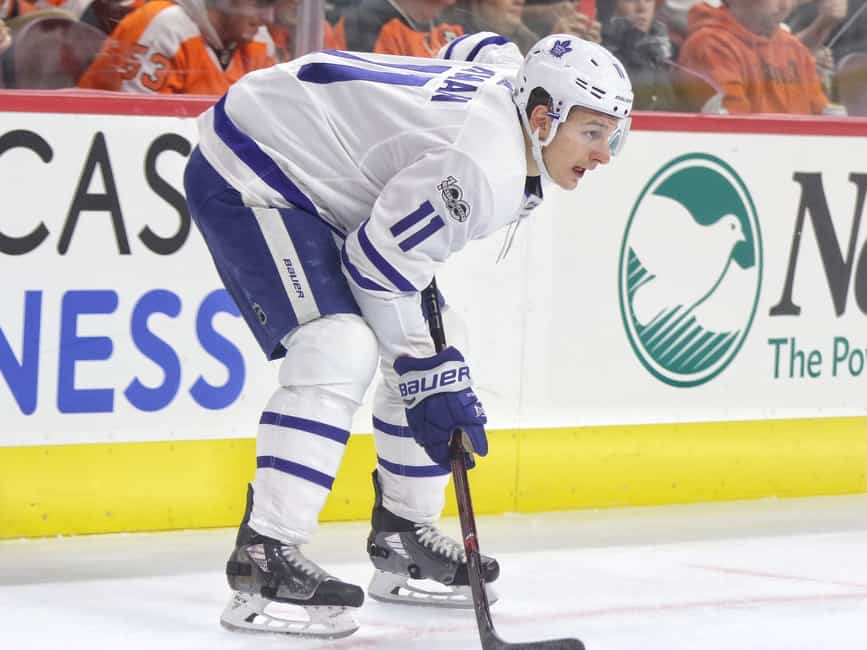 His coach at UM, Red Berenson, saw Hyman struggle to score at the collegiate level after lighting it up in his final two seasons in the OJHL, when he potted 77 goals and notched 177 points in 92 games (hockeydb.com). Berenson told James Mirtle, who wrote the Globe piece, that he knew Hyman's only shot to make it in the best league in the world was to transform his game into that of what would normally see him top out as a third-line NHL winger.
He has, and it's paid immediate dividends, not on the Toronto's third line, but its first – and that's right where he belongs.
The Rationale
Though several disagree, I've always seen a purpose for Hyman on the Leafs' top unit. It isn't something we see a lot of in the league, but I think it's something other teams should start infusing into their lineups more often.
The reason Hyman fits so perfectly on the Leafs top unit is one thing: his work ethic. It is something that has been well documented by Berenson and by Mike Babcock.
"He's from a privileged background, but he doesn't act like that. When he shows up at the rink, he works hard," Berenson told Mirtle. "He's a low-maintenance player. He's a coach's player. He's going to play a blue-collar game, even though when he walks into the rink, he may not look like a blue-collar person."
"Hyman is a guy who gets the puck back all the time," said Babcock to Jonas Siegel of The Athletic. "…I've learned from good players – they like to have the puck. When you have three guys who want the puck – like (Pavel) Datsyuk used to tell me all the time, 'No, put him on somebody else's line. I want somebody to get me the puck.' He gets the puck back better than anyone."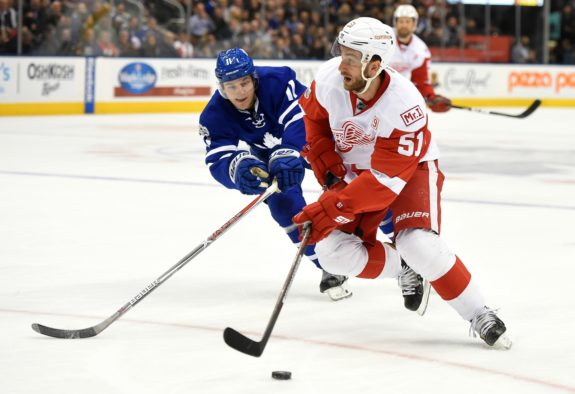 Babcock sums it up perfectly. Hyman's ability to get the puck to his linemates – who know better what to do with it than Hyman does at the NHL level – is why he is with Matthews and Marner. Playing Hyman in the bottom six with players like Leo Komarov or Matt Martin diminishes his value greatly. Those players serve similar purposes, whereas Hyman's role is more defined on the top unit.
It may seem like trying to fit a square peg into a round hole to the naked eye, but Hyman's position on the top unit serves a tremendous purpose. Unfortunately for THW's Will Billinghurst, who advocated for his demotion off top line last year, he is going to be there for the foreseeable future – and he should be.
The Stats Back it Up
Hyman's possession numbers are intriguing, and maybe slightly confusing, but when you think about them a little more, the less puzzling they become.
He had a plus-85 Corsi last season at even strength to go along with a plus-31 Fenwick. Hyman also had a 51.6% Corsi For, and a 50.9% Fenwick For at 5-0n-5, which means his unit had the puck more than it did not.  Those statistics would tell you that Hyman and his linemates are very good at owning the puck when they have the possession at even strength.

Where it gets interesting, and also indicative of Hyman's ability to get the puck, is when you consider this: Hyman ranked third (last) on his line when it comes in most of these numbers in 2016-17. Matthews' Corsi and Fenwick ratings at even strength were plus-109 and plus-65, respectively, while his Corsi and Fenwick For percentages were 52.2% and 50.2%. As for Nylander, he had a plus-144 Corsi and a plus-101 Fenwick, with even strength percentages of 53.2 (Corsi) and 53.0 (Fenwick).


What do these stats tell you? That Hyman is, as Babcock says, the go-getter on that line. He distributes the puck to Matthews and Nylander, who are the ones who finish it off. The possession numbers are much more inflated for Matthews and Nylander when you look at them in all situations rather than just at even strength, but there's a reason for that, too. Hyman plays more on the penalty kill than his linemates, meaning he and the other penalty killers have the puck less in the offensive zone. Conversely, Matthews and Nylander see much more time on the power play, meaning they have the puck in the attacking zone more frequently, and are therefore directing a greater number of shots on goal than Hyman.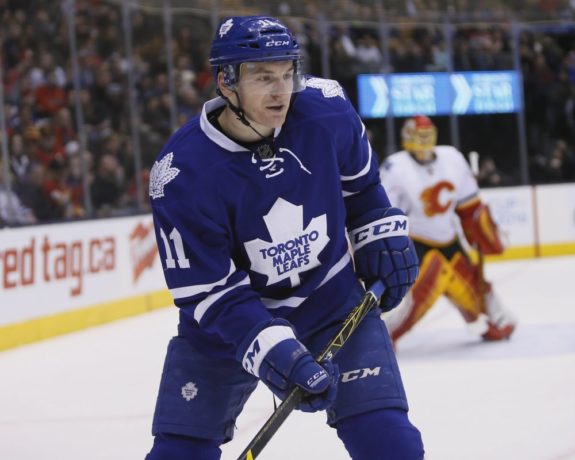 It's No Secret Where Zach Hyman Belongs
As the old saying goes, "numbers don't lie." Looking at those stats, they really do tell the story. His numbers are down this season, but not far enough for a legitimate argument to be made that Hyman is better-served to play anywhere else besides on the top threesome in the Leafs lineup.
Babcock, in another Globe and Mail column, by Jonas Siegel, called Hyman a "dominant forechecker" and a "dominant cycle player," adding "Some guys are pure passers and so they need more shooters with them, but [Matthews] likes to shoot the puck, as you can see, and he likes people that can get it to him."
The Leafs' bench boss clearly sees Hyman's value, which lies mostly in his work ethic and his 'lunch-pale' type approach to the game. "We spend a lot of time talking about skill, but one of the most important skills in hockey is competitiveness," added the 2008 Stanley Cup-winning coach.
Competitiveness, grit and hard work are traits Hyman vigourously embodies on a daily basis, and they're attributes, as Berenson said, he would need to lean on to make it to the NHL.
He leaned – heavily – and is now playing alongside two of the league's best young talents as a reward.
Currently in school looking to become mildly proficient at journalism (preferably in sports). Lifelong Leafs fan; excited to cover my boyhood team at a high level.
Hopefully you like my stuff – if not, that's your loss