Few people – in fact, maybe none at all – would argue that Mike Babcock is the best bench boss to grace a National Hockey League franchise with his presence. He's a tactical genius, a player's coach and possesses a strong pedigree of success at several different levels.
That said, several people who know the game well – myself included – have questioned one thing over his tenure in Toronto: the use of his lineup. We mentioned he is a player's coach, but when it comes to the Leafs' lineup on a nightly basis, that unwavering loyalty to his players could be seen as a detriment to the team's success.
The Defence Without Zaitsev
Nikita Zaitsev has been out of the Toronto lineup since December 17, when he was placed on injured reserve with a lower body injury. He presumably sustained the injury when blocking a shot in Detroit two days prior. His departure from the Leafs' defence corps left a gaping hole on a backend that was already not among the upper-echelon back ends in the league.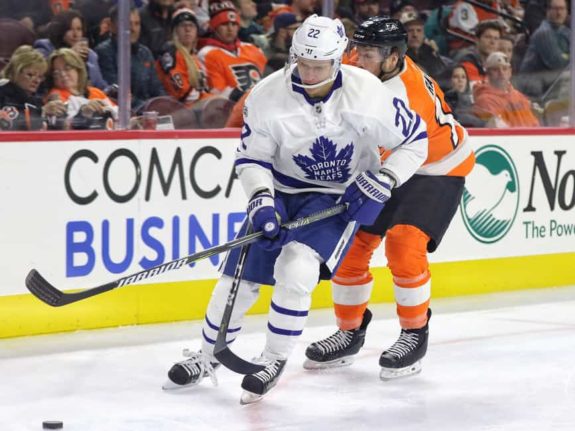 Without him in the lineup, the Leafs have struggled defensively, allowing 30 goals over the 10 games Zaitsev has missed. Included in and among that was a six-goal onslaught provided by the Vegas Golden Knights on New Year's Eve, in what was perhaps the Leafs' worst showing of the season — at least from a defensive stand point.
In Vegas, the Leafs iced a third pairing of Roman Polak and Martin Marincin. Those are two players Babcock likes. He sees Polak as a big body who will go partake in puck battles in the corner and assert himself on the ice, while also killing penalties. As for Marincin, though, I myself am still trying to figure out what ol' Bab's sees in him as a NHL defenceman.
The bigger problem than the amount of goals is the amount of giveaways which led to scoring chances. I don't have stats in front of me, but I know from watching, that they are high and the only reason more pucks haven't found the back of the net since the loss of Zaitsev is thanks to Frederick Andersen making some 10-bell stops to keep the team in games.
Welcome to 'The Show,' Travis Dermott
After seeing enough of Marincin, the Leafs decided to demote him back to the AHL (where, in my opinion, he belongs) and recall Travis Dermott.
Dermott, a 21-year-old who had been playing a strong 200-foot game with the Marlies, recording 17 points in 26 games and a solid plus-15 prior to his promotion, was a star in junior with the Erie Otters from 2013-2016 alongside the likes of now-Leafs teammate Connor Brown – oh, and that McDavid guy, too.
Dermott made his NHL debut on Saturday against Vancouver. It was a successful one, at that. The rookie logged 12:03 in ice time, and picked up his first NHL point – an assist on Tyler Bozak's tying goal. He skated well, moved the puck confidently and most importantly, was not a liability while out on the ice. His second game didn't go as smoothly; he finished up with 16:01 TOI, a minus-1 and took a penalty.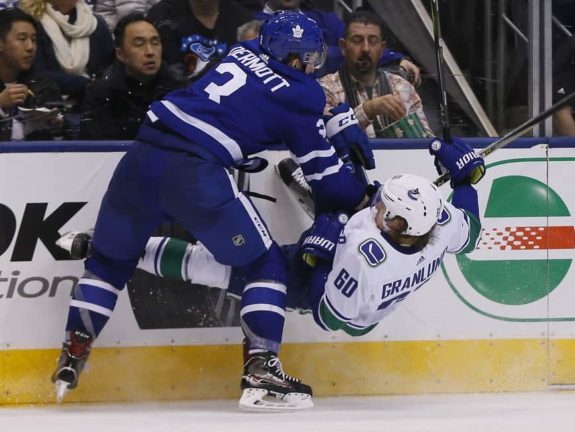 And now, after one good game and one not-as-good outing, Dermott will sit tonight in favour of Connor Carrick, who, as our Will Billinghurst recently discussed, has been falling out of favour with Mike Babcock.
Travis Dermott coming out tonight vs. Senators. Connor Carrick will go back in. Mike Babcock said they and I'm assuming Andreas Borgman are in a rotation for two spots. Team will make a decision of Dermott returning to AHL for bye week after game.

— Kristen Shilton (@kristen_shilton) January 10, 2018
This begs the question after which the title of this piece was formed: is Mike Babcock putting his best lineup on the ice game in and game out? I agree with Billinghurst when he says Dermott is not going anywhere anytime soon, but if he's not, there is no excuse for him to be sitting in the press box over one of Polak, Carrick or Borgman – even without Zaitsev in the fold.
The Curious Case of Josh Leivo
And that doesn't even take into account the soap opera surrounding the Leafs and Josh Leivo. The 24-year-old Innisfil native recently inked a contract extension to stay a Maple Leaf, which seemed to be a curious decision considering he's appeared in only 12 games and has been a healthy scratch for the other 32.
Right now, Leivo is sitting in the press box in favour of Matt Martin. All Leivo has done when he has been in the lineup is produce. In 53 career games, he has amassed 21 points, and 10 goals. That puts him on pace for 15 goals and 32 points over an 82-game schedule. That's 13 more than Matt Martin's highest point output (19, 2015-16, NYI). In fairness, it is possible Martin could better that this season, having scored 10 points in 42 games so far in 2017-18.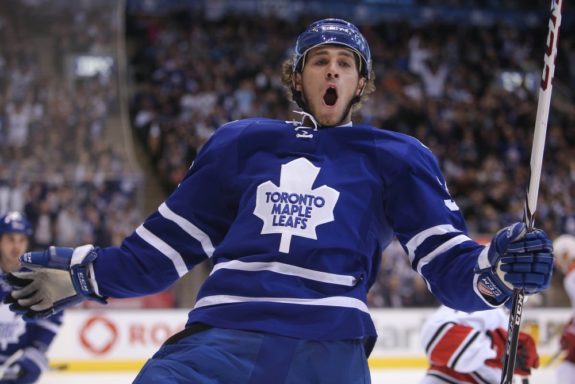 The point is, Leivo should be in the lineup over Martin. Not even considering the fact Martin is four years Leivo's senior, he's less of an asset to the team. Babcock likes Martin for his ability to get under the skin of the opponent and protect the Leafs' young stars. That's understandable, but the scope of the game has changed from what it was even six or seven years ago. There are no more Colton Orr's or Wade Belak's. The Leafs have Leo Komarov to stand up for the young guns. Although not on the same scale, he can do it, so the need for Matt Martin isn't as large as some may think.
What is the Leafs' Best Lineup?
So, as you may have been able to figure out, I've answered my own question pretty resoundingly; no, I don't believe Mike Babcock is icing his best lineup on a night-in-and-night-out basis. His best lineup would be one where his best producers are playing as often as possible in favour of – quite possibly – ones Babcock has a personal love affair with.
The only loyalty in sports is to winning. Yes, it's important to have your player's backs, but if they are consistently underperforming and not giving you the best chance to win, things need to change. The NHL is becoming more and more of a skilled league; the role of the grinder/enforcer has become greatly diminished in recent years. You need as many point producers and as many defencemen who can keep up with the speed of the game and prevent the other teams producers from producing. That's just the way the league is in early 2018.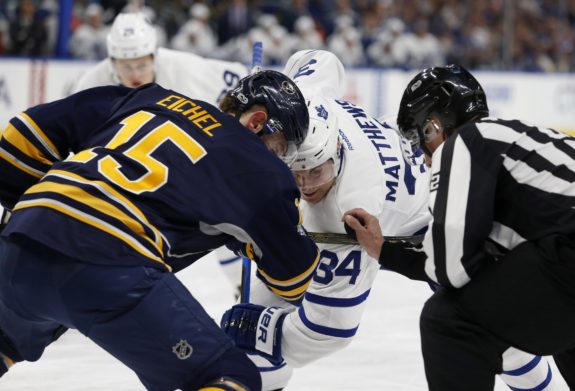 So, if you were to ask me (which, by now, if you've read this far, I'm sure you are) this would be the lineup I would like to see the Leafs run out there on a regular basis:
Hyman-Matthews-Nylander
JVR-Marleau-Marner
Leivo-Kadri-Kapanen
Komarov-Bozak-Brown
Zaitsev-Gardner
Reilly-Hainsey
Dermott-Carrick/Borgman
That lineup, I think, will give the Leafs the best chance to win regularly. It's one that includes someone we haven't in discussed in Kasperi Kapanen. He's a guy that, if his late-regular-season and playoff performance from a year ago are any indication, is going to have a very good NHL career. He and Leivo should both be seeing minutes on this team and this alignment allows that to happen.
Brown, who has shown himself to be a great two-way player at the NHL level, can serve as your 'grinder' defensive forward, while the rest of the lineup is filled with production. This allows the Leafs to roll four lines and count on productivity from all of them. It all provides their best defensive compliment at this juncture, although it's no secret they're looking to upgrade on the blue line.
It's unlikely this is a lineup we'll see from the Blue & White, probably at all this season, but if Babcock were getting the most out of his time, this (or a similar one) is what we would see night in and night out.