Under coach Mike Babcock, the Toronto Maple Leafs seem to always have a player that is benched for most of the season despite stats and analytics saying that the Leafs would be better with them in the lineup. Babcock likes to have an extra forward and defenseman on hand in case of injuries, which has, at times, drawn the anger of fans.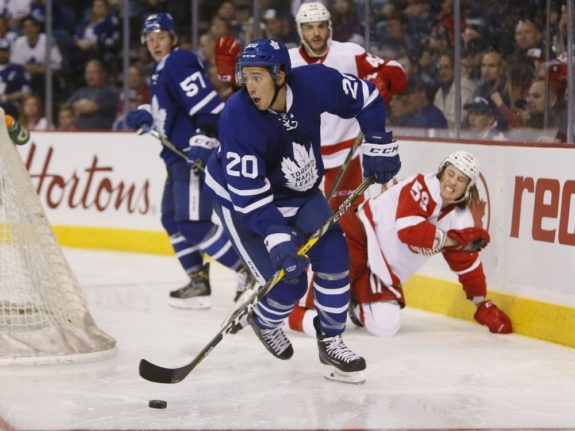 The best example of this was Frank Corrado. During his two seasons with the Leafs, he spent most of his time sitting in the press box waiting for an injury to occur so that he could get back into the lineup. Whatever your opinion is on sitting a player for most of the season aside, he just wasn't good enough for Babcock to warrant putting him into the lineup.
So now it seems that this role has now fallen to Connor Carrick. In his third year with the organization, Carrick has shown promise but hasn't become a player they need in their lineup to win. This is clear by Babcock putting in Roman Polak instead of Carrick and now Carrick hasn't played since Nov. 24. Carrick has been slowly pushed out of the starting lineup and is at risk of being pushed down further in the depth chart and off the team.
Carrick vs. Polak
This is the debate going on now for Leafs fans, although it's less of a debate and more of an argument against Babcock playing the controversial Polak over the statistically better Carrick.
Although Polak is by no means a good defenseman, Babcock at least thinks the team has a better chance of winning with Polak in the lineup instead of Carrick. This shouldn't be seen as Babcock thinking that Polak is better than Carrick, but that Carrick hasn't been playing well this season when compared to the previous two seasons.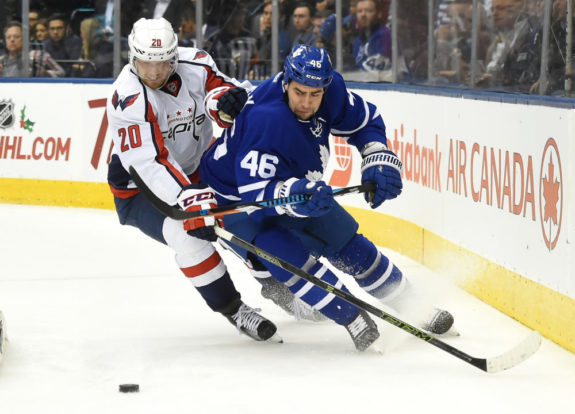 When looking at statistics like Corsi (a stat that can be boiled down to being a possession stat), Carrick would normally have better stats than Polak, with Carrick having a 53.5 Corsi percentage last season. That's not the case this season.
Polak has a 49.6 Corsi percentage, which isn't great as being under 50 percent basically means that the opposition has the puck more often when he's on the ice. Surprisingly Carrick has been worse with a 48.8 Corsi percentage, a small difference, but Carrick has been a worse possession player than Polak this season and that really shows how bad Carrick has been.
What Does Polak Bring?
Aside from, surprisingly, being slightly better statistically, Polak seems to fill a role on the Leafs that Carrick doesn't. One thing that Babcock always seems to prioritize in lineup decisions is whether that player can play on the power play or penalty kill.
Neither gets any power play time, but only Polak gets time on the penalty kill. Last season he was Babcock's main penalty killer while this season Polak has played less on the penalty kill mainly due to Ron Hainsey and Nikita Zaitsev playing the entire penalty kill anytime the Leafs are shorthanded.
Despite all his faults, Babcock trusts Polak on the penalty kill, which gives him a reason to put Polak in the lineup over Carrick, whom Babcock doesn't trust to play any special teams.
Polak has also seemingly been good for his defensive partner, Andreas Borgman. Maybe it's the veteran presence on the ice with him or knowing that Polak is back there which lets Borgman take more chances, but Borgman has been better with Polak than he was with Carrick. And that doesn't help Carrick's chances of getting back into the lineup.
More Competition Is Coming
For the moment, Carrick is the extra man on defense, but he will get more opportunities to play this season. The problem is, where does he end up next season?
When looking forward to next season, there are a couple of defensemen with the Toronto Marlies that could make a big push for making the Leafs opening night roster. Guys like Timothy Liljegren, Travis Dermott, and Rinat Valiev, who have all been great for the Marlies, could likely push Carrick out of a roster spot, as Carrick just hasn't shown that he's a player that needs to be in the lineup.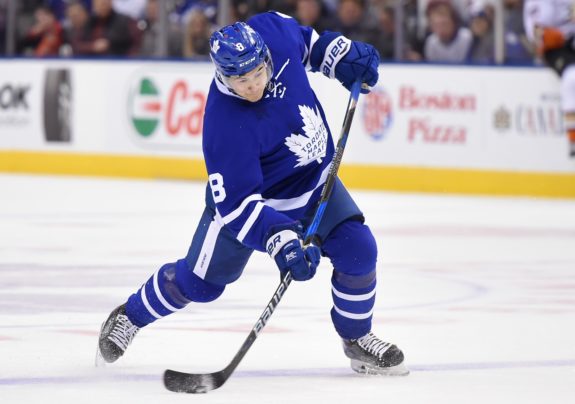 Carrick doesn't play special teams, doesn't fill a role, and the Leafs aren't really affected by his absence. Carrick just seems to lack an element to his game that makes him a player that the Leafs need in their lineup every night. He's a decent puck mover and does play with an edge, which is nice to have in the lineup, but overall isn't an impactful player.
Carrick hasn't raised his game since coming to the Leafs and it's begun to show as he's become a secondary choice in the lineup. He will be the first roster casualty next season when all the defensemen from the Marlies make their push for the Leafs. Carrick needs to step up his game, and he's only going to have a few chances to do it before the end of the season.
Toronto Maple Leafs contributor for The Hockey Writers.
I've been a fan of the Toronto Maple Leafs since I was a kid and have always had an interest in writing. At The Hockey Writers, I get to enjoy both of my passions as well as writing about small convoluted details in player contracts and stats.