Coming into their second and final meeting with the Avalanche this season, the Washington Capitals had more determination to pull together a win. Not only were they looking to bounce back from a lackluster 3-1 loss to the Islanders Monday, but they wanted to avenge their 6-2 loss to the Avalanche a little less than a month ago.
"I think you have a pretty prideful group that wants to respond," head coach Barry Trotz said. "We didn't have, maybe our best game last night, and these guys handed us our lunch last time. I think they wanted to have a good response going in… I think we had a pretty good push."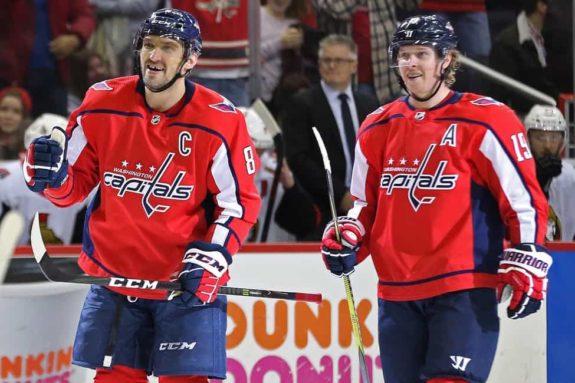 Three of Washington's defensemen combined for four points, and the Capitals got a standout performance from all four forward lines to defeat the Avalanche, 5-2, on home ice. Not only did the Capitals win their fifth straight home game, but with 39 points on the season, Washington is back on top and is tied with Columbus for the Metropolitan Division lead.
"I guess we did better at this altitude than over there, but it was a tough point in the season for us and it's been pretty good since then," defenseman John Carlson said regarding the team's bounce-back effort.
Defensemen Stepping Up
While the Capitals got a lot from their top-9 forwards, they relied heavily on their defense at both ends of the rink. The penalty kill was perfect as Colorado went 0-for-4 on the man advantage, and not only did Carlson and Matt Niskanen score, but Madison Bowey registered two assists en route to Washington's victory.
"I think you definitely have to be smart about it, but you want to be involved in the attack and be that extra man," Niskanen said. "Even if you don't get the puck, it might give the forwards a little bit more space."
Carlson, whose second-period tally was his third goal of the season and his first goal in 14 games, said it's important to find a balance between getting involved on the forecheck while backchecking effectively, but believes the team has always had a culture where they want the blueliners to be more involved on offense.
"It's been the foundation for us," Carlson said. "We see what it creates and opens up. I think it's always been a goal to get four guys in the attack and play that way. Mostly every team does it now, and it has an effect."
Trotz also said that due to the fact that the team has struggled to stay healthy, there has "been an emphasis" that the defensemen have to step up and join the offensive rush, and that when they do step up on the attack, good things come of it.
"When we're executing, I think it allows them to be a part of it, and we've got some good players that can get them the puck when they do join," Trotz said. "I like the fact that they're joining. It's always been a part of our DNA."
Vrana and Company Continue to Shine
Five minutes into the opening frame, Jakub Vrana scored his ninth goal of the season and his third in six games. As he continues to show top-6 chemistry alongside Evgeny Kuznetsov, the Capitals' coaching staff is keeping tabs and taking notice.
"We have to replace those goals that we lost [with] some of those guys that were in the top-9 last year," Trotz said. "Going into it, Jakub was drafted to be an offensive player, obviously he shoots the puck extremely well. We were hoping that we could replace a lot of those goals and he's doing that."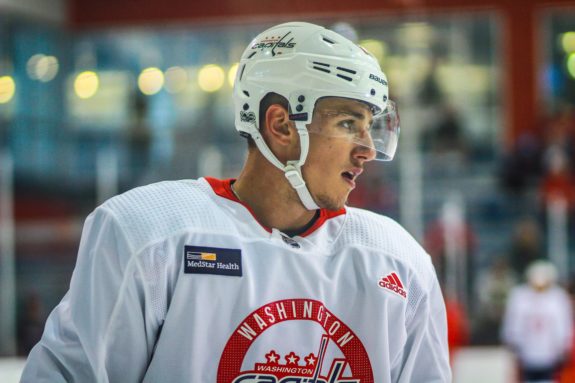 Not only is Vrana showing a lot of success, but the bottom-six has been pulling a lot of weight over the last few games for Washington. Brett Connolly, who signed a two-year extension over the summer and is looking to break out this season, has been outstanding of late and is proving his worth as secondary scorer. He has goals in four of his last six games and is on pace to score a career-high 19 goals this season.
In addition, Andre Burakovsky managed an assist in the win, his first since returning from injury and his 100th NHL career point. Jay Beagle and Chandler Stephenson also registered helpers on Devante Smith-Pelly's empty-net goal, and now, both players are riding three-game point streaks.
Overall, Vrana was impressed with Washington's effort and believes that the team's determination and resilience led them to a solid victory.
"After game like last night, it's good we had a game right away the next day and we can come here today and show we can play, and that's what we did," Vrana said. "We can go back on track."
Five of six of Washington's upcoming games are on the road, where they will look to remain atop the Metropolitan Division and keep their hot streak alive.