Erie Otters' goaltender Troy Timpano was acquired in a trade with the Sudbury Wolves following their disappointing 16-win 2015-16 season. Timpano was drafted by Sudbury and played three seasons with the Wolves before he would eventually end up bolstering Erie's 2017-18 OHL Championship team in net.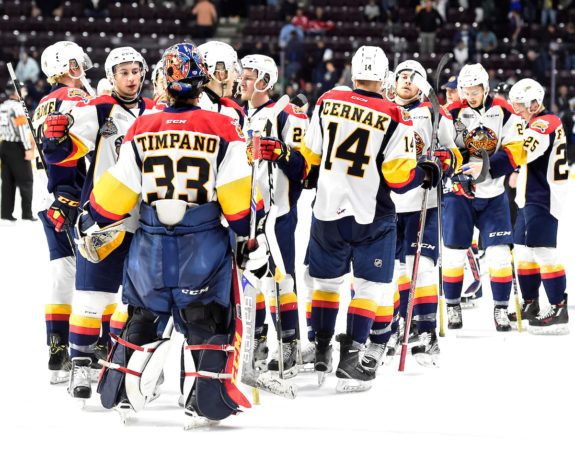 The overage goaltender still carries with him remnants of his time in Sudbury, including a friendship with a young fan that has become very close to his heart.
Long-Lasting Connections
Troy first met Wyatt at a community event in Sudbury, Bowling with the Wolves, during his first year with the team. It wasn't until the next year, however, that he really began to form a bond with him. Wyatt has autism, which can, at times, make life far more difficult than it should be for any 10-year-old kid. Troy still remembers how he and Wyatt got to talking at that second bowling event in Sudbury: "He came right up to me," Troy recalls, and from there, "we started to build a relationship and I got to know him a bit better. He has autism, so I just tried to help him out with everything I could. I got him a jersey and stuff—he was a huge fan."
Troy gave Wyatt some coveted bowling tips as well: "I had to help him pick up the ball, but eventually I just said, 'You know what? Grab it with two hands and just throw it between your legs,' and that worked out for him—he managed to get two strikes actually! He was a pretty good bowler as I remember." The two were inseparable after that, Troy says, "He's like a little brother now."
https://www.instagram.com/p/-DCEg-yVhz/?taken-by=troytimpano
More Than a Fan
Troy fulfills his newfound brotherly duties well, making sure that Wyatt does well in school, too. "His parents said that I was a huge reason for him to start getting to be successful in school because I'd be telling him, 'Listen, you've got to do well in school. You've got to try your best,' and I'd tell him that and he'd go and do it. He's a good kid."
Wyatt has a younger brother as well, Alex, who has more severe autism: "To keep him safe, [Alex] feels better to be in a wheelchair. It's tough, right, if both of your kids have Autism, so I do what I can to just try to help them out because you know it's not easy for them." It's harder for Alex to communicate due to his age and the greater severity of his disability, but Troy still tries to talk to him when he Skypes the whole family.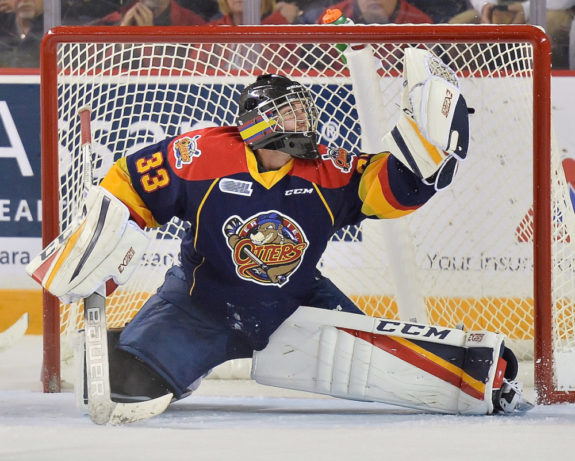 Troy still tries to see Wyatt whenever he can, making time for him when the Otters are on the road to go catch up after games in Sudbury or even in Barrie. When in Sudbury, Wyatt sits right behind Troy's net and is always ecstatic to see him after every game. Otherwise, Wyatt has learned how to use Twitter, so he messages him that way and keeps up to date since he's not quite old enough to have a cell phone yet. Troy routinely texts Wyatt's parents just to see how they're all doing.
Wyatt doesn't play hockey, but Troy said he started skating a couple years ago, "using the trainer skates and pushing the chair," as all beginners do, "but he's getting the hang of it." I asked if Wyatt perhaps had any goalie aspirations and Troy said, "I don't think so, or hopefully not at least!" He laughed and said he'd have to tell him, "'Don't be a goalie, bud! Stay away from that!'" As any big brother would, Troy undoubtedly wants to protect Wyatt from the high-stress environment that goaltenders must often endure, not to mention the high-speed pucks that goalies are routinely barraged with. Wyatt still loves hockey even if it's primarily from behind the glass, and Troy greatly appreciates the unwavering support of his number one fan.
Erie/Pittsburgh, PA | Erie Otters; Junior Hockey | Editor-in-Chief of The Grizzled Vet | Formerly: University of Pittsburgh D1 Hockey Journalist