The Toronto Maple Leafs couldn't believe that Timothy Liljegren fell to 17th overall in the 2017 NHL Entry Draft.
Last season, the Swedish defenseman was projected to be a top-5 selection, however, he came down with mononucleosis midway through the season. Once his health improved, he decided to return to the lineup. Liljegren thinks he may have returned too soon, which ultimately reduced his draft stock. Immediately after his return, he played sluggish and didn't seem like the same type of player.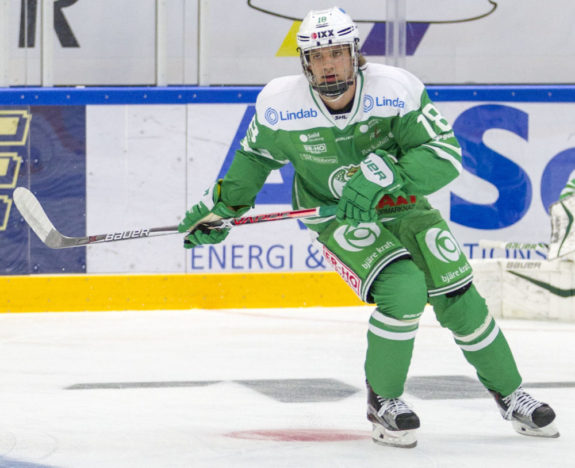 Liljegren is known as an explosive defender with a very good shot, who at times plays a bit risky. He stated in an interview that he needs to mature his game a bit before he makes the jump to the NHL. His risky play reminds me of how Jake Gardiner used to play. These players can become very effective. If you can minimize their mistakes and maximize their speed and offensive abilities you end up with a very mobile defender.
Next season he will be healthy and Mark Hunter will reap the rewards of other teams passing on Liljegren. Here's what Hunter had to say regarding the decision to draft Liljegren at 17th overall: "When he fell that far, it was a no-brainer".
TSN's NHL insider Bob Mckenzie had Liljegren being selected as high as 3rd overall in his pre-season draft rankings because he had a phenomenal 2015-16 season, but Liljegren didn't progress much this season which led to him falling to 17th overall. Mark Hunter is confident that mono combined with an injury sustained later is the cause of his issues. Hunter's thoughts on Liljegren can be found in this interview below:
https://twitter.com/GoLeafsVideos/status/878782058625212417
He states that Liljegren is "something they need on their blue-line", and that "he will be an enjoyable player for fans to watch, he will bring fans out of their seats." He has even compared his own playing style to Erik Karlsson, and it may not be as much of a stretch as you'd think.
In 38 games in the SweHL, Liljegren accumulated 10 points. Karlsson had 11 points in 52 games in the same League, but Liljegren had the better points-per-game average because he had one less point in 14 fewer games. Is Liljegren as good as Karlsson? No, and that's not the point of this comparison. However, similar statistics at the same point in their careers makes the argument possible.
Current Internal Ranking of Leafs' Prospects
Although the Leafs picked lower in this year's draft due to a great regular season performance, they still made their pick count. At 17th overall, they snagged a right-handed defenseman who immediately becomes one of their top prospects. Scott Wheeler of the Toronto Star ranked Liljegren as the Leafs' second best prospect behind Kasperi Kapanen.
Snap ranking of Leafs' top prospects:
1. Kapanen
2. Liljegren
3. Bracco
4. Dermott
5. Johnsson
6. Grundstrom
7. Brooks
8. Rychel
9. Timashov

— Scott Wheeler (@scottcwheeler) June 24, 2017
If he pans out, then the Leafs have been successful in five of their last six-round draft picks, drafting a talent that has made their NHL roster: Morgan Rielly, William Nylander, Mitch Marner, Auston Matthews and hopefully, Liljegren.
Timothy Liljegren Future Top-Four
With this pick, assuming Liljegren progresses to his potential, the Leafs will boast one of the Leagues more impressive top-4 defensive corps in a few seasons. Consisting of  Jake Gardiner, Nikita Zaitsev, Rielly, and Liljegren, this will be an elite puck-moving core that will constantly push the pace.

All Leafs fans have to do is wait until this year's first-round draft pick matures and takes that next step forward with his development. When this happens, the NHL will take notice. Teams such as the Nashville Predators and Anaheim Ducks have made teams realize how important having elite talent on the blue line is for an NHL team. This pick addressed a much-needed void and it will pay off in a few seasons.
I've been a Leafs fan since I was a little kid, and had to live through the painful collapse of the 2012/13 season against the Bruins. Most of the Leafs top players are my age. They light up the NHL and I write about it! The youth on this roster makes for very entertaining hockey. You won't want to miss a game!