One of the more interesting prospects in the 2017 NHL Draft is defenseman Timothy Liljegren. The native of Sweden was considered a top three pick by some at the beginning of this past season. Now, he's dropping down draft boards and could possibly fall into the back half of the first round. The range in which he could be selected falls anywhere between the sixth and 25th overall pick.
Liljegren seems like a boom or bust pick. He shows flashes of excellence and then moments later makes a bad mental mistake that costs his team. This is one of the things that have caused scouts to drop him down in rankings.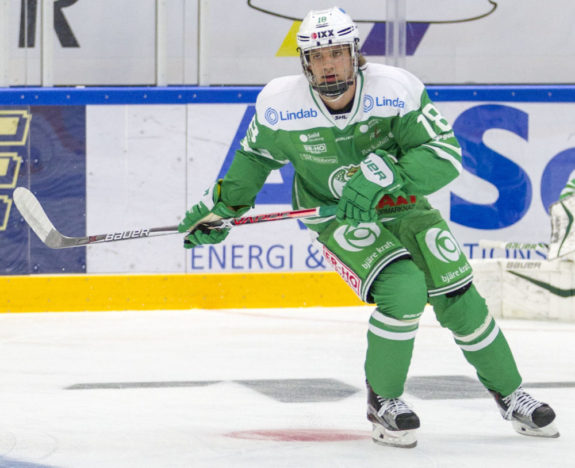 This past season especially, his good plays have not outweighed the bad ones — the lapses and errors in his game seemed to follow Liljegren throughout the season. He himself admitted to having a difficult season saying "I think I had my ups and downs, some games I played good and some games I played bad." While you never like to see inconsistency, there may have been a reason for it.
Not Himself
In September, Liljegren was diagnosed with mono. He missed two months of the season and already his draft year was off to a rough start. When talking with the media at the NHL Combine about his illness, Liljegren said he felt he may have come back too soon. "I think I came back too early from the mono too, so I didn't really feel like myself for about a month," said Liljegren.
Then, just when the defender was starting to get back to 100%, he suffered another setback to his season with an injury in February. It's easy to make the argument that Liljegren was never really at full strength throughout the entire year, combining the illness and injury and the fact that he played for five different teams throughout the season.
Over Analyzed
Liljegren said "I didn't really think I got the ice time I needed to improve," when he was asked about why he moved around so much. Playing for so many different teams he said, "it was pretty hard to find my game." Putting everything together it seems like it's hard to put that much stock into how he performed this season and could explain a lot of the struggles.
Being touted as a top-three pick going into the season you have to wonder if Liljegren is being over analyzed by scouts. This reminds me a lot of the same type of scenario we saw with Jakob Chychrun at least years draft.
Like Liljegren he went into the season a top three prospect but dropped down some boards after a poor draft year, eventually ending up being selected 16th overall by the Arizona Coyotes. Chychrun went on to play 68 games with the Coyotes last season and score 20 points in a strong rookie campaign.
It's unlikely that Liljegren, who is one of the youngest prospects in the draft, is ready to make the jump to the pro level next season. He himself said the "plan is to play one more year in Sweden." His fall down the board could greatly benefit a team in the middle of the first round who is able to snag a top-three talent.
[miptheme_quote author="Timothy Liljegren" style="text-center"]I think I need to be more mature in my game, I play with a lot of high risk.[/miptheme_quote]
A lot of the flaws in the Swede's game can be coached. He's a good skater, good puck mover and has great offensive upside. He carries a lot of the skills that teams covet in a defender in today's NHL. If he can reduce the frequency of the mental errors he makes in the defensive end, Liljegren will have the ability to reach the potential that many thought he could achieve at the beginning of this year.
Chad DeDominicis was born and raised in Buffalo, NY. Chad is currently a Buffalo Sabres contributor for The Hockey Writers. He is an avid sports fan and is passionate about the game of hockey. Chad works hard to share creative and quality content with his readers.