If you had said at the beginning of the season that the Vancouver Canucks would be five points out of a Wildcard spot with 30 games remaining, I would have called you crazy. Yet, here we are. Written off by fans and critics when the campaign kicked off, the 'Nucks have overachieved. But with the St. Louis Blues, Calgary Flames, Dallas Stars and Winnipeg Jets also fighting for a berth in the postseason, things are heating up in the Western Conference. Entering the All-Star break, the Canucks had points in 12 of their last 15 games. Today, they've lost three straight, and have given up valuable ground in the West.
The chances aren't great, but here's how the Canucks could be playing in mid-April.
Ryan Miller Stands on his Head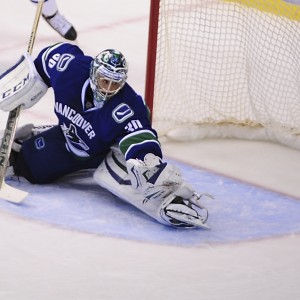 This one's a given. Without solid goaltending, it doesn't matter how good the rest of your team is. Just look at the Blues or Stars; contending squads last year that are desperate to get into the postseason this time around. Ryan Miller has been pretty good through the first 52 games. His stats haven't shown it, but he's given the Canucks a chance to win a lot of games that weren't close. He'll need to be excellent down the stretch, especially with quite a few games remaining against tough Western Conference opponents. Miller doesn't give up many easy goals, but he'll have to save a lot of the hard ones if the Canucks want a shot.
Return of Sedinery

It's hard to believe it's only been two seasons since Henrik and Daniel Sedin combined for 149 points in 82 games. Obviously, age has become a factor with the twins, and they've struggled this year. It was great to see Henrik get his 1,000th point earlier this season, but the Canucks need their best players to be their best players. And this could be the last year I say that, especially with the way Bo Horvat is playing.
The Sedin struggles have been most apparent on the power play. Sitting 28th in the league with an abysmal 14.4%, the Canucks can't score with the extra man. And they need to; winning close games down the stretch will come down to it. It would be nice to see Hank and Dan pick it up at 5-on-5, but they need to start producing with the man advantage.
Jannik Hansen, who missed a lot of the season with a knee injury, should play alongside the twins now that he's back. This could be just what they need to start scoring a little more, especially with their history as a trio. The resurgence of the Sedins is unlikely, but they're still excellent on the power play. They just need to score on it.
Healthy Defense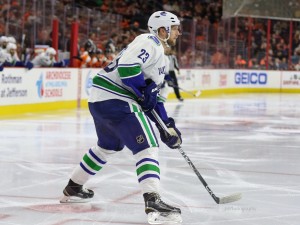 It's been a long time since we've seen a healthy defensive core in Vancouver. Chris Tanev missed time, Alex Edler missed time, and now, Erik Gubranson and Ben Hutton are out. Today, Tanev and Edler are healthy, and Hutton is set to return from a hand fracture, which is great news for the team.
Gudbranson is still some time away, but it's nice to see the top three are all healthy. They need to stay that way. Players like Philip Larsen and Alex Biega are decent substitutions, but they're prone to making mistakes in the defensive end. Troy Stecher has had a fantastic rookie season for the Canucks and will be a great player for years to come. But he's still young and has a lot to learn.
The bottom line is, the Canucks don't have great defense. If they can't stay healthy, things could implode quickly down the stretch. There are only so many minutes that Alexander Edler and Chris Tanev can play and Hutton and Gudbranson need to make an impact when they return.
Long Road Ahead
Even if Ryan Miller is phenomenal, the Sedins start picking up their production and the defense gets healthy, there's still no guarantee the team makes the playoffs. The Canucks may be five points out of a playoff spot, but they're also ranked 26th in the league. And with Trevor Linden reiterating that he won't make a move that will sacrifice the long term future of the franchise, there probably won't be much help at the Trade Deadline. Along with the aforementioned, Bo Horvat and Sven Baertschi need to keep up their great play, and more scoring is needed from Brandon Sutter and Loui Eriksson.
The Canucks begin a six game road trip tonight in Nashville, and the schedule doesn't get any easier after that. They still have four games against San Jose, and a March riddled with games against the Chicago Blackhawks, Minnesota Wild, Los Angeles Kings and Pittsburgh Penguins. Things don't look good, but if Ryan Miller stands on his head, the Sedins start scoring, and the defense stays healthy, it could happen. Basically, a miracle.
A graduating student in the joint Media, Theory and Production program at Western University and Fanshawe College in London, Ontario, Colin Gallant has been writing about hockey since his junior year of high school. He followed the Western Mustangs men's hockey team in his first year of post-secondary, and now covers the London Knights for Fanshawe's newspaper. He's been with The Hockey Writer's since January of 2017. An aspiring sports journalist, play-by-play announcer, or anything else hockey related, he loves reading, playing guitar, and (hopelessly) cheering for the Vancouver Canucks. Get in touch: colin.gallant0@gmail.com