The Minnesota Wild may be the top team in the Western Conference, but they know they are in tough tonight against their division rivals, the Winnipeg Jets.
The Jets come into the game 13-5-1 against the Central Division, including a perfect 6-0-0 at home. Two of the losses, however, have come at the hands of the Wild earlier in the season. The Wild know, however, that this isn't the same team they played against earlier in the year.
"[Bryan] Little is back, we haven't seen both Little and [Mark] Scheifele in the lineup when we played them the first two games," Wild coach Bruce Boudreau said in a pre-game interview. "I think, maybe, they have the best top-six that we've played against this year."
That top-six is deadly. The six players that make up the Jets first two lines have combined for 230 points. The same six Wild players have combined for 190 points. However, it's the defensive end that the Wild will have a significant advantage.
Dubnyk has been stellar this year, going 28-9-3 with a .932 save percentage. The Jets have rotated through three goalies. They are once again starting Pavelec tonight, a goalie who was sent down at the beginning of the year to the Manitoba Moose.
---
Minnesota Wild at Winnipeg Jets
MTS Centre – 7:00 p.m. CST
Broadcast channels – TSN3, FS-N, FS-WI
2016-17 Season Series: October 15 – Winnipeg (3) at Minnesota (4)
November 23 – Winnipeg (1) at Minnesota (3)
Winnipeg Jets – 25-26-4 – 54 Points
Home Record: 13-11-1
Hot Players: Jacob Trouba, Mark Scheifele
Key Injuries: Tyler Myers, Marco Dano, Ben Chiarot
Projected Lines:
Forwards
Ehlers-Little-Laine
Copp-Scheifele-Wheeler
Matthias-Lowry-Armia
Perreault-Petan-Stafford
Defense
Morrissey-Byfuglien
Enstrom-Trouba
Stuart-Postma
Starting Goaltender
Pavelec
[irp]
Minnesota Wild – 34-12-5 – 73 Points
Away Record: 17-6-5
Hot Players: Mikael Granlund, Jason Zucker
Key Injuries: Jonas Brodin, Victor Bartley
Projected Lines:
Forwards
Parise-Staal-Tuch
Granlund-Koivu-Zucker
Niederreiter-Coyle-Pominville
Stewart-Haula-Graovac
Defense
Suter-Spurgeon
Scandella-Dumba
Reilly-Folin
Starting Goaltender
Dubnyk
---
Game Notes
[miptheme_dropcap style="normal" color="#222222″ background=""]1)[/miptheme_dropcap] While the rest of the NHL focuses on the rookies in the league, including the Jets' Patrik Laine, the Wild can be nothing but happy with the development of 24-year-old Mikael Granlund. Granlund has 48 points in 51 games. After his four-point night on Saturday, he does not look like a player that wants to be stopped. It will take a monumental effort from the Jets to do so.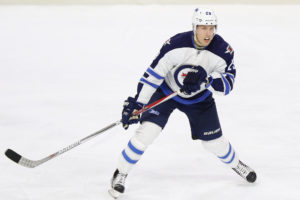 [miptheme_dropcap style="normal" color="#222222″ background=""]2)[/miptheme_dropcap] Speaking of the NHL rookies, Laine has continued to excel despite losing a few games to injury. His six points in five games since returning are second on the team. The biggest surprise has been how he's picked them up. Only two goals, shooting at 13.3%. His season average is north of 17% and he is capable of getting it back up there. Expect a few more shots on goal tonight from the big Finn.
[miptheme_dropcap style="normal" color="#222222″ background=""]3)[/miptheme_dropcap] How about Jacob Trouba? After sitting out the first few games, Trouba has already matched his offensive output from last year. He also has 21 takeaways, just 10 shy of his career high. While the eye test isn't always reliable, he also has looked outstanding. If you were to pick the Jets current number one defenceman, it would be hard to argue against Trouba.
[miptheme_dropcap style="normal" color="#222222″ background=""]4)[/miptheme_dropcap] Now for your fun stat. Of the 40 players in the NHL to reach 40 points this season, four are members of the Jets, the most of any team in the NHL. The Wild, however, have two players over 40, with three sitting just two points away from the mark. The next closest member of the Jets is still six points away.
Judson Rempel was born and raised in the Great White North, skating on ponds and watching hockey every Saturday night in small town Manitoba. When he's not watching hockey, he's playing hockey with his son and daughter, and trying to convince his wife to let him watch more hockey.