The Leafs have a record 13-8-3, good enough for 8th place and roughly the same amount of points that the Bruins have, which looks good, apparently. After a meltdown against Nashville and the stupidest scandal of all-time, the Leafs have been on a role. Or so their record kind of, sort of, suggests.
Tyler Bozak is on fire, clearly ascending to the #1 C role – Hey, people employed by the team say so, and if you don't agree, you're just a negative person with a grudge against a guy you've never met who plays for your favorite team (which makes the personal grudge thing a little dubious, but whatever).
Tyler Bozak is basically Mario Lemieux in Blue and White. Does it matter that he's scoring at brisk rates on the PK and the PP? That his shooting percentage is high or that his even-strength production is no better than Kadri's despite the false-narrative that Kadri is having a bad season or despite the fact that he (Bozak) plays almost exclusively with the elite combo of JVR and Kessel? No sir, it does not.
Because if you are confused about the way the Leafs deploy their players, employs lame-duck management, or you think that a team that is largely propped up by favorable results ought to be trying to utilize their young, cheap players and trade older ones of similar value but worse cap-hits to fix the crippling salary=cap problem that appears to have them headed for the dreaded (and typically Maple Leaf) 9th place finish, then you must just hate puppies, kittens,Christmas, love, Santa, Magic and the Beatles. (Hopefully you love unwieldy run-on sentences though.)
Because stats is stoopid. Me not no what regression means. luck no facotor . Rezultz all that matters.
Yes, because in the group-think paradise known as Leafs Nation, only total haters don't think Bozak scoring at a 40 goal pace is weird.
And while the results have been favorable, let's keep in mind how competitive teams usually are when they don't have a legit number-one centre or defensemen.  Let's not dwell on the past success of teams built around rushing wingers.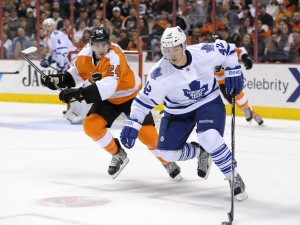 Let us rejoice, because after ten years of garbage, we are in a place where I am supposed to shut up and be happy because the Leafs are IN EIGHTH FU**ING PLACE .
The Leafs allow the 4th most shots per game in the NHL. They are a sloppy team that is poorly coached. They are riding some favorable bounces and an 85% success rate on the PK to a record that is mediocre and going to get worse.
But please, keep telling me how this is personal. How Tyler Bozak is just someone who wronged me and who I want to fail. Because honestly, that makes as much sense as looking at the evidence available and deciding this team is just fine. If you watch the team play, and you honestly believe it's worth being excited about a team that is lucky to be in eighth place, that is  two games over .500, right up against the cap and in the first quarter of the first year of Stephane Robidas 3 year deal, while the team's media spin-doctors work to convince people that Bozak is star and Kadri needs to be run out of town…….then I don't even know what to say.
I disagree.
Covering the Leafs for the Hockey Writers.