This past offseason, there were many questions and concerns, regarding the goaltending issues of the Winnipeg Jets. Those concerns were raised when general manager Kevin Cheveldayoff said that Ondrej Pavelec would remain the number one goalie at the end of last season. Many fans took to Twitter to vent their frustration on that announcement.
BREAKING: Ondrej Pavelec has NOT been placed on unconditional waivers for some reason.

— ryan (@rblight18) June 19, 2014
JAMES REIMER WITH A CONCUSSION IS BETTER THAN ONDREJ PAVELEC. JAMES REIMER WHEN HEALTHY IS FAR BETTER THAN THAT SIEVE

— Mohamed (@MoeSquare) April 16, 2014
The other concern regarding the men between the pipes was the experience, or lack thereof, for backup Michael Hutchinson. Coming into this season, Hutchinson only appeared in three games, winning two of those games. His .943 save percentage and 1.64 goals against average were excellent, but the sample size was just too small to call him the saviour in the crease.
Hutch Comes Up Clutch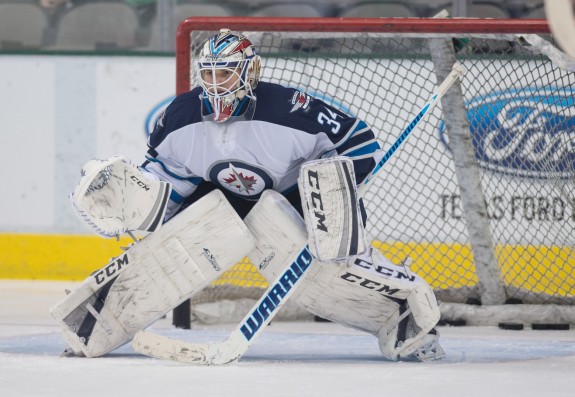 So far this season, Hutchinson has been a revelation for the Jets. In eight appearance, the Barrie, Ontario native leads the NHL with a .947 save percentage and a 1.56 goals against average. Again, the sample size is small but Hutchinson does deserve more opportunities to prove himself.
His best game came on November 28 against the Boston Bruins. The game was a personal one for Hutch, as it was the Bruins who drafted him in the third round back in 2008. Hutchinson was simply brilliant, stopping 36 out of 38 Bruin shots, many of them in the spectacular variety. Sadly, Hutchinson's teammates didn't have their goal-scoring sticks with them as the Jets fell 2-1 in overtime to the Bruins.
Despite allowing two goals in the OT loss last night, Michael Hutchinson's numbers are still dazzling: .947 Save Percentage and 1.56 GAA.

— Ezra Ginsburg (@ICEzzyG) November 29, 2014
Other than 16-7 Isles, is there a better 'story' in the NHL than emergence of Michael Hutchinson? All-star numbers in his limited starts.

— Robin Short (@telyrobinshort) November 29, 2014
Hutchinson has been the calm, steadying force for the Jets this season. Whenever the Jets are hemmed in their own zone, it is Hutchinson that comes up with a critical save, or uses his puck handling skills to make the outlet pass, and start the rush up ice.
Improved Pavelec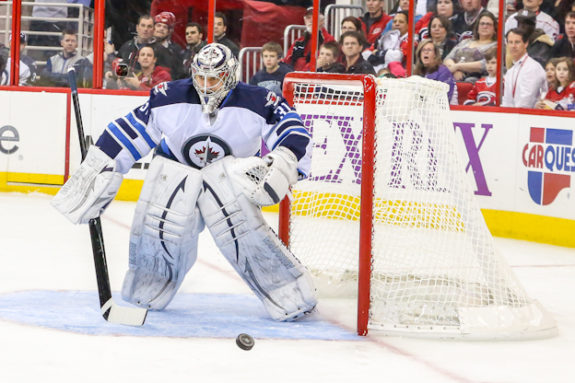 That isn't to say Ondrej Pavelec's play hasn't improved. Believe it or not, the Czech Republic keeper has posted better numbers so far this season. In 21 appearances this season, Pavelec has posted a .919 save percentage and a 2.21 goals against average. For the sake of comparison, Pavelec has a .906 save percentage and a 2.91 goals against average in his career.
The biggest issue with Pavelec is sustainability. In past years, Pavelec has shown flashes of brilliance, and has teased Jet fans that he has finally turned the corner, only to crash and burn as the grind of the season takes its toll.
Pavelec's hefty contract also plays a role in terms of playing time. With two years left on a deal that pays him $3.9 million per season, Jets management will make sure Pavelec sees as much ice time as possible, in order to justify that contract. To put it mildly, $3.9 million is way too much to pay a backup goalie.
#NHLJets Ondrej Pavelec sits 11th in SV% and 15th in GAA (ahead of Miller, Bishop, Bernier, Lundqvist and several other number ones)

— New Norway Rick (@ricktlu) November 29, 2014
Hutchinson has made the jobs of Paul Maurice, Kevin Cheveldayoff, and Ondrej Pavelec slightly more difficult. Some more than others :)

— North End Rick (@NorthEndRick) November 29, 2014
How Does This End?
In a recent article in The Hockey News, author Jared Clinton suggested this:
"But in goaltending it's not about what you've done in the past, it's about whether or not you can keep it up. For Hutchinson, it seems as though that consistency is coming around. The amount of games to draw from is still smaller than most goaltenders, but his play has been steady at every professional level he's played. From the ECHL to the AHL and, now, in the NHL, Hutchinson has only shown that he's prepared to take on whatever challenge he's given."
What Jets management will have to decide at some point is what direction they want to go. If Hutchinson continues to play well, the Jets will have to figure out if they say forget the contract and go with the hot goalie, or continue to ride Pavelec in hopes of getting their money's worth. Hutchinson's good play might actually benefit Pavelec in the long-term because it would provide some rest and leave Pavelec fresher for the stretch drive if Hutchinson stumbles.
For now, the Jets will ride two goalies for as long as possible. If the team keeps winning, they won't mess with the formula. But if a roadblock does rise up, you can be sure the men guarding the net will be at the forefront of the story.
I share season tickets for the Winnipeg Jets since their return to the Manitoba capital in 2011. I have written about the Jets since 2011 on various sites.