The top two teams in the National Hockey League had lots in common again last night, as they both won their respective games by identical 4-2 counts.  Detroit Red Wings victory was at home against Boston, while the Montreal Canadiens also won in their own rink against the Toronto Maple Leafs.
Four-goal second for Wings
The key to Detroit's win was a wild second period in which they outshot the Bruins 22-6 and scored all four of their goals.  Pit Martin, Floyd Smith, Gary Bergman and Parker MacDonald tallied within a span of just over ten minutes.  Detroit centre Norm Ullman assisted on three of the goals, and those points vaulted him into first place in the NHL scoring derby.  MacDonald's goal was the 100th of his NHL career.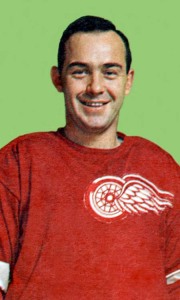 Bruins' coach Milt Schmidt didn't mince words when it came to his team's performance:
"That second period was one of the worst performances we have ever given.  We were outshot 22-6 and when you are outshot that badly, you aren't working.  We're suffering from injuries but that's no excuse for our folding that bad and losing the game completely in one period."
The Bruins were missing Orland Kurtenbach, Tom Johnson, Ron Schock and Bobby Leiter, and had three rookie call-ups in their lineup.  Wayne Maxner and Billy Knibbs were up from the Central Professional Hockey League, while Don Awrey was brought in from the American Hockey League.  Schmidt was quick to point out that they weren't the problem.
For the Red Wings, Larry Jeffrey, Ron Murphy and Eddie Joyal were all still out, with Butch Paul, recalled from AHL Pittsburgh, making his NHL debut.
Except for the barrage that he faced in the middle frame, Boston goaltender Ed Johnston acquitted himself quite well.  The pounding he took in the second period might well have driven many netminders into a permanent state of shell-shock. Rookie goaler Roger Crozier continued his fine play for the Red Wings, and his goals-against average remains at 1.95, best in the NHL.
After the game, the Red Wings announced yet another injury.  Defenceman Marcel Pronovost sustained a broken foot and will miss at least the next two games.
Habs took advantage of a rusty Bower
In Montreal, the Canadiens jumped out to a 4-0 lead over Toronto, but had to withstand a late rally by the Leafs to hang on for their two-goal triumph.
After a scoreless first period, the Habs counted twice in the second, thanks to goals by Dave Balon and Jean Beliveau.  At 4:01 of the third, Bobby Rousseau put Montreal ahead by three.
Toronto coach Punch Imlach was nearly beside himself on the bench, so great was his frustration with the lacklustre effort put forth by his club.  Down 3-0 and given a power play opportunity, Imlach iced a unit with defencemen Bob Baun, Tim Horton and Allan Stanley on the forward line, and two forwards, Andy Bathgate and Bobby Pulford, playing on the points.  The unique strategy backfired, as Jimmy Roberts broke free to score a short-handed marker and put the game out of reach.
Roberts' goal touched off a bried melee, which resulted in Terry Harper and Baun being assessed 14 minutes and a $25 fine each.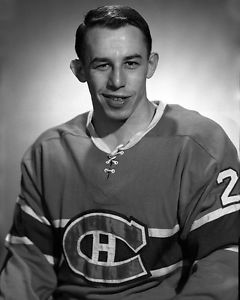 That goal appeared to rouse the Leafs from their game-long slumber enough to enable Dave Keon and Ron Ellis to score.  However, it was a case of too little, too late and the final score remained 4-2.
Charlie Hodge was solid in goal for Montreal, making especially fine saves on Kent Douglas and Red Kelly.  Johnny Bower returned to the Toronto goal after a stint in the infirmary and made 22 saves, 13 of them in the second period.  It wasn't Bower's best performance, but a bit of rust was understandable, given the time he lost while he was on the mend.
Hicke to minors
The Canadiens made a roster move yesterday as well.  Forward Billy Hicke has been dispatched to the Cleveland Barons of the AHL.  Hicke has struggled all season and the Habs hope that he will find his game with their AHL farm team, which also could use an infusion of talent.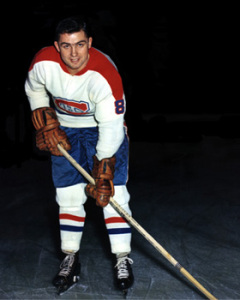 Leafs, Bruins claim Dennis Hull
The Chicago Black Hawks are having trouble sending Dennis Hull to St. Louis of the CPHL.  The younger Hull has played more than six NHL games, so he must clear waivers in order to be sent to the minors.  The Hawks asked for waivers on the young forward, at which time both Boston and Toronto made claims.  Chicago will withdraw the waiver request and attempt to talk the other five NHL clubs into letting Hull pass in return for similar favours from Chicago.
Montreal GM Sam Pollock remarked, "There's no point claiming a guy you can't get.  They won't let him go, and this way he can't play.'  Pollock may just be trying to accomplish the same thing with young Yvan Cournoyer, who certainly would not go unclaimed under similar circumstances.
Rangers recall Bob Plager
The New York Rangers have sent defenceman Don Johns to Baltimore of the AHL.  To replace Johns, defenceman Bob Plager has been brought up from Vancouver of the WHL.