With GM Marc Bergevin locking up Brendan Gallagher to a six-year contract extension, that only leaves youngster Alex Galchenyuk still in need of a deal. The Gallagher negotiations took about a month but the Galchenyuk deal will be more difficult to navigate. As a player, Gallagher hasn't quite reached his ceiling but expecting him to be a 40-50 point player sounds about right. You know what you are going to get with him. He will go to the front of the net, grind and make life difficult for the opposition. But with Galchenyuk, his ceiling isn't quite as defined.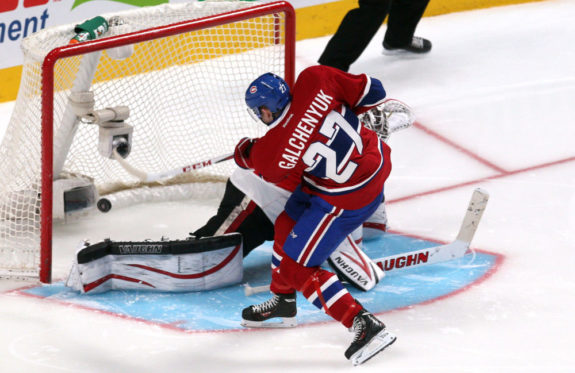 Time to unleash Galchenyuk
Galchenyuk's production so far as an NHLer has been nothing special. His rookie year totals were 27 points in 48 games to go with 31 points in 65 games in his second year and he has dealt with varying injuries. In an era where top picks produce right off the bat, Galchenyuk hasn't put up numbers like John Tavares, Matt Duchene or Taylor Hall. He is playing out of position on the wing despite cries from fans to move him to the centre ice position, something Therrien seems very unwilling to do. I understand the concept of bringing young players along slowly but it's frustrating to watch David Desharnais continuously get generous time on the power play and in offensive situations with one of the top power forwards in the game and only put up 13 points in 26 games thus far. What makes it worse is that fourth liner Dale Weise has more primary assists on Pacioretty's goals than Desharnais. Therrien puts Desharnais in a spot to succeed but the results aren't enough. Why is the very idea of Galchenyuk playing in Desharnais's spot on the top line such a ludicrous idea to Montreal management? Galchenyuk has matured greatly both physically and mentally since last season as he is now a solid 6'1″ 198 LBS (according to NHL.com) and has shown a physical edge and more confidence with the puck this season.
Sky high potential
But Galchenyuk's worth as a Hab feels like so much more than numbers. He is the most promising forward to come along in years. Max Pacioretty has become an elite power forward in the NHL as he can snipe the puck with the best but there is something special about Galchenyuk. It's the way his exceptional vision allows him to needle passes to his teammates with ease. Or how he can dangle in the offensive zone that makes people take notice. The very thought that he can become the number one centre has Habs fans trembling with excitement.
https://www.youtube.com/watch?v=G8_LwBT_38A
PK Subban isn't the only Hab with a little flash.
Let's talk contracts
When it comes to contract negotiations, it is a little tough where to start. Many young players who get long term deals get the big money to go with it. In Edmonton, Hall, Jordan Eberle and Ryan Nugent-Hopkins all make $6 million on their current deals. Jeff Skinner in Carolina makes $5.7 million. Evander Kane makes $5.25 million. And the biggest bargain is John Tavares at $5.5 million. Matt Duchene had a bridge contract where he made an average of $3.5 million for two years. Ryan Johansen, who fought tooth and nail for a big contract, settled for a three year deal with an average of $4 million. But this is where it gets tricky. Galchenyuk's production is about on par with someone who makes about $3 million but his potential could earn him $6 million one day. It isn't easy to structure potential into a formal contract and Bergevin is going to have a heck of a time doing this deal.
Talks between Alex Galchenyuk and the Canadiens for a contract extension didn't start yet. Habs are looking for a long term contract.

— Renaud Lavoie (@renlavoietva) November 30, 2014
Wait and see
The best bet for the Habs would be to wait until the end of the season to negotiate a new contract with Galchenyuk. He has 16 points in 26 games so far and if he can get himself into the 60 point range, it will be easier to compare him to other highly drafted players and their second contracts. After the drama that surrounded Subban's contract negotiations, I highly doubt Bergevin wants to go down the same road with his soon-to-be franchise forward. Contracts can make or break a player's relationship with a team so Bergevin has a lot riding on making sure Galchenyuk is happy and wanting to stay in Montreal.
I have a Bachelor's Degree in Journalism from Ryerson University. I am a freelance journalist and a Montreal Canadiens writer for The Hockey Writers. I previously wrote for Simcoe.com and Last Word on Sports as well as interned at TSN.