Need for Speed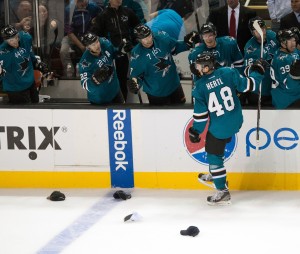 As mentioned recently, Tomas Hertl still looks to be overcoming the knee injury he suffered last season. He doesn't seem to have the same jump in his stride as he did as a rookie. Not having the same skating ability and losing a fellow tremendous skater in Brent Burns as a linemate from last year has made it a struggle for Hertl to find the back of the net this season.
Those two nuances should make it obvious. The key to unlocking Hertl is speed. Hertl wasn't doing much of anything with Joe Thornton and Joe Pavelski this season, and he has since been shuffled around a number of different lines. Despite bouncing around, Hertl has clearly played his best hockey this season when skating with James Sheppard and either Tyler Kennedy or Matt Nieto.
In Kennedy's first two games back this season from injury, he played with Hertl and Sheppard. In those two games, Hertl tallied three assists and three shots on goal. Playing with Sheppard and Nieto against Anaheim on Saturday, Hertl scored a goal and finished with five shots on net.
In just those three games with Sheppard, Hertl has four points and eight shots on goal. In all the other 22 games he has just seven points and 30 shots on net. These three games with Sheppard is a small sample size to be sure, but noteworthy nonetheless. Four points and eight shots in three games would equate to a pace of 30 points and 57 shots over 22 games. Of course Hertl wouldn't have 34 points right now had he played every game on a line with Sheppard. That is a Sidney Crosby type pace over 25 games, it's just not going to happen. Furthermore, Hertl probably played with Sheppard during some of the other 22 games, after all it's hard to remember the line combinations from every game.  That said, clearly Sheppard, Nieto, and Kennedy are bringing the best out of Hertl right now.
While the Hertl, Thornton, Pavelski line was doing a decent job at possessing the puck, they lacked the speed element to gain time and space needed for grade A opportunities. It wasn't surprising to see Thornton and Pavelski get more looks at the net in the short time that Nieto was bumped up in Hertl's spot. Niether Thornton nor Pavelski are known for their foot speed. With Hertl not skating like he did a year ago, it wasn't difficult to pin point why the trio wasn't producing.
Last season Hertl averaged over 2.5 shots per game, thus far he is averaging just 1.5 but the 21-year-old does have nine shots on goal over the past two contests. Four shots against Calgary and five shots against Anaheim. In the previous 23 games Hertl had never had more than three in a game and was averaging about 1.25 shots per game for the season. Perhaps the nine shots on goal is a sign that last year's Czech phenom is about to get on a hot streak. If he stays on a line with Sheppard and Nieto, a trio with good mix of size, speed, play-making and finishing ability, Hertl might indeed start to takeoff.
Andrew has been credentialed to cover the Sharks since 2010 and the 49ers since 2012. He graduated with his BA in Broadcast Electronic Communication Arts in 2013 from San Francisco State University.