Yesterday Frank Mahovlich, hospital-bound superstar of the Toronto Maple Leafs, was allowed to practice with the team for the first time since he mysteriously checked into Toronto General Hospital on November 12.  His appearance was something akin to a major media event, with all the Toronto papers (and a couple of out-of-towners)  on hand to record the events for posterity.  Even some writers not normally assigned to the Leafs' beat took in the big left winger's workout.
Still 'no comment' from Leafs
Mahovlich, as everyone has been re-informed ad nauseum, entered that Toronto hospital in a clandestine manner, and the fact he was there only leaked out thanks to hospital staff storming his room seeking autographs.  At first the team would neither confirm nor deny his presence at the medical facility, and then when a statement was released, the only information that was confirmed was his whereabouts.  To this day, no one  – not Mr. George Imlach, nor Dr. Hugh Smythe, nor for that matter will any member of the Leafs' brass  provide any idea of what ails the big guy.  This, of course, has led to no small amount of speculation, some of it preposterous, some of it just down right sad.
The only affirmation of any type about Mahovlich's condition was made by one of the Maple Leaf physicians, Dr. Tate McPhedran.    He categorically dismissed a report that the big left winger is being treated for cancer.  He emphasized that public disclosure of Mahovlich's condition was not in the player's best interest.
Dr. Hugh Smythe said last night that a decision will be made by the end of the week whether Mahovlich will need any further hospital treatment.
Full participation in drills
So at Tam O'Shanter Arena at noon yesterday, the Leafs engaged in a not-so-regular practice.  Dick Beddoes of the Globe and Mail thought the Big M looked very good.  Beddoes reported that Mahovlich skated so well that he must have been on the ice during his hospital stay.  He went on to say that at times during the past couple of weeks,  Frank's wife Marie has picked him up at the hospital and taken him to Tam O'Shanter for private ice-time sessions.  Yesterday, Frank went through the drills and did line rushes , taking Red Kelly's spot with Bob Pulford and Ron Stewart.  Kelly was in Ottawa on parliamentary business.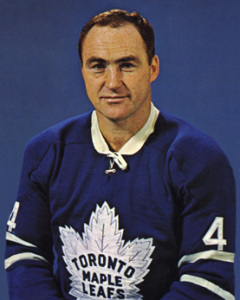 Imlach: "He looked fine to me."
After the practice, Imlach closed the Leaf dressing room to reporters and he would not discuss the case.   The Leaf manager-coach would only comment on Mahovlich's participation in the drills.
"He looked fine to me.  I think we can expect him back in a week or so."
Imlach bristled at the mention of the speculation surrounding the Big M's absence, "I don't give a (*****) about the speculation.  All I'm concerned about is him.  He won't say anything.  I won't.  And the doctors won't.  You can guess all you like.  But nobody's going to say a word."
Punch refused to give a hard date on Mahovlich's return.  The coach says he will wait and see how the next few practices go.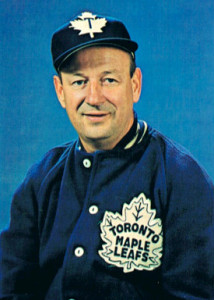 At least the ink-stained wretches had left the Mahovlich family pretty much alone until now, and for that small mercy we can be thankful.  Yesterday Marie did speak to a few reporters.  She told Paul Rimstead of the Star, "Just tell the people that Frank is fine, just fine.  And he'll be back soon."
Retired police detective, involved in hockey at all levels for over 50 years. Member of Society for International Hockey Research and presently a video analyst for the leader in advanced hockey analytics (we work exclusively for 2 NHL clubs, and provide advice on an ad hoc basis to many other clients). Currently the Assistant General Manager for the Pelham Pirates of the Greater Ontario Junior Hockey League. Previously owned the Faceoff computer hockey simulation and also provided all player ratings for the EA Sports series of NHL computer games from the late 90's into the mid 2000's.