What's Happened to the Ninja Hertl?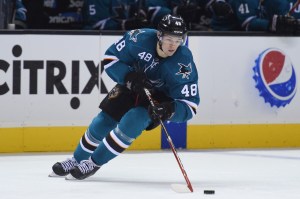 Unlike Matt Nieto, there is no question that Sharks forward Tomas Hertl doesn't look nearly the same thus far this season. Hertl has just four goals and 10 points in 23 games while averaging barely over a single shot on goal per game. Last season Hertl scored 15 goals and 25 points in 37 games before sustaining an injury on the 900th knee on knee collision of Dustin Brown's career. In those 37 contests Hertl averaged 2.64 shots per game versus 1.26 this year.
While Hertl has been nowhere close to the elite scorer a year ago, his underlying numbers actually aren't that bad. Most of the season his plus/minus rating has floated slightly above Patrick Marleau and Logan Couture, as has is goals for percentage at even strength. Currently Hertl is 7th on the team in this metric behind six players who are all having good seasons. Those players are Marc-Edouard Vlasic, Justin Braun, Joe Pavelski, Joe Thornton, Tyler Kennedy, and the aforementioned Nieto. Furthermore, Hertl's corsi-for percentage is actually a very respectable 55.6%, good enough for fifth on the club. Hertl may not be shooting much, but his linemates sure seem to be picking up the slack. And it's not as if Hertl has been riding the coattails of great players all season, he has spent significant time on the third line this season.
The fact Hertl hasn't been scoring is still a significant concern if you are Sharks fan, especially the enormous decrease in shots per game. Some water cooler talk has suggested Hertl came into the season out of shape, but that would primarily suggest looking sluggish towards the end of games. The eye ball test so far indicates that whether it is the first period or third period, Hertl has looked a step slower than last season.
While the 21-year-old shined in the playoffs after returning from the injury last season, he did suffer a setback during the offseason. If you remember, he missed the prospects scrimmage in July after tweaking his knee.
My theory is that Hertl is simply not 100% healthy right now. He still has the hands to make plays which helps in puck possession, but he isn't showing nearly the same explosiveness from a year ago. His skating stride looks as if he is skating through mud. Last season he appeared to have speed similar to that of Logan Couture. Thus far in year two he looks more at the skating speed of Joe Pavelski. If Hertl were completely healthy, there would be no reason for such a decrease in his skating ability. We are talking about a 21-year-old kid, not an older player at the end of his career. Something is just not right. The past two games skating with Joe Thornton and Patrick Marleau and Hertl has just one shot on goal. Hockey teams and players are notoriously mum about injuries so it is hard to have a real idea of the problem but the evidence strongly suggests that Hertl simply isn't right. If he is in fact playing through some pain, it must mean the club is confident the injury will improve over time and that he doesn't need to miss games. Hopefully for the Sharks that means sooner rather than later Hertl will start turning those possession numbers into goals on a much more frequent basis.
Andrew has been credentialed to cover the Sharks since 2010 and the 49ers since 2012. He graduated with his BA in Broadcast Electronic Communication Arts in 2013 from San Francisco State University.