If the Buffalo Sabres were to re-sign Evander Kane this summer, how much would it take to keep him on the roster?
Kane has 300 points in 496 career NHL games since being drafted fourth overall by the Atlanta Thrashers in 2009. The 25-year-old is coming off a season where he scored 28 goals and 15 assists for 43 points.
Finishing the year as the Sabres' top goal scorer, Kane showed some of the form that made him a 30-goal scorer in his third year. New general manager Jason Botterill may want to re-sign him this summer rather than lose him as a free agent in 13 months.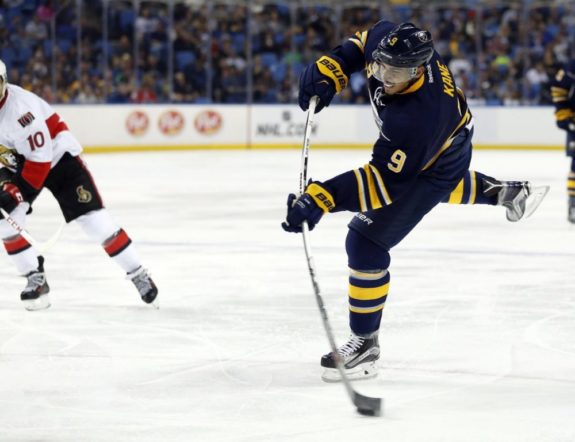 The Six-Million Dollar Bracket
Let us look at comparable contracts that could be set as a guideline if Botterill wants to keep the Sabre long-term. Starting in the $6- to $8.5-million bracket with a lengthy seven-year contract.
Current Sabre Ryan O'Reilly signed his contract at 24 years old in 2016 for $7.5 million AAV for seven years. O'Reilly was coming off a season with the Colorado Avalanche where he scored 17 goals and 38 assists for a total of 55 points.
O'Reilly is the highest-paid Sabre right now and also plays center. His 58 percent faceoff rate is good enough for fifth in the league. O'Reilly has outscored Kane in all but one season since they've been in the league together. For all of these reasons, it is unlikely Kane will get a similar offer.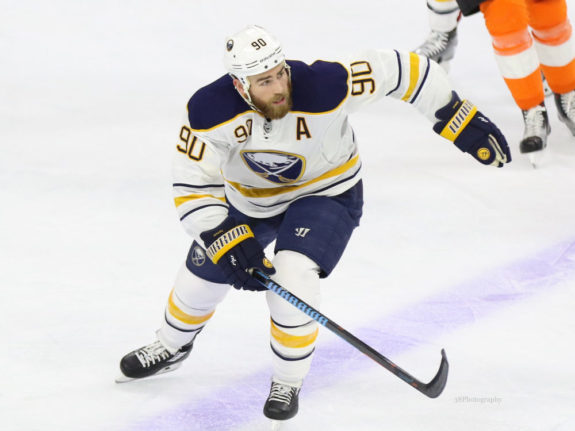 Bobby Ryan signed for $7.25 million AAV for seven years at 27 years old for the Ottawa Senators in 2015. Ryan scored 18 goals and added 36 assists for 54 points total in his first year in Ottawa. Kane is two years younger than Ryan was at the time but scored 11 fewer points last year.
The Ottawa Senators have been criticized for giving such a large contract to Ryan. Despite currently fighting it out in the Eastern Conference Final, Ryan had a career-low this year with only 25 points in 62 games. Now at 30 years old, that contract will be a warning to Sabres management regarding Kane's longevity.
Another Sabre comparison would be Kyle Okposo, who signed last summer for $6 million AAV and for seven years at the age of 28. He scored 22 goals and 42 assists for 64 points total with the New York Islanders in 2015-16. The right-winger signed as a free-agent so the salary could have been potentially boosted by the free agency frenzy.
Okposo scored five more points in five fewer games in 2016-17 than Kane did—all at the reasonable price of $6 million. If Okposo continues to score into his thirties, this contract will be a viewed as a success for ex-GM Tim Murray.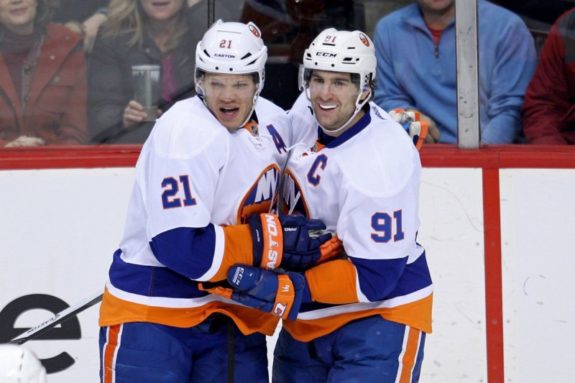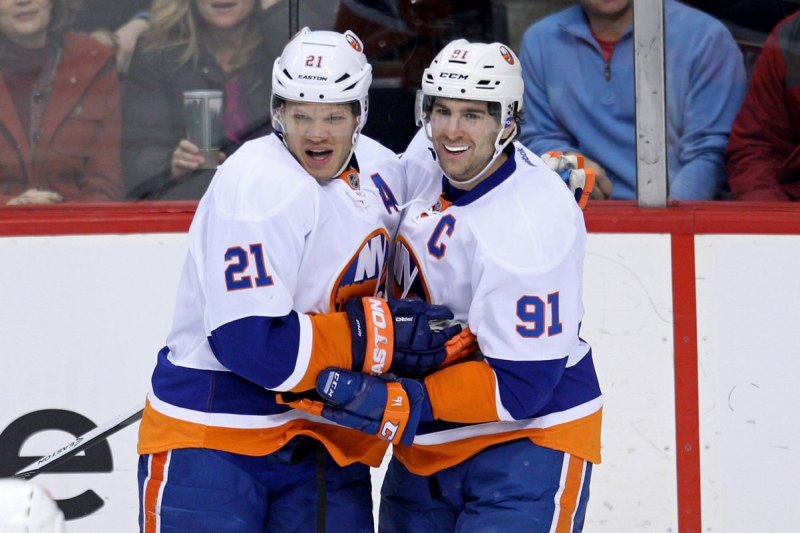 Jakub Voracek signed a lengthy eight-year contract at the same age as Kane for $8.25 million AAV in 2015 with the Philadelphia Flyers. Voracek had an 81-point season coming into his contract negotiations but has since scored 55 and 61 points in his last two seasons.
Voracek is a great example that a contract must not be based solely on one successful year, but rather a player's whole career. Similarly, Kane had his career-best 57 points at the end of his last contract but has since managed no more than 43 points in one season.
Kane was outscored by all of the players in the $6-million-plus bracket who signed around the same age. This means it is unlikely Botterill is going to make Kane one of the highest-paid Sabres.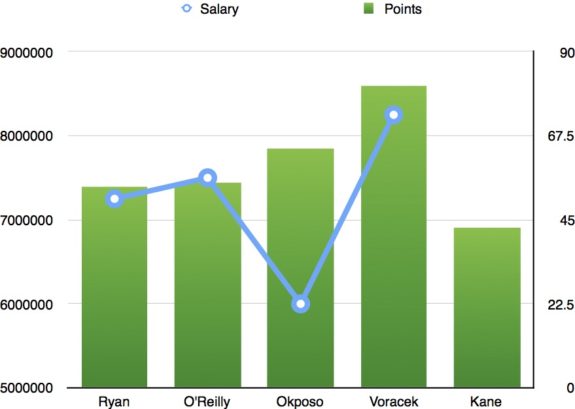 The Five Million Dollar Bracket
So if we look in $4- to $5.5-million bracket, we get two players who signed with new teams as free agents and two players who re-signed with their current team.
In 2016 Mikkel Boedker was traded at the deadline from the Arizona Coyotes to the Colorado Avalanche. At 26 years old he scored 17 goals and 34 assists for 51 points combined with both teams in 2015-16. Boedker then signed with the San Jose Sharks for four years at a $4 million AAV as one of the top free agents that summer.
If Kane does not re-sign before the trade deadline next year, he may be moved like Boedker was. Boedker's relatively small salary is due mostly to the fact that he went to the Cup-contending Sharks. If Kane becomes a free agent in 2018, he might take similar low pay on a Cup contender.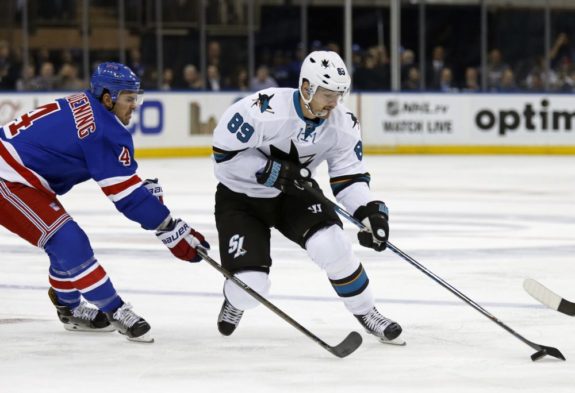 Michael Frolik signed a five-year contract with the Calgary Flames for a $4.3 million AAV as a free agent in 2015. The then 27-year-old scored 19 goals and 23 assists for 42 points with the Winnipeg Jets the previous season.
Frolik has put up consistent numbers since playing a bit-part in the Chicago Blackhawks' 2013 Stanley Cup win. Kane is already getting paid more than Frolik despite the pair putting up almost identical numbers over the last 4 years.
Nick Foligno re-signed for six years at a $5.5 million AAV as a free-agent after scoring 18 goals and 21 assists for 39 points. That points total is a little low but you have to take into account he only played 70 games for the Columbus Blue Jackets that season.
Foligno, now the captain of the Blue Jackets, is regarded highly by the organization and lead them to a franchise-best finish this year. Signing his contract at 27 years old, Foligno had 73 points the next year but regressed to 37 and 51 points the following seasons. Once again, Foligno is a warning to Botterill of the longevity of scoring wingers.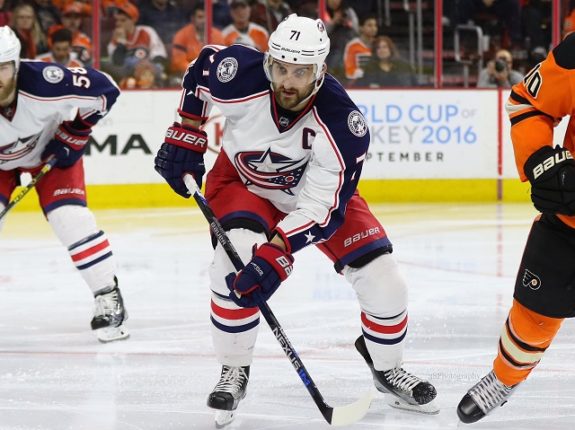 Derick Brassard re-signed on a five-year, $5 million AAV deal with the New York Rangers in 2014. At 26 years old, he was a restricted free-agent, which may have limited his leverage to ask for a larger contract. Brassard scored 18 goals and 27 assists for 45 points going into contract negotiations that summer.
Brassard's contract looks to be the model example from which to base Kane's contract. The center had inconsistent scoring throughout his career but after signing his contract with New York, he posted his two best point totals. Kane will also be 26 when his contract expires, but won't be a restricted free agent like Brassard was.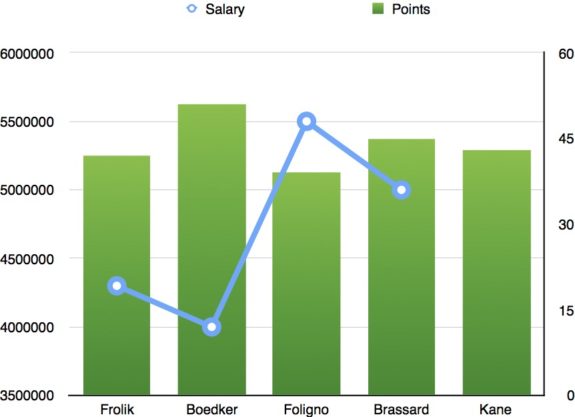 This bracket seems much similar both in points and in the salary range that Kane can expect. The Vancouver native is currently making an AAV $5.2 million per year and may not accept anything but a pay raise.
Kane still has one year left on his current contract and a lot can happen if he does not re-sign this summer. How much do you think Evander Kane is worth? Let us know in the comments below.
*All contract details are courtesy of CapFriendly.com