If signing Johnny Gaudreau is the Calgary Flames No. 1 priority this offseason, then signing soon-to-be free restricted free agent Sean Monahan in a close second.
The 6-foot-3, 195-pound centreman is also in the final year of his three-year, entry-level deal and, like Gaudreau, is in line for a significant raise. Many consider the Flames top line centre could fetch a deal similar to Gabriel Landeskog's seven-year, $39-million contract. The Avalanche captain's $5.57-million average annual value (AAV) is just slightly less than Brandon Saad's $6-million  he retrieved inking a six-year, $36 million deal in the summer of 2015, which is another comparable to Monahan. While both are great examples, which the Flames and Monahan's agent Pat Morris will bring to the table, the most relevant contract is one that was signed in Sunrise, Florida in late January.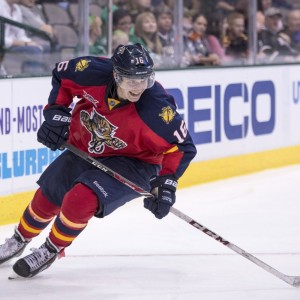 Barkov Deal Is the Closest Comparable
Twenty-year-old Aleksander Barkov, a rising young centreman, came to terms on a six-year $35.4-million contract extension with the Florida Panthers on Jan. 26. The deal works out to a $5.9-million AAV and has the former No. 2 overall draft pick locked up until 2021-22 season.
While Barkov's NHL career got off to a slow start the do-it-all centre has started to live up to his potential this season scoring 21 goals and 22 assists in 52 games. These numbers are eerily similar to Monahan's 21 goals in 27 assists, which he has amassed in 15 more games. The two are used frequently on the man advantage with Barkov and Monahan both racking up 13 power play points as of March 12. Both are also equal in the faceoff circle, with Monahan's 48.9 per cent career success rate slightly better than Barkov's 47.7 per cent. Monahan was selected sixth overall in 2013, just four picks behind Barkov. With the players so close in the draft, age, stats and intangibles, Flames GM Brad Treliving will be hard pressed to sway the Monahan camp away from a similar contract.
Note: The top pick in that draft, Nathan MacKinnon, is also set to see his entry level deal expire July 1 and is another contract that could impact the Monahan and Gaudreau deals.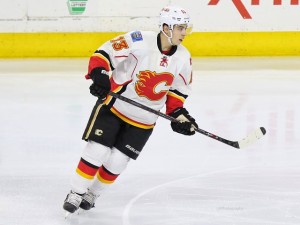 It All Hinges on Gaudreau
Like it or not, every aspect of Monahan's contract is attached to Johnny Gaudreau. The Calgary Flames are going to turn their attentions to signing the 2014 Hobey Baker winner to a lengthy, sizeable contract. According to Eric Francis of the Calgary Sun, the deal is expected to be in the range of eight-years at $8 million per season.
Once the Gaudreau deal is signed Monahan's contract will be the next item on the table. I assume that both the Flames and Monahan will be looking at a term that is similar to the deal they construct with Gaudreau, which should be the max of eight years. While the value will still be steep it will most likely be about $1.5-million to $2-million less than what Johnny Hockey settles on. The higher the Gaudreau deal goes, the higher the Monahan request will go. If Gaudreau signs for $8-million per season, I believe Monahan will get around $6-million.
The AAV for both players is pretty much known, as I can't see Monahan settling for less than $5-million and Gaudreau taking less than $7-million. The real question, and area of major discussions for both players will be in regards to the length of the contract. Other deals mentioned, such as the Barkov and Saad contracts were just six-year deals, while Landeskog signed a seven-year pact. St. Louis Blues forward Vladimir Tarasenko is the most recent max contract, as he signed for eight-years and $60-million.
A six-year, $36-million contract is a possibility for Monahan, with a max deal probably sitting around eight-years and $48-million. Either way I believe Calgary will use the Barkov contract as a bargaining chip in getting Monahan to sign at a $6-million AAV.
(Featured Image By Amy Irvin)