It's been an intense ride for the Anaheim Ducks this season. The Ducks started out terribly, finding themselves in last place in the Pacific Division in the month of December. After the holiday break they went on a tear going 25-4-2 to rise from last to first in the division.
First place in the division only last momentarily, as Anaheim dropped their last three games this week going 0-2-1, falling back into second place. After playing in a hard fought game against the NHL's best Washington Capitals, the Anaheim defense had some let downs resulting in losses to Colorado and St. Louis.
It's been an equally intense ride for Chris Wagner this season. He started the season with the Anaheim Ducks, playing in 11 games and failing to record a point. Anaheim tried to send Wagner down to the San Diego Gulls through waivers, but the Colorado Avalanche claimed him. While in Colorado, Wagner played in 26 games and scored four goals. He did play primarily a bottom six forward role and was scratched in a handful of games. Colorado then tried to send Wagner through waivers on February 24, but Anaheim was able to pick him back up despite over 20 other teams having a chance to claim him. Bob Murray was extremely happy to get him back after losing him in November.
Since Wagner's return he has been assigned to the San Diego Gulls. He was called up temporarily on March 4 due to the status of Ryan Getzlaf being in doubt. Wagner was promptly sent back to San Diego when Getzlaf was deemed able to play against the Los Angeles Kings the next day. It only lasted one day, but Wagner should be recalled to Anaheim as the end of the season approaches.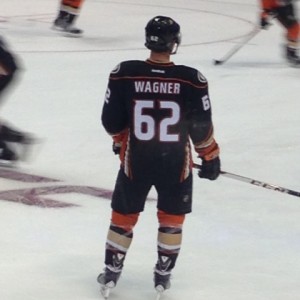 Recall Wagner, Send Ritchie Down
Wagner is known for his work ethic, solid forecheck, and most notably his bone crushing checks. He is the type of player that is going to give you his all for a 60 minute game night in and night out. The only critique of his game has been his lack of offensive production. During the 2014-15 season with Anaheim, he played in nine games, but didn't register a point. And in his first 11 games with the Ducks this season, he also didn't register any points. He was able to get his offensive game going in Colorado with four goals. He has continued to produce with the San Diego Gulls earning six points in nine games. He has five goals and one assist. He had the game winning goal Friday night in an exciting overtime victory against Bakersfield.
The Ducks could bring Wagner up to play a bottom six role as Anaheim's Coach Boudreau has been shuffling players between the Ryan Getzlaf line and the fourth line. With Chris Stewart out, Mike Santorelli, Nick Ritchie, and lately Ryan Garbutt have played on the Getzlaf line. Depending on who plays on that line, Wagner could play on the fourth line with Nate Thompson at center and possibly Garbutt, Santorelli, or Shawn Horcoff. The less likely scenario is to put Wagner on ice with Getzlaf and David Perron. It seems like that probably wouldn't happen, but then again Ritchie and Garbutt have been given opportunities on that line as well. Regardless where Boudreau would place Wagner, he could be an added benefit because of his physical style of play and his added offensive game.
Nick Ritchie has had a great season in San Diego. In 33 games, he racked up 28 total points. He scored 15 goals and added 13 assists. Since playing in Anaheim it's been a different story. He has played in 24 games for Anaheim and only recorded one lone assist. His offensive production had been much lower than what was expected. He has had opportunities, played physical, and even had his first NHL fight against the Arizona Coyotes on March 3. With Stewart out a few weeks still and Brandon Pirri's return date unknown, the Ducks should bring Wagner up and give him some playing time in Anaheim. Ritchie was demoted to the fourth line last night and only played 7:47, which was the lowest on the team.
It wouldn't hurt to send Ritchie to San Diego, where he has been successful and let him see some more ice time. Meanwhile Wagner can get an opportunity with Anaheim while some of the injured players still remain out.