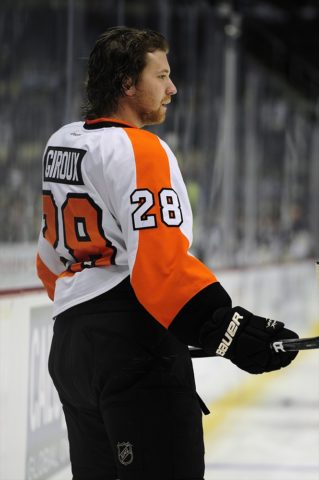 When the Montreal Canadiens selected David Fischer, 20th overall in the 2006 Entry Draft, they thought they were getting a steady, reliable defenseman.
What they didn't realize is that they were passing up on one of the most skilled players in the NHL.
At the time, scouts said Fischer had that "all-around ability on the blue line." He is an exceptional skater and is capable of logging huge minutes. All this sounded great to the Canadiens. The only down side was that scouts figured Fischer needed about two more years to develop before turning pro.
Well, the Habs are still waiting.
This season, Fischer is playing in the East Coast Hockey League, a step below the American Hockey League, with the Florida Everblades. That's a far ways from where the Habs hoped he would be at this point in his career. The ECHL is still good hockey and the 23-year-old is logging quite a few minutes. He is third on the team in scoring. As a defenseman, some would say that's not bad.
However, 36 points in 46 games in the ECHL is not quite comparable to 70 points in 55 games that another player has.
Yes. I'm talking about Claude Giroux.
Oh and I forgot to mention, Giroux's point total is in the NHL.
The Canadiens had an opportunity to select Giroux with their 20th pick in the 2006 draft, however they went with Fischer and Giroux was selected two picks after by the Philadelphia Flyers.
At the time, scouts said Giroux was lacking size, which was something the Habs didn't want. If the management would have selected Giroux, the fans would have been upset about adding another forward under six feet tall. The team had too many of those players already. Fischer, however, seemed like the safe bet: a decent defenseman who won't be a total bust.
Well, that didn't really work now did it?
Hindsight is 20/20 and if the Habs would have known what kind of player that Giroux would turn out to be, of course they would have selected him. But they didn't know that and now they are left with only the thought that they could have had an elite superstar on their team.
Giroux would have put this Canadiens team where they want to be: on top of the NHL. The team has a lot of young talent up front with guys like Max Pacioretty, David Desharnais and Tomas Plekanec. They have veteran leadership from players like Brian Gionta and Erik Cole. They have a deep, young defensive core, lead by P.K. Subban, Raphael Diaz, Alexei Emelin and Josh Gorges. And they are more than stable between in net with Carey Price.
But they are missing that elite superstar like Giroux.
Crazy to think how one draft pick could have changed an entire franchise, assuming that Giroux would have still turned out to be the player he is today. He could be the King of Montreal right now. He could run for mayor and win. He is exactly what the Canadiens are looking for: a superstar.
Oh, and he's French.
There is hope though. The NHL trade deadline is coming up on Feb. 27. If the Canadiens were to deal for Giroux, they would have to give up every one of the players mentioned above.
Maybe Lloyd Christmas put it best in the movie Dumb and Dumber: "So you're saying there's a chance!?"
Dare to dream, Habs fans. Dare to dream.