As a player in the CHL every shift is crucial.  Every shot is being scrutinized.  Every play being analyzed by scouts and coaches and hardcore draft enthusiasts.  Being a newcomer to the league and the country, as well as being in your draft year can magnify that pressure big time.  Welcome to the world that Henrik Samuelsson lives in.  But, the new edition Oil King has played 18 games and if that pressure cooker is on he's not sweating it.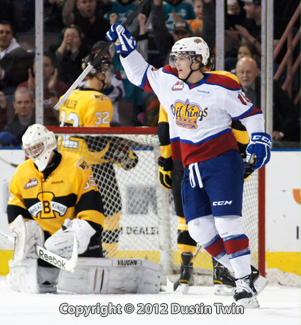 Unlike most player coming from across the pond, Henrik coming from the Swedish Elite League, his adjustment hasn't been as big due to the fact that he is a US born player.   Henrik is the son of former NHL defenseman Ulf Samuelsson and grew up playing in the US including playing for team USA at the under 17's where he scored 10 points in 5 games.
So far in his 18 games in the WHL, a league dominated by defense this year, he has put up 16 points and a +12 playing primarily on the Oil Kings second line.  Henrik has a very fast release and is a good one-time shooter and often scores goals by setting up in the slot or around the circles and letting shots go.  He's also good in the corners and around the net with his size, 6 feet 2 inches and 190+ pounds, and isn't shy about going to those areas.
In last nights game against Kelowna Henrik was kept off the score sheet, despite his line playing well and his team out-shooting their opponents, but he was able to show another side of his game.  The big forward was a monster on the fore-check against the rockets.  Edmonton controlled the game with aggression and offensive pressure and Samuelsson was a big part of that.
Halfway through the game Henrik was going for a big open-ice hit but when the Kelowna player stepped aside they went knee-on-knee with the Kelowna player getting the worst of it.  Shane McColgan of the Rockets took offense to the hit and challenged Samuelsson.  Henrik looked at the player he collided with and saw that he wasn't getting up from the collision.  Samuelsson accepted the unwritten hockey ruling and dropped his gloves.  To me, seeing his assessment of the situation and having some concern for the fallen player as well as accepting responsibility was a telling moment.  He doesn't have that superstar sniper mentality where he skates around with impunity knowing that he doesn't have to be accountable.  How did Henrik do in the fight?  He was way too big and strong for McColgan and ended up looking like a decent scrapper.
So where does Henrik rank and what kind of pro will he be?  So far scouts have him as a late first/early second round draft pick this year.  He is a unique player in my mind because he mixes the european game and the north american game very effectively.  He is a finesse player, a sharp-shooter, and a power forward all mixed together.   He will definitely contribute some scoring and would shine on a line with a good passing centerman and on the powerplay.  Aaron Vickers Managing Editor of Future Considerations had this to add, "I think there's a definite possibility that a team will give Samuelsson an opportunity as a late first round pick. A selection in that neighbourhood was expected heading into the season and, although he faltered somewhat in Sweden, Samuelsson has done a lot to impress with the Oil Kings. He's a nice blend of size, physicality and offensive talent. NHL teams undoubtedly see this blend that few in the draft have, making him an attractive pick."