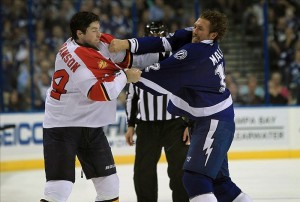 It's one of the most debated topics in hockey, and it gets arguably the most heated. No, it's not team Ovi, or team Sid. It's whether fighting belongs in the game. There is no question it belongs in the game solely based on the fact that it has existed for so long. Does it belong in the game now in the way it is being used is a better question.
Fighting was and still is used to convey emotion and in the purest form, to stick up for yourself or your teammates. Can you think of a better way to send a message than to punch someone in the face? Me neither.
There is a line that has to be drawn. When the emotions are at an all time high, there is a greater chance that a scrum will break out, which turns into a fight or two. This is the kind of thing that helps hockey police itself. Now let me backtrack.
During the 2012 Stanley Cup Playoffs there was a particular series that got out of hand. The Pittsburgh Penguins and Philadelphia Flyers turned their series into a high scoring penalty festival.
The first game was a typical rivalry game for both teams. A boarding penalty here, a cross-check there. Hockey fans are used to seeing these kinds of things in a regular season game, so it was expected in a playoff game. It wasn't until the second game where things started to change. An 8-5 win over the Penguins and a diving penalty to Kris Letang later, game 3 in Philly would turn this series into a penalty heavy slugfest.
This is where the fighting begins, and in this instance, it was warranted. During the playoffs emotions run high, fighting is always at a minimum and if it occurs it's a matter of things boiling over. Dropping two home games to the Flyers, the Penguins came out chIppy. Right after puckdrop roughing penalties were handed out left, right, and centre. Then the fight happened. Sidney Crosby and Claude Giroux jarred at each other and had a few words before deciding they would go. When a teams two stars are fighting, it shows their intensity and their need to stick up for themselves.
Crosby and Giroux did not have to fight each other in the new NHL where enforcers would go toe to toe in place of their stars. Ultimately, the enforcers fight the battles, and the stars remain unharmed, away from a possible risk of injury. That's one hell of a food chain.
Game 3 between the Flyers and Penguins had 158 penalty minutes divided between the two alone. 361 penalty minutes were handed out between games 3 and 6. After that game 3 blow up, the penalty minutes dropped off significantly, and there wasn't another fight in the series.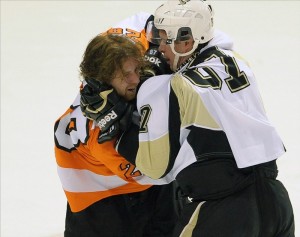 Without the blow up that happened in game 3 with the right guys sticking up for themselves, who knows what would have continued to go on had Crosby and Giroux not taken a stand against each other.
When you are fighting your own battles, there doesn't need to be any other interference from other players. If there is reason enough to fight – and it's hard to find a sound reason for staged fights – then the battle must be fought yourself. When a second party is brought in to fight another second party, nothing is resolved between the two that wanted to fight. Sure, go ahead and argue it saves their hands, or wrists, or the possibility for concussion. Why does the NHL pay guys to risk their hands, wrists, and their mental health to fight the battles of a player who makes much more money than you? It doesn't make sense.
Without the ability to fight, it is a slippery slope towards a game that preaches "an eye for an eye". If your star player gets run into the boards from behind, a fight will ensue. If you can't fight, surely you will run their star player from behind. This is a much more violent path to go down instead of letting the fight occur between two guys to settle the issue. I really don't have to bring up instances like Marty McSorley on Donald Brashear and Todd Bertuzzi on Steve Moore, do I?
The league has been infiltrated with players who know how to pick fights, know how to fight, and all they do is fight. They're on the hunt from the time they step on the ice until the time they get back to the bench. The sizing up doesn't stop until they find someone to "go" with. Why is THIS a part of the game?
Players like Colton Orr and Chris Neil have gained reputations as enforcers. A prime example of two guys who go out to stir the pot and create an opportunity to fight each other. Why? Because that's their job. The fight they had on Wednesday in Toronto was useless, it was done to get their enforcer vs enforcer fight out of the way. They say it's to create space, or to bring energy into the game. This fairly new position of the enforcer created many more problems than it solved.
Why do there need to be players on the ice that "protect" others? Stick up for yourself. When there's no sticking up for enforcers to do, the one thing I hate about hockey came to be. Staged fights are a terrible problem and not at all an easy one to fix, or police. The dangers of staged fighting are abundantly clear by what happened in Toronto Wednesday night against the Ottawa Senators. A complete knock out of a 23 year old David Dziurzynski by Toronto's Frazer McLaren left Dziurzynski seemingly lifeless on the ice, barely able to be helped to the dressing room by three men.
In his tenth NHL game, he decides to drop the gloves with Frazer McLaren only to be knocked out in the first 10 seconds of the first period. This is the perfect example of a staged fight. It illustrates exactly the dangers of staged fighting, and the uselessness of the position. After the fight, McLaren looked shook up, Dziurzynski stumbled to the dressing room, and the mood at the Air Canada Centre was sombre. No fan wants to see a guy get hurt, especially in a losing cause such as a staged fight.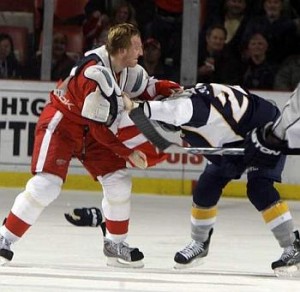 The staged fight is a hard problem to solve. The guys from the Backhand Shelf Podcast at TheScore really got into the issue. Suggesting time limitations on how early you can fight in a shift wouldn't be a viable option. If the NHL outlined a specific definition of a staged fight, the players would find a way around that definition and continue to stage fights. There isn't a cut and dry solution to this issue. A culture change is the one thing that is absolutely feasible.
The hockey fighting schools that teach kids how to fight on the ice are direct results of enforcers becoming a bigger part of the game. If hockey parents want their kids to "make it" they'll put them in these schools so they have every asset possible. Teaching kids how to fight on the ice is a terrible idea. They don't need to be boxers, and they don't need to know where to grab a guy. If you're going to fight it should be a last resort type of situation. Teaching children how to pummel each other with blades strapped to their feet is an absolute disservice to the game. It is enforcing the idea of violence, not fun – which is what hockey, and sport in general, is supposed to be.
What do we do with fighting? You let it stay in the game. Funny things like this happen from time to time because Semin's temper boiled over. You also have outrageous instances like the famous Mike Milbury Shoe Beating, which is a personal favourite. Fighting was an outlet for the Penguins and Flyers to deal with their own issues individually. After game 3 in that playoff series, everything calmed down once the fighting was over with. Solve your own problems at the source and the enforcer doesn't need to be part of the game.
Katie Flynn is a News Editor at theScore and theScore App as well as an NHL Analyst for H4TV Sports News.