The New York Islanders are 2-2 since snapping their 5 game regulation losing streak.   The two wins came off a 4-3 defeat of rival New York Rangers at Madison Square Garden in a shoot out, and featured a come from behind push by the Islanders in the 2nd period.  Their next game, they handedly defeated the New Jersey Devils 5-1 on the shoulders of John Tavares's hatrick.   He was later named NHL star of the week.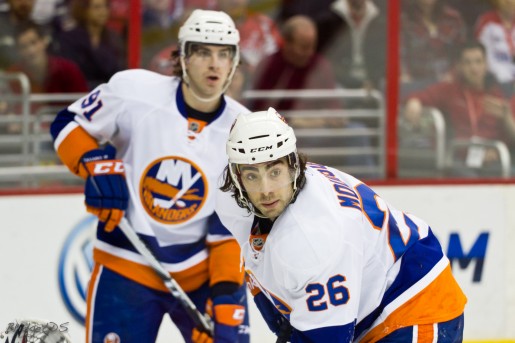 Then the Islanders played one of their worst games in franchise history, when they were shut out 7-0 by the Philadelphia Flyers, at home during a matinee game on Presidents day. Aside having to swallow such an ugly loss, they lost defenseman Brian Stait to a broken ankle.   They followed that embarrassing display with a frustrating loss in Ottawa the next night 3-1.   In those two games John Tavares was held scoreless, hence the Islanders lost.
At this point in the shortened season, the Islanders will have to face facts, they are probably not a playoff team again. This is after 5 consecutive years of missing the post season.  The reason is, as Tavares continues to make his mark as a legit superstar, the rest of the team continues to be allowed to wallow in their deficiencies.
My Humble Rash Opinions On What Needs to be Done To Repair This Team
I don't expect any of the following rash suggestions to happen.  Recently a denied rumor that Charles Wang is looking to sell the team got me thinking, that if this does indeed turn out to be true down the line, it means current management isn't going anywhere until such a deal is done.
Whether Wang is in it for the long haul, it's time to look at the reality of this team.  Aside from John Tavares, Matt Moulson, and Travis Hamonic, and some bright prospects in the system, I think it's time to seriously over haul this team.   John Tavares is about to enter some of the most exciting years of his career, and the Islanders need to take advantage now.   But how?
Trade Kyle Okposo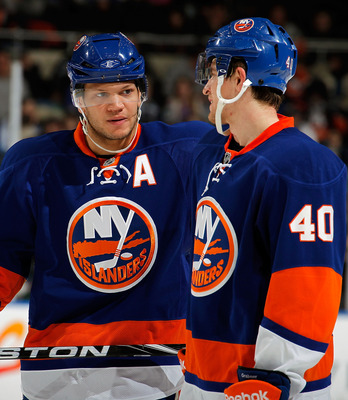 Kyle Okposo is off to another slow offensive start.  Either, he is not the goal scoring power forward Islander fans and the organization seems convinced he could be, or he needs a change of scenery and a new development staff to help him reach his potential.  His trade value is low, but he's still a young forward, former first round draft pick with potential.  He wears an A on his jersey, so he can be a leader, but it's just not working in this organization.  It would be doing Okposo a favor to give him a fresh start somewhere new.  It would also start reminding players, that if they don't perform to expectations, they aren't going to stick around. Change the culture.
New Coach
We're into Jack Capuano's third season now, and there hasn't been much improvement, aside from the Tavares maturation.  Capuano hasn't been able to get consistency out of this team, and a lot of these players we needed to blossom by now.  This team needs a shake up, and nothing shakes a team up like seeing that they cost a coach his job.   There probably isn't an NHL caliber coach out there right now, but this team needs to stop with the hiring of AHL coaches and  exiled NHL coaches who have been forced out of the league. See former coaches Scott Gordon and Ted Nolan respectively.   I'm not sure if any reputable NHL seasoned coach will accept a job with this franchise, but that's for the off-season.  As of now, make Doug Weight interim coach.  He has a lot of fire and will at least scream at guys when they play like they did against Philadelphia on Monday.
Find a new GM to finish the Rebuild
I don't think this will happen until the day Charles Wang is no longer owner, but again, 5 years of rebuilding and this team still hasn't made enough improvements.  He's filled holes each season by over paying for lesser free agents and snagging whatever he can off waivers, but aside from drafting Tavares, which was a no brainer at number 1 at the time, he hasn't done enough.  This team needs again, a seasoned GM, who can help bring some legitimacy to the management and speed up this endless rebuild.
Buy Out Dipietro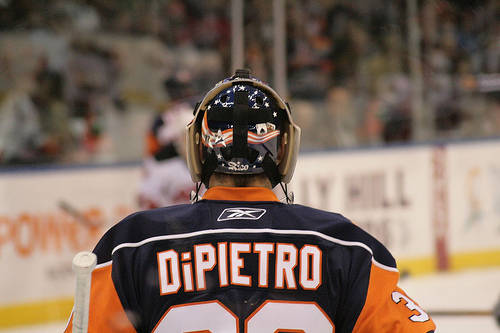 This one should be a no-brainer.  But again, I don't think this will happen as long as Wang is owner. They should sit him for good and let either Kevin Poulin or Anders Nilsson back up Nabokov.   All three games Dipietro has played he's cost them a chance by not making the saves he needs to make.  The prospects may not be ready to be full time NHL netminders, but their upswing is way higher than Dipietro's may ever be again.  If he wants to play in the NHL he has to earn it somewhere else.
Basically shop around all of the core accept Tavares. 
Who knows what's out there, but shake this team up.  Package Okposo and Bailey with a first round draft pick and see if it can't become something enticing. (Granted most my trade tactics come from playing too much EA NHL hockey.)  Snow should be actively looking to change the make up of this team.  He has plenty players who could flourish in a new environment.   Maybe deal with the San Jose Sharks, who haven't been afraid in the past to shake up their team when things aren't going well.
It's probably too late for this season, but it's not too late for next year.  If players haven't found their skills by now, they probably won't next year either.  Time to hit reset, for the sake of John Tavares, for the sake of the fans who still want to see this team compete night in and night out.