The Minnesota Wild currently sit last in the Central Division with only 33 games remaining in the regular season. They're also seven points out of the second wildcard position, currently held by the Calgary Flames. So, what do the Wild have to do to make the postseason?
Remaining Schedule
Assume it takes 94 points to make the playoffs in the Western conference, usually what the 8th place team has, give or take a few points. That means Minnesota must collect 42 points in 33 games. They would need to have a points percentage of 63.64%, which results in a record similar to 21-12-0. Is that possible for the team to attain? Absolutely.
The schedule ahead comes complete with 18 home and 15 road games. 13 games will be against Central Division rivals, 9 against Pacific teams and 11 against Eastern Conference clubs. 20 games will be versus current playoff teams. All in all, their schedule is not an easy one at all, but when is it ever easy in the NHL? It is possible though to come away with 21 wins in the remainder of the year. They'll have to be spectacular, but it's possible.
What It's Going To Take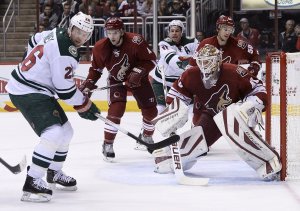 First off, the most obvious part is that it'll take a tremendous upgrade in goaltending. They've gotten that since acquiring Devan Dubnyk, who was the third star in the NHL last week. Since coming to the Wild, Dubnyk has an amazing 1.71 GAA and a .935 SV%. Play like that should undoubtedly be the start of a Minnesota Wild hot streak that could land them in the playoffs.
On the backend, Minnesota needs continued consistency and perhaps some additional offensive help. Not only in creating scoring opportunities, but even more importantly, on cutting down time on breakouts and also increasing efficiency of them. It may not be a statistical category, but the ability to transition into a strong forecheck is priceless in the game today. If the Wild can improve on this aspect, their possession numbers will certainly further increase and hopefully turn into wins.
They'll also need their key players to step up their game. Guys like Mikko Koivu, Mikael Granlund, and Thomas Vanek need to become the offensive threats they were last season. Their offence has been solid year round, but with the firepower and depth they possess, it could definitely be even better. Zach Parise has led this team all year. He is an absolute force at both ends of the ice and is a key leadership guy off the ice as well. He is currently scoring goals at a half a goal per game though 42 games this year.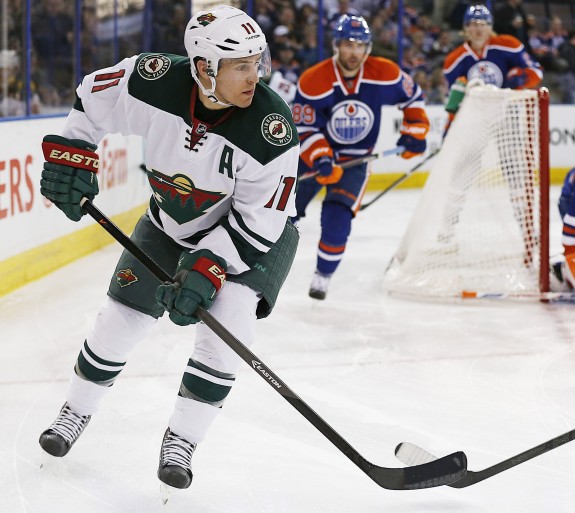 Puck Luck
Not only do the Minnesota Wild need to improve aspects of their game, they will also need some luck around them in order to comeback into a playoff position. Recently, it seems like each game the Wild win is matched by everyone ahead of them on the standings, resulting in a continuous spot in last in their division. The Wild must hope the teams ahead of them slow down heading towards the end of the year. But they can't have that thought in their head, that's for us speculators who are tracking their chances each day. Minnesota must simply set their eyes on a target. Say, 96 points to be safe, and go out and achieve that, not worrying about those around them in the standings. They have the talent and ability to comeback no doubt, but it's all on them from here on out.
Will The Wild Make the Playoffs?
Yes. In my opinion, they undoubtedly have the ability to put on a ferocious comeback here. 33 games is a huge chunk of the season, leaving plenty of time for the Wild to make up seven points. They have already shown at the beginning of the season that they can be one of the best teams in the entire NHL. It comes down to finding that game style again and sticking with it. They have excellent leadership guys and enough veteran presence and drive to have a massive end to the season. They're already off to a good start, going 5-1-1 in their past seven games. If they find consistency throughout the lineup, you'll see the Minnesota Wild playing through late April.
Do you think the Minnesota Wild will make the playoffs? Discuss in the comments below!