The Carolina Hurricanes haven't been the most active team during the offseason, having only added a few pieces, but when looking forward to what their lineup could look like for the 2020-21 season, the structure of their roster still looks much improved from the start of last season.
After losing multiple key players to injury leading up to the 2020 trade deadline, the Hurricanes bolstered their lineup with a flurry of moves. But due to the pandemic, those new players got very little opportunity to adapt to the Hurricanes' system.
With the anticipation of a Jan. 1 start for the new campaign, here's what the Hurricanes' roster could look like on opening night.
Where the New Guys Fit In
The Hurricanes' only significant free-agent signing was Jesper Fast, an agile and physical right-winger who will net you about 30 points in a full 82-game season. The 28-year-old Swede has played 422 career games – all with the Rangers – and scored 29 points in 69 games last season while finishing third on the team in hits.
Fast was one of the Rangers' go-to penalty killers last season – logging an average of 2:21 minutes per game. That's an area the Hurricanes don't necessarily need help in, but because Fast is a prototypical Brind'Amour player – he wore an "A" for the Rangers throughout the past two seasons – he should groove well in his new home.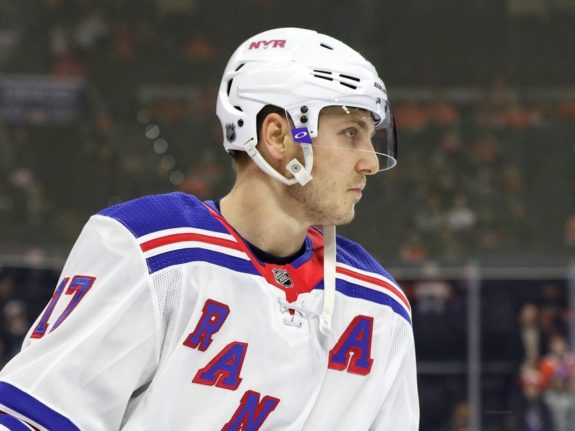 Fast will be a perfect fit on the third line next to Jordan Staal, where he can complement the Hurricanes' captain's size and heaviness with speed and scoring ability.
Center Drew Shore was also signed as a free agent by the Hurricanes. Shore hasn't played in the NHL since 2016-17, having spent the last four years overseas. The 29-year-old former Florida Panther draft choice was brought on as a depth signing who will be battling to earn a spot on the roster.
Skjei and Trocheck Still Digging Their Roots
With Dougie Hamilton and Brett Pesce sidelined with long-term injuries at the Feb. 24 trade deadline, the Hurricanes addressed their defensive holes by adding Brady Skjei, a 6-foot-3, 210-pound blueliner from the Rangers.
A former first-round pick in 2012, Skjei averaged top-four minutes on a deep Rangers blue line the past few seasons. In addition to that, he's signed on a $5.25-million AAV contract until 2024, so he's expected to be a mainstay on the Hurricanes blue line for years to come.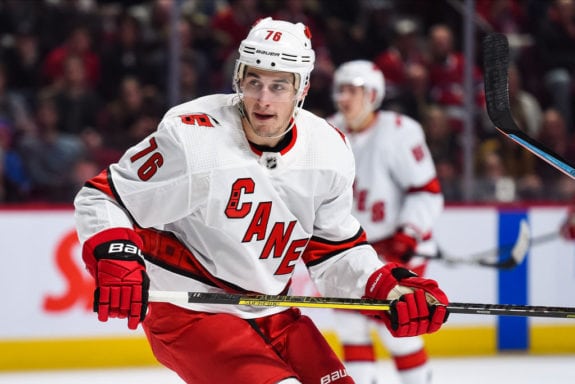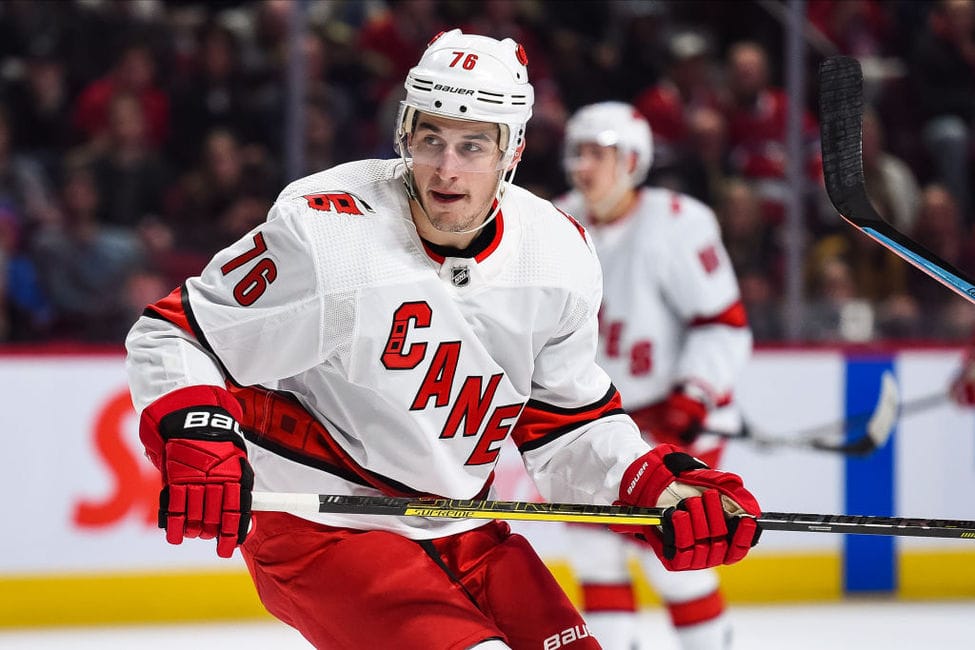 Finding Skjei a dancing partner won't be difficult. Pesce was injured for all 15 games Skjei played for the Hurricanes in 2020, but both he and Skjei are defensively responsible, physical, and comfortable in a top-four role. Skjei also has a tendency to join the rush and play with a little more of an offensive edge, whereas Pesce is a more stay-at-home guy.
In the event Pesce is still not fit to play at the start of next season, 24-year-old Haydn Fleury should be poised to advance to a larger role after his impressive play in last season's playoffs.
When it comes to forwards, the Hurricanes are eager to see what a full season of Vincent Trocheck looks like. He has all but secured the No. 2 center position behind Sebastian Aho – it's only a question of who his linemates will be.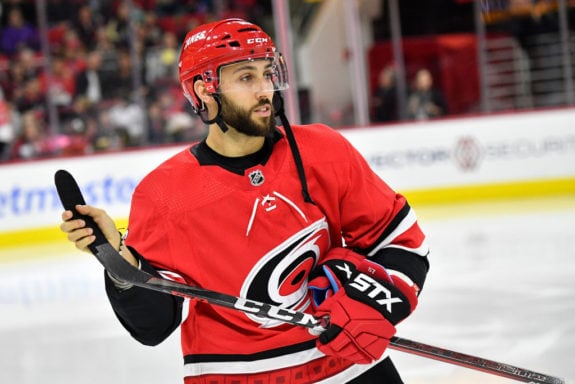 One area of weakness for the Hurricanes is scoring depth, and with Aho and Teuvo Teravainen attached at the hip, Brind'Amour's best option for spreading out offense is to link Trocheck with 20-year-old sniper Andrei Svechnikov.
But with such little offense to divvy around the lineup, Brind'Amour may choose to return to the trio that drove play exceptionally well last season and stack top line once again.
Loading Up the Top Line?
Carolina's top line of Aho, Teravainen and Svechnikov showed immaculate chemistry in the time they played together. The only problem is the other three lines weren't providing any support.
Apart from losing Justin Williams to retirement, the Hurricanes' offensive potential is much more promising than last year. They added key pieces and their young stars are only growing stronger. Barring any injuries, Brind'Amour will always have the option to play the "Big 3" together. But that can only happen if his secondary scoring shows up.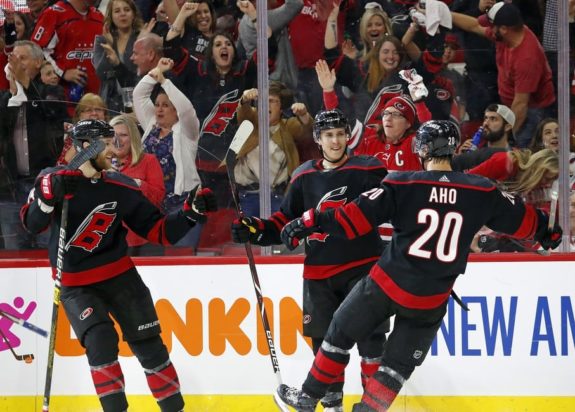 With his rookie season now behind him, Martin Necas will bear a bigger share of the load this season. He seemed to display good chemistry with Trocheck in last season's playoffs, even if they didn't dominate the scoresheet.
The Hurricanes will also need more from Ryan Dzingel and Nino Niederreiter, two wingers with 50-point resumes who were ice cold for most of the 2019-20 season.
There are a lot of what-ifs that arise if the "Big 3" are to play together. For that reason, it's unlikely they all start the season on the same line. That's not to say they won't play together later down the road, but to get his team off to a good start and get the confidence flowing through all his guys, Brind'Amour will likely choose to go with a more balanced attack.
Players on the Fringe
One of the biggest questions heading into opening night will be if Hurricanes' 2019 first-round pick Ryan Suzuki will be ready to take the leap from the OHL to the NHL.
Suzuki faced numerous challenges in his 2019-20 season. A scary eye injury meddled with the early parts of his season. Weeks later, he returned to his Barrie Colts, only to be traded to the Saginaw Spirit soon after. When he was finally able to plant his feet, he caught fire, racking up 35 points in 23 games before the coronavirus pandemic halted the OHL season.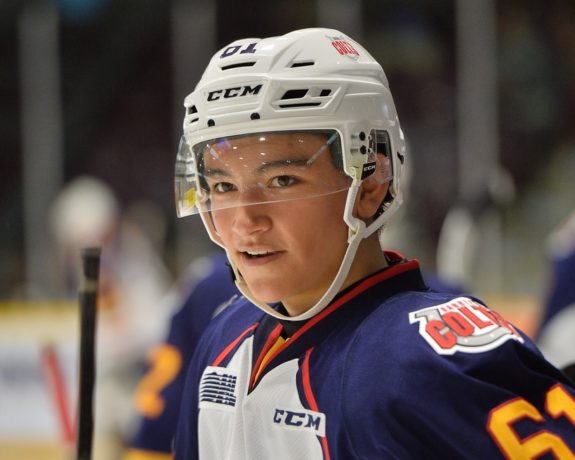 Following such a wild, up-and-down season, it's hard to judge whether Suzuki will be ready to make his NHL debut this coming season. But it is important to note he was one of the 16 forwards the Hurricanes invited into the 2019-20 playoff bubble. He never played a game, but the invitation itself is proof that he's close.
Unlucky as his season was, he has the talent to become a terrific NHL player one day, but he'll have to prove it at training camp if he wants to unlock a spot on this year's roster.
The OHL season is set to begin Feb. 4, so Suzuki's immediate focus will be on making the NHL squad should the league's schedule continue as planned.
If Suzuki is the dark horse for the 'Canes upfront, the blue line underdog is Jake Bean, another former first-round pick of the Hurricanes. The 22-year-old is the seventh defenseman as things currently stand, so I give Bean's chance at a roster spot much higher than Suzuki's. But will he crack the opening night lineup?
The offensively gifted AHL All-Star will need to outplay the likes of Fleury or Jake Gardiner for a seat on the third pairing, as the Hurricanes' top-four is already carved in stone. But there's no doubt he will be competing for ice time all season long – he has the skill and ability to make an impact this year, even if it's in a smaller role than what he's accustomed to.
Finally, between the pipes, it appears the Hurricanes will look to Petr Mrazek and James Reimer for a second straight season. The duo wasn't spectacular last year – both goalies posted save percentages under .915 percent – and neither seemed to be able to take the No. 1 job and run with it.
So will Alex Nedeljkovic finally see playing time? In six years with the franchise, Nedeljkovic has only dressed for six NHL games. The 24-year-old has been groomed to be a future starter for the Hurricanes, but with Mrazek and Reimer both entering the final years of their contracts, it seems more likely Nedeljkovic will play one more AHL season before he sees a full-time promotion.
Potential Opening Night Roster
With that said, here's the likely opening night lineup as the Hurricanes prepare for the 2020-21 season:
| | | |
| --- | --- | --- |
| LW | C | RW |
| Niederreiter | Aho | Teravainen |
| Svechnikov | Trocheck | Necas |
| Foegele | Staal | Fast |
| Dzingel | Geekie | McGinn |
| Martinook | Shore | |
| | | |
| --- | --- | --- |
| LD | RD | G |
| Slavin | Hamilton | Mrazek |
| Skjei | Pesce | Reimer |
| Gardiner | Fleury | Nedeljkovic |
| Bean | | |
Overall, there aren't too many surprises with this lineup. The Hurricanes roster was already well built, which is why they were one of the quieter teams during the free-agent frenzy. But that also indicates Hurricanes brass is happy with what they've got – both in the team they're icing and their rich depth when it comes to prospects.
The NHL is aiming for a Jan. 1 start date, which would mean training camp in December, but nothing is set in stone yet. With the steady rise in COVID-19 cases in both Canada and the U.S., it's possible the season's start could be delayed even further.
---
---
Matt Cosman is a Sheridan College print journalism graduate from Oakville, Ontario. I've been with THW since 2019 covering the Carolina Hurricanes, one of my favorite childhood teams. When I'm not in my hockey bubble you can probably catch me jamming out on the piano or losing money at the poker tables.