For hockey fans, the holidays are a special time to not only be with family but also see some of the best prospects on an international stage. This year it will be different, as COVID-19 may force you to not be able to get together with your family. Fear not, you will still be able to watch the World Juniors starting on Christmas Day. For Montreal Canadiens fans, it should be an exciting time as there is expected to have quite a few of the team's prospects which will include a returnee from last year's United States team, Cole Caufield.
However, there will be other interesting prospects to watch out for. Here are the team's top five prospects expected to play in this year's tournament in Edmonton and Red Deer.
Cole Caufield, RW Team USA
As previously mentioned, Caufield should be returning, barring an injury. The 19-year old had a rough tournament last year and will be looking to play a bigger role this time around. He should be playing a top-six forward role throughout the tournament.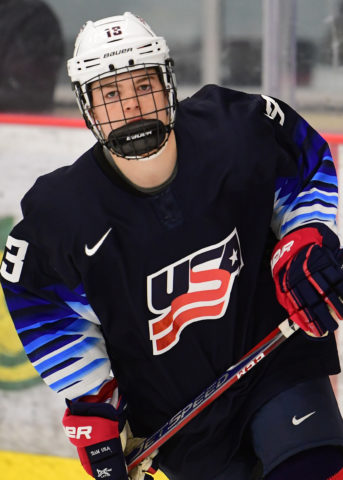 Caufield could be relied upon more to score big goals with his returning status. While most of last year's big forwards should be returning, a new coach should allow Caufield to have better forwards to play with this time around. Last year, Caufield's single goal was an overtime winner. Therefore, there is no reason not to expect some more big goals from him.
Caufield will be starting his NCAA season with the Wisconsin Badgers on Nov. 13, so he'll be able to get his game going before the final cuts and tournament.
Kaiden Guhle, D Team Canada
The Habs 2020 first-round pick, Kaiden Guhle, could be playing a big role for Team Canada in this year's World Juniors. While he is expected to make the team according to some analysts, unlike Caufield, he is no lock to be there. However, his two-way style should be a very good asset for Team Canada to have. With most of last year's defensive core graduating, he has a legitimate chance to be there.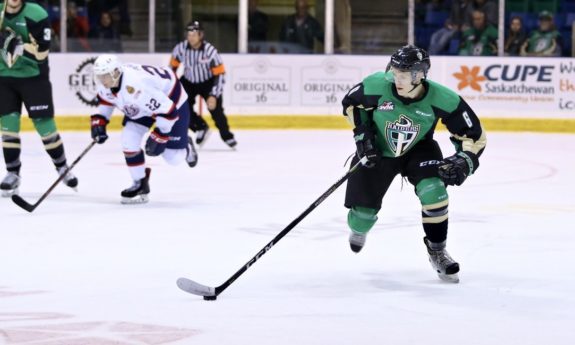 Guhle along with other 2020 draftee Braiden Schneider will be fighting for a top-four role on Team Canada's blue line. There are other options as well but Schneider looks like Guhle's biggest competition to play with returnee Jamie Drysdale, which means if things go as expected, Guhle could be playing a big role on Canada's blue line.
Guhle's two-way game will give him an advantage over a lot of other less physically developed defensemen, as he would fit well with a smooth-skating defenseman like Drysdale. His game would also be very suitable to play the penalty kill for Canada during the tournament. While he definitely needs to beat out a few defensemen to make it, his style of play is in his favour.
Jan Mysak, C Team Czech Republic
Jan Mysak was selected 48th overall this past NHL draft by the Habs. The Czech forward is expected to have a big role for his country heading into the tournament.
He has already started his season in his native Czech Republic in which he has only played a single game. However, the fact that he and many other Czech prospects have played some hockey gives them a slight advantage on many opponents. There will be a lot of players in Team Canada's camp, for example, who haven't played a competitive game since March, which will hurt their performance to start.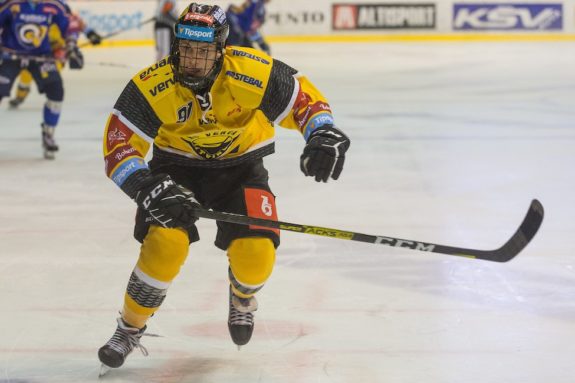 On top of that, Mysak has suited up in three international games as of recent where he is second in points behind fellow 2020 draftee Jaromir Pytlik on the Czech team. With that being said, Mysak should use his shifty offensive talent to great use in the upcoming World Juniors.
Jayden Struble, D Team USA
Jayden Struble was a second-round pick of the Habs in 2019. He should be making a Team USA that will include at least another Habs prospect. While this would be Struble's first time going to the tournament, he's pretty close to a lock as he would be one of the older guys attending the USA selection camps. However, he will still need to make sure to be on his game to assure his spot.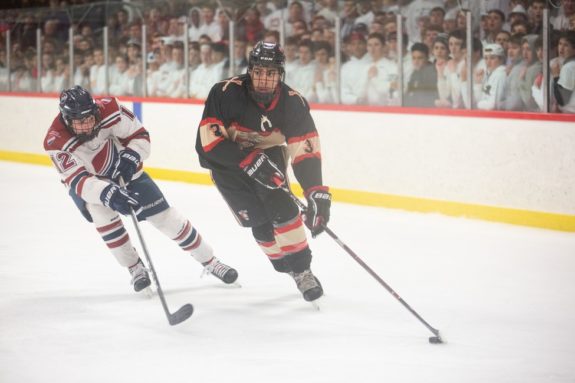 Last year, his Northeastern University teammate Jordan Harris was on Team USA and it is seemingly now Struble's turn. While both are good defensemen, Struble's athleticism makes him the better of the two going forward. His game consists of a strong puck-moving game and throwing the body when needed. This will prove to be a great asset for Team USA.
Unlike Caufield, despite playing in the NCAA, Struble's division has not created a return to play format yet. Therefore, he may have a disadvantage to some Americans but he should still be fine.
Luke Tuch, LW Team USA
For the fifth player, I was contemplating between Luke Tuch and Sean Farrell as both are on the cusp of being on Team USA. However, Tuch got my vote as I believe he has a better chance of making it in a bottom-six forward role. Tuch would add a grittier side that Farrell just won't be able to. Both are skilled enough to be a player on the team but when it comes down to it, there are better players than Farrell for a scoring role on the team and fewer guys who have grit. Therefore, Tuch seems like the best choice for the fifth Habs prospect to watch.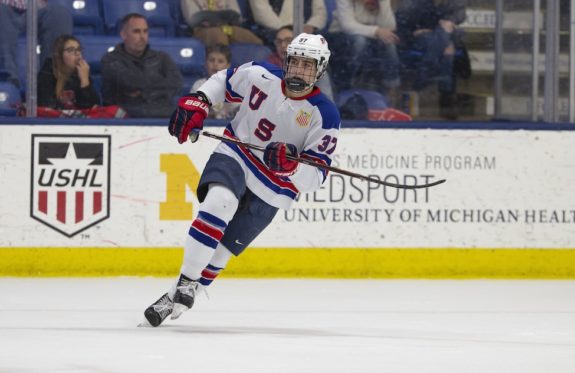 He was selected with the 47th overall pick and one pick before fellow prospect Mysak. He is also the brother of Vegas Golden Knights forward Alex Tuch. However, Luke's game is more about grit compared to Alex's. That's not to say Habs didn't get a good player, he will just project as more of a third liner than a top-six forward.
With that being said, Tuch will also be the same type of player for Team USA in a more of a shutdown role if he can make the team.
Other Notables to Watch For:
Alexander Gordin, RW, Team Russia: He is a sneaky goalscorer in the Russian Junior leagues and could be a darkhorse to make Team Russia on Christmas Day. However, it wouldn't be all that surprising. He was selected in the sixth round by the Habs this past draft.
Sean Farrell, LW, Team USA: As previously mentioned, the Habs' fifth-round pick could sneak his way onto Team USA with his skills, but he won't be able to carve out a role in the top six. If the US decides they want to go with a more skilled lineup at the bottom of their roster, it is possible he takes that spot from Tuch.
---
---