It was nearly impossible to miss the Carolina Hurricanes' extraordinary run to the 2019 Eastern Conference Final. It was the first year in a decade that the Hurricanes were making headlines across the league, and the lively spirit of the team was not only garnering new interest from fans, but players as well.
After years of struggling to attract free agents to the state of North Carolina, the Hurricanes were able to sign several players of interest during the summer of 2019, including the highly sought left-winger Ryan Dzingel.
A former seventh-round pick of the Ottawa Senators in 2011, Dzingel didn't get his first taste of the NHL until December of 2015. He had been slowly improving every year, and the Hurricanes took interest in July of 2019 by signing him to a two-year, $6.75-million contract.
Dzingel was one of the go-to forwards in his later years with the Senators, averaging a career-high 17:45 time-on-ice (TOI) in 2018-19. But in his first season with the Hurricanes, we was placed in a more diminished role.
Averaging just 14:09 TOI throughout the season, Dzingel struggled to find consistency, scoring just eight goals in 64 games while recording the lowest point total of his career (29). He was also held without a point in four playoff games, and was a presumed healthy scratch for the others.
Though the 2020-21 season hangs in the balance, Dzingel is a prime candidate for a bounce-back year. With a deeper familiarity in the Hurricanes' system, more developed talent to work with up front, and this being the final year of his contract, Dzingel is in a perfect position to become a bigger contributor this coming season.
Dzingel's Career Has Been Riddled With Uncertainty
The past few hockey seasons for Dzingel have been nothing short of an unpredictable whirlwind. The bizarre circumstances of bubble playoff hockey in the midst of the COVID-19 pandemic is something all staff and players had to adjust to, but it wasn't exactly a steady ride for Dzingel before the chaos of 2020.
The Senators' remarkable run to the Eastern Conference Finals in 2016-17 was Dzingel's first full season in the NHL. That was capped off by a pitiful 30th-place campaign the following year, which officially commenced the infamous Senators rebuild.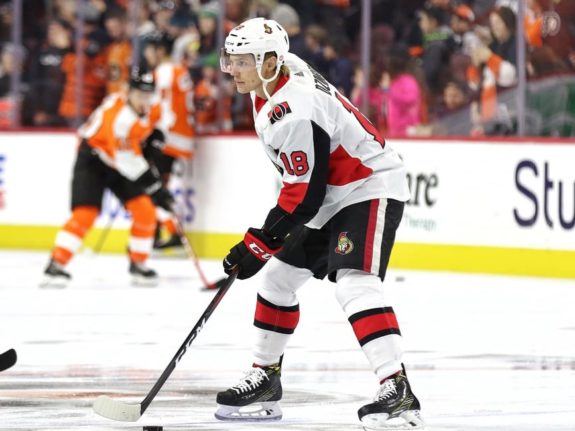 For Dzingel, although his team struggled, he broke out with a 23-goal season and climbed to the 40-point mark for the first time in his career. It wasn't until the 2019 trade deadline that he was finally shipped out in the midst of his best season yet.
With 44 points in 57 games and in the final year of his contract, Dzingel was a hot commodity on the trade market. Driven by an all-encompassing hunger for the postseason, the Columbus Blue Jackets made an aggressive move for him, shipping out two second-round picks, and forward Anthony Duclair, to acquire Dzingel as a rental player.
But even after being a part of the Blue Jackets' astonishing sweep of the President's Trophy-winning Tampa Bay Lightning, Dzingel didn't re-sign in Columbus – he chose to play for the Hurricanes.
This upcoming season will be the most important one yet for Dzingel. If he hopes to secure a new contract, with term longer than just a year or two, he needs to show he's worth the money.
Finding a Role for Dzingel
Quality of linemates is an important factor to consider when evaluating a player. In 2018-19, Dzingel played much of the season alongside center Matt Duchene, who he developed strong chemistry with both in Ottawa and Columbus.
With the Hurricanes, however, Dzingel was relegated to the third line off the jump. Head coach Rod Brind'Amour seemed hesitant to use him with a guy like Sebastian Aho or Teuvo Teravainen, despite their similar skillsets.
While Dzingel offers a sharpened blend of speed and puck skills, Brind'Amour instead chose to pair Aho and Teravainen with more physical types of players like Warren Foegele and Nino Neiderreiter. And when the Finnish duo was linked up with Andrei Svechnikov, the Hurricanes' secondary scoring went dry, and they essentially became a one-line team.
Dzingel played 30 percent of his season on a line with Erik Haula and Martin Necas. For 16 percent of the season, he and Necas played with Lucas Wallmark as his center. There's a clear drop in quality from an offensive standpoint than what he had in Ottawa or Columbus. But even as the roster stands now, there remains more of an opportunity for Dzingel next season than there was at the beginning of 2019-20.
Quality at Center is Vital for Dzingel's Success
The Hurricanes ran with a center core of Aho, Jordan Staal, Haula and Wallmark last season. That left little wiggle room for Dzingel, who thrives most when he can work with a playmaker-style center.
The major piece the 'Canes added over the season was Vincent Trocheck, who poses a much heavier threat than any Hurricanes center not named Aho. Trocheck isn't necessarily a pass-first center, but he can shoot the puck hard, plays aggressively on the forecheck and excels at the cycle game. He's also a former 75-point scorer with the Florida Panthers in 2017-18.
The Hurricanes have been rumored to be in the market for another top-six forward, so Brind'Amour and company still may not see Dzingel as a viable option to play with Aho or Trocheck. The 'Canes have some feasible trade targets this offseason if they choose to bolster their offense via trade. But if they choose not to go that route, Dzingel could be the hidden weapon they've been searching elsewhere for.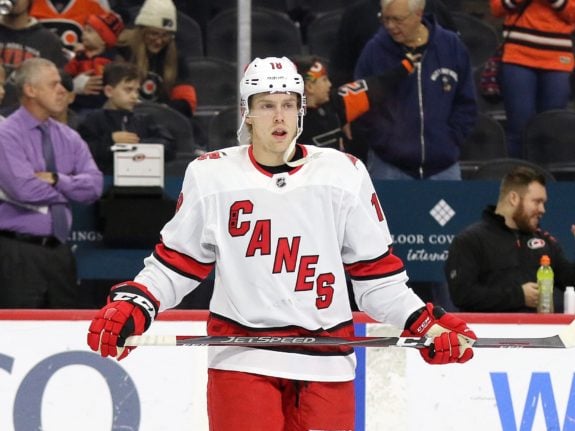 Looking at the Hurricanes' bottom six forwards, there aren't a lot of guys who can generate offense on their own. Players like Brock McGinn, Jordan Martinook, Staal, and even Foegele are effective grinders, but don't create much in terms of chances.
Dzingel is more of a complementary forward – a guy who can't necessarily drive a line on his own, but has the toolkit to boost other players who share his mindset. Skilled forwards need skilled linemates, and there were too many cases throughout the Hurricanes' season where a quality scoring chance would die on the stick of a guy better suited to play lower down the lineup.
If put in a position to succeed, Dzingel can be a valuable asset. With the motivation of being in a contract year, more familiarity with Brind'Amour's system and the fresh start of a new season, Dzingel should be poised to play a much bigger role in the Hurricanes' system next season.
---
---