The Stanley Cup was just awarded to the Tampa Bay Lightning, and Victor Hedman, the Goliath-like 6-foot-6, 229-pound defenseman, played out of his mind, seemingly going to a level of play above the rest. In 25 games played, Hedman recorded 22 points (10 goals, 12 assists) and was a plus-13, earning him the Conn Smythe Trophy (awarded to the playoff's most valuable player).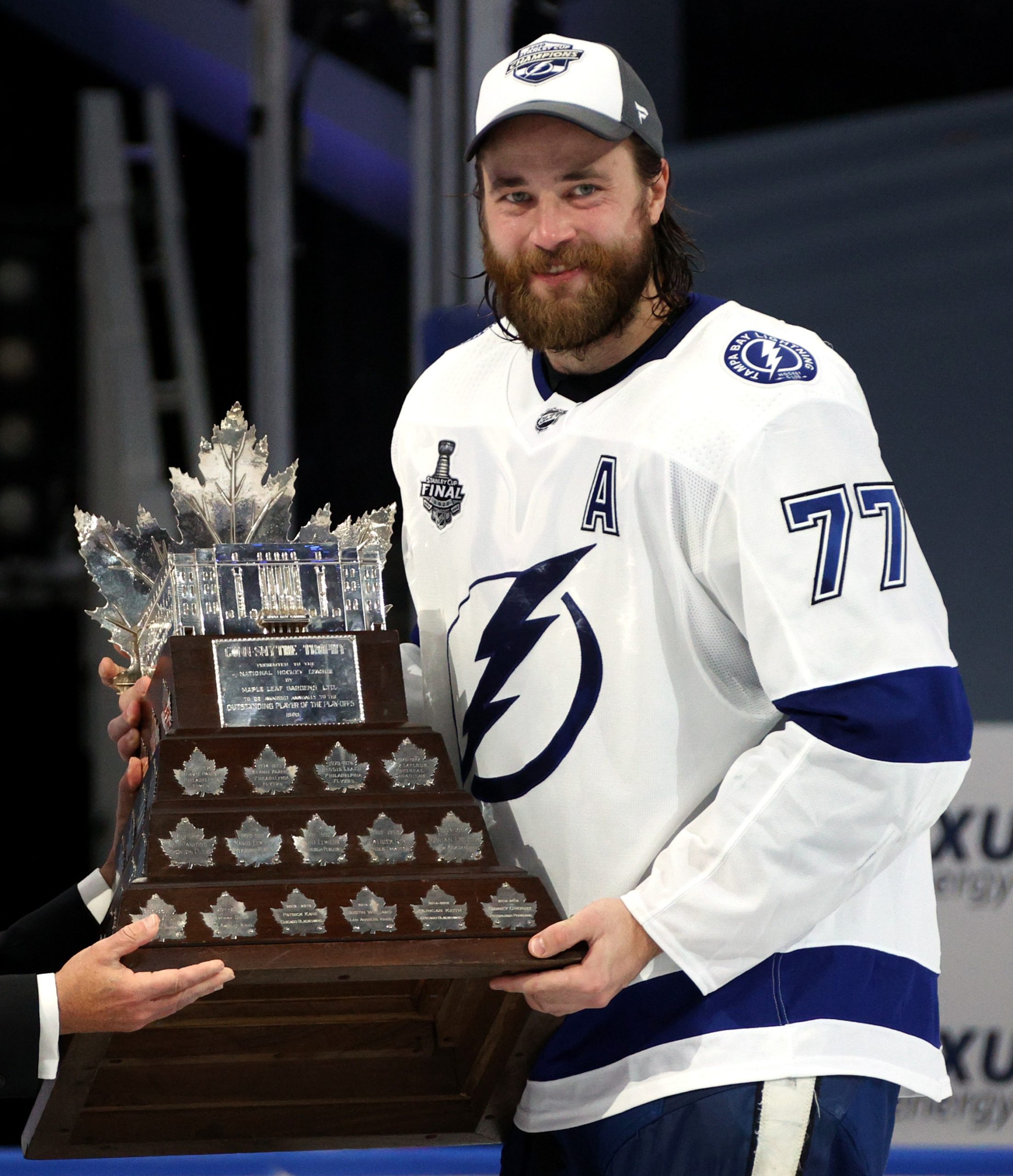 There was one young man who was watching Hedman extremely closely: Owen Power. The future University of Michigan Wolverine is draft-eligible in 2021 and admittedly models his game after Hedman. "The Big Dog" as he is affectionately referred to by his former Chicago Steel club, is already a mammoth of a 17-year-old boy, standing 6-foot-5 inches and weighing 214 pounds.
The 17-Year-Old Mammoth
Born on Nov. 22, 2002, in Mississauga, Ontario, Power played his U15 and U16 AAA in the Greater Toronto Hockey League for the Mississauga Reps and was named captain in his U16 season. Afterward, he signed with the Steel of the United States Hockey League. A left-shot defender who is described as extremely athletic and fast for his size, he and his coaches agree his footwork and skating are amongst his best attributes.
In his first USHL season, 2018-19, he played 58 games, scoring 25 points (11 goals, 14 assists). He only logged 10 penalty minutes though he does not shy away from punishing opponents with his hulking frame. He received second-team All-Rookie honors and the Steel were runners up in the Clark Cup Final. They were unceremoniously swept 3-0 by the Sioux Falls Stampede.
USHL Defensman of the Year
Power's second season saw him greatly improve, playing 45 games and tallying 40 points (12 goals, 28 assists). He was voted a first-team All-Star after leading all defensemen that year in total points, and all of this as a 17-year-old. The Steel were honored with the Anderson Cup for the first time in team history. This trophy is awarded to the USHL team that accrues the most points in a single season.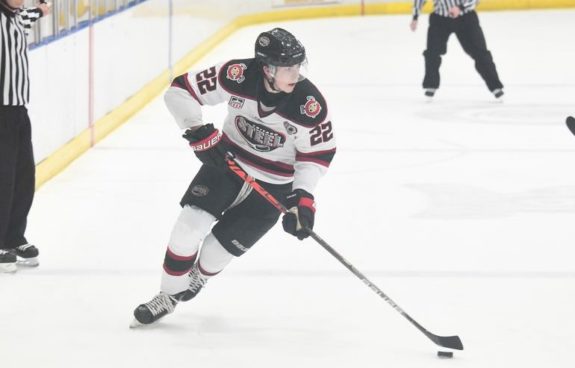 At the stoppage of play due to COVID-19, Chicago was the only team to have secured a playoff berth and was on pace for a historic year. The Steel finished with stunning 83 points and a record of 41-7-0-1, setting a franchise-record winning percentage (.847) with a 4.94 goals per game average. The season also included not only one, but two 13-game winning streaks. 
Power was part of a stacked team, no doubt, but that does not take away from his level of play. "He plays a physical fast-paced style, has great speed and skating ability," says Craig Button, Director of Scouting for TSN, who ranks Power No. 2 on his early draft board rankings. "He shows outstanding hockey sense and feel for the game," said Button.
Steel coach Brock Sheahan says, "Obviously he's talented, that's not his greatest asset. The greatest asset for him is his mind and his approach. Every rep he does is to the best of his ability and most people don't do that. It's not only on the ice, that's in the weight room, that's in video sessions, he takes advantage of every moment of his development."
Sheahan also says, "He's incredibly smart and a great skater. He works on his footwork every day, all the time. His ability to see the game and see plays that players up top don't even see, seeing the game is one of his best attributes, his offense is elite." If the Red Wings draft Power in the 2021 NHL Entry Draft, he may instantly slot into the lineup after a season playing against older and bigger competitors at the NCAA level.
Power would not only be able to quarterback the first power-play unit, with his size, speed, and defensive skills he can easily slot in on the penalty kill. These were two major areas of concern last season for the Red Wings. He has made it a point to say he models his game after Hedman and his compete level after Sidney Crosby. This boy could be a franchise-changing defenseman in the making.
The Future of Detroit
Let's face the facts: the Red Wings did add a lot of new talent in free agency. These include defensemen Troy Stetcher and Jon Merrill, forwards Bobby Ryan and Vlad Nemestnikov, and goalie Thomas Greiss. There are promising prospects producing in the SHL: Lucas Raymond, Moritz Seider, Jonatan Berggren, Theodor Niederbach, and Joe Veleno to name a few.
The Red Wings will still finish in the bottom-five of the league next season. They will be more competitive, but there will be plenty of losing. If you believe in Dom Luszczyszyn's Game Score Value Added model, the Red Wings added 5.9 wins next season. That is only 11.8 more points (From 'NHL offseason by the numbers: Which teams have improved the most (and least)?' The Athletic, 10/21/20).
General manager Steve Yzerman brought in these young veterans to do two things: make the team more competitive and be a presence in the young locker room so a demoralizing losing culture that we have not seen the likes of since the Dead Wings era does not develop.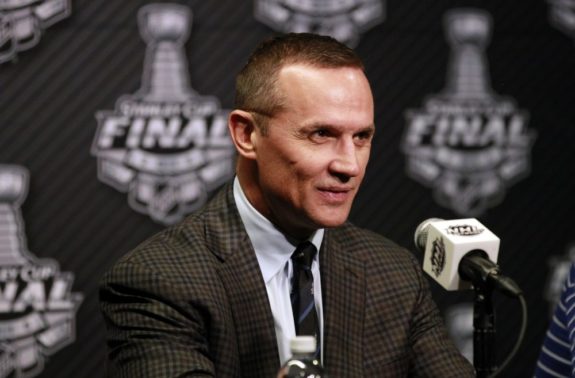 The Red Wings need a bonafide No. 1 defender to shore up the blue line for the next 15 years. That player is Power. He is dripping with the attributes of what a Red Wing is made of. Art Regnar of NHL.com asked Kris Draper directly at the post-draft presser, in short, "What attributes do you look for in a Red Wing, is I.Q. high on the list?" Draper began by saying, "It is probably the one thing that is toughest to improve on. It's something we put a priority on," he said, "We want players that can think the game, there's a lot that they can improve on." To sum it up, the Red Wings want high hockey I.Q. before they are drafted.
We heard it straight from the horse's mouth – the Red Wings want big, fast, smart defenders. Look at the teams that made deep playoff runs – they all had big, fast, smart defensemen. Max Bultman says, "The charge of getting the Red Wings back into contention falls onto more shoulders than just Draper's. It takes an entire franchise. But as Yzerman has preached building through the draft, the department Draper now helms has a massive hand in shaping the future of the franchise." (From 'What Kris Draper's first draft taught us about the direction of the Red Wings,' The Athletic, 10/15/20)
The Red Wings will finish in the bottom-five next season and will again be basement dwellers in the league, although more competitive basement dwellers. Depending on which side you are on, this is upsetting or a bright spot to gain a high draft pick. No matter which way you slice it, the Red Wings future is taking shape.
---
---