Ever since it became known to the public that star winger Artemi Panarin was not willing to begin contract negotiations with Columbus Blue Jackets general manager Jarmo Kekalainen, it seems like everyone and their mother have taken to Twitter with their mock trades involving the 27-year-old Russian. Simply put, imaginations are running wild with the idea that Kekalainen will look to deal Panarin to get some value back instead of losing him for nothing via free agency.
Kekalainen has stated that he would like to keep Artemi in Columbus long-term, but that might not be his choice. Kekalainen must also come to grips with the prospect that this may just be Panarin's last year in Columbus — but even in that case, it would be wise of him to try to get something back in return.
'Artemi is an elite National Hockey League player. Our position is that we want him to be a Blue Jacket for many years and that has not changed. He has a year left on his contract, so there is plenty of time to work towards that end. Should anything change moving forward, we will address it at that time and any decision we make will be in the best interest of our club.' – Jarmo Kekalainen
It is a lesson that the Islanders have recently learned. I believe this is a scenario that the Carolina Hurricanes can benefit from, as well.
All things considered, would dealing another pending UFA left winger in Jeff Skinner for Panarin make sense for both teams? For the right price, it just might.
Time to Trade Panarin Might Be Now
Acquiring Panarin from the Chicago Blackhawks back in the summer of 2017 was nothing short of a godsend for the Jackets organization. They finally had a superstar forward that could carry a line after Rick Nash's decline and subsequent departure.
Panarin proved all of those who said that he was being propped up by Patrick Kane wrong when he produced the highest-scoring season by a Columbus player in franchise history and helped 2016 third-overall pick Pierre-Luc Dubois gain some confidence and swagger in his first NHL campaign. The marveling of Panarin's work in Columbus appears that it will be short lived, however, as he and Kekalainen are currently not on the same page when it comes to his future with the Jackets.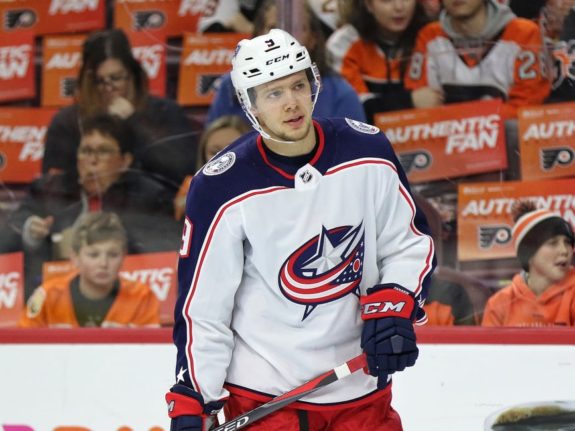 In the spirit of fairness, Panarin's sentiments towards signing long-term in central Ohio may very well change between now and when he is due to become an unrestricted free agent next July. We saw Jacob Trouba request a trade from the Winnipeg Jets only to decide to stay and sign a bridge deal with the help of an arbitrator this offseason. However, as mentioned on Dimitri Filipovic's Hockey PDOcast on July 27, Panarin's value diminishes the closer we get to July 1, 2019. If Kekalainen senses that he and Panarin are too far apart, dealing him sooner rather than later would be the best course of action.
It can also be assumed that, given their young, capable core, the Blue Jackets to maintain a similar compete level even if they deal Panarin, so a return of mostly futures is probably not in the cards. A return involving relatively cost-controlled roster players in or near their prime is what I believe Kekalainen should and will be seeking. This is where the Hurricanes come in.
All-In on Artemi
Let me start by saying potentially mortgaging a future of projected perennial playoff contention for one year of Artemi Panarin's services would not be a very shrewd decision on the part of Don Waddell and his staff. But what if it wasn't just one year of his services? I'd say if Waddell could work out what would essentially be a sign-and-trade deal with Columbus, they should look at all possible angles to try and acquire talent as dynamic as his.
Now, if that is all squared away, what could the package to acquire Panarin look like? There is no doubt in my mind, as a starting point, that Jeff Skinner has to be involved for the sake of both clubs. Like Panarin, Skinner has one year left on his deal, is a shoot-first left winger, and is just entering his prime. Of course, Panarin showcases much more of a dynamic arsenal of ability than his counterpart, but we would also be wise to remind ourselves that during his eight-year career, Skinner has averaged 28.9 goals per 82 games with a career-high of 37 in 2016-17.
At only 26, Skinner is already an NHL veteran who has scored at a well above-average clip on a team that hasn't made the playoffs once since his arrival. Skinner's value, ergo, is far from busted. There is also no sign that Skinner wouldn't sign an extension in Carolina or Columbus. While he's not necessarily cost-controlled in the long-term, it isn't likely that he will earn much more than his current $5.73-million average annual cap hit on a new long-term deal, whether that is with the 'Canes or elsewhere.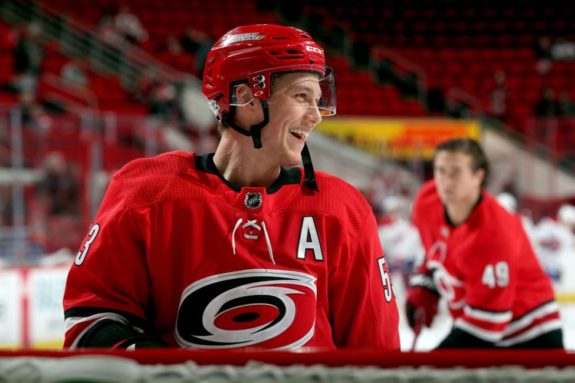 In addition to Skinner, I would imagine that at least one other roster player would be included. Defenseman Justin Faulk would fit the bill in more ways than one in that he fills a need on a Columbus team that could use another solid right handed defenseman to play in front of David Savard and behind Seth Jones, and in that he is fairly cost-controlled at a $4.83-million cap hit for the next two seasons. Faulk would bolster that defense corps and he and Skinner together would help Columbus maintain a similar compete level with the absence of Panarin. This also makes sense for Carolina, as they would be able to keep most of their core for the future and deal Faulk from a position of strength.
Panarin for Skinner and Faulk, realistically, is likely too lopsided in the Hurricanes' favor. I'm sure a top prospect (not named Andrei Svechnikov) or a couple of top picks would need to be involved as well. It would certainly be a steep price for the Hurricanes, but as the saying goes, "You get what you pay for." Artemi Panarin would be a huge add for the 'Canes, but as he will potentially soon be on the open market anyway, 'Canes management may just shoot their shot next July instead.