The Carolina Hurricanes need Jordan Staal and Eric Staal to have strong seasons if they want to contend. The Staal brothers came together to help break the playoff drought that has plagued Raleigh. Eric Staal has stepped up his game so far this year but Jordan has struggled offensively. Eric Staal is in a contract year and failed to sign an extension this off-season. If the team struggles again this year it might be the last chance both Staal brothers play in a storm jersey.
The 'Canes Offensive Struggles
The 'Canes haven't been able to score goals consistently this season. It is a problem that has plagued the team for years. Last season the team started off horrendous and fans wanted to belive healthy Jordan Staal would have at least stopped that downfall. Staal is healthy and has played in every game this season. He is also pointless and the team is still struggling to win games.
Jordan Staal: "You can't have a flat start like that and expect to win many hockey games." #Canes pic.twitter.com/pNFDAzdCg8

— Carolina Hurricanes (@NHLCanes) October 14, 2015

Before coming to Raleigh, Staal was known for his defense and ability to kill penalties but the hope was his offense would bleed through when he wasn't playing behind Sidney Crosby and Evgeni Malkin. That offense hasn't come through for Staal since the trade. Staal is the teams second highest paid forward and will be making $6 million a year until 2020-21. They need him to not only play strong defense and kill power plays but they need him to provide that offense they expected with his bigger role.
Not Time to Panic
Jordan Staal came to Carolina to play a bigger role then he did in Pittsburgh. Injuries have stopped him from showing his full potential, but he came into this season healthy. So far the healthy Staal has no points this season and again the team is in the bottom of the league in goals per game. Luckily, it is too early to panic, and a certain change might help bring Staal out of his slump.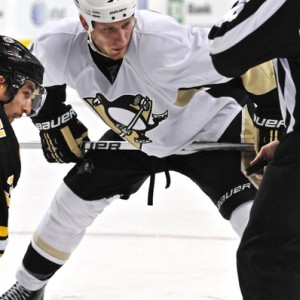 A change in line-mates will help the big center get into an offensive groove. Staal has played mostly on an even strength line with Andrej Nestrasil and Nathan Gerbe. Nestrasil does not seem like the kind of player that can raise Staal's offensive game. Gerbe is a veteran grit player that has had success offensively but isn't a player that will help pull another guy out of an offensive slump. Staal needs to move to a line that can push him offensively.
Skinner and Staal
It might be time for Jeff Skinner and Jordan Staal to spend time together at even strength. Both players need great seasons if the Hurricanes want to contend. Putting Staal and Skinner on the same line could build much need chemistry for both. People might argue both players play a different style of hockey, but something needs to happen to light a fire under both offensively.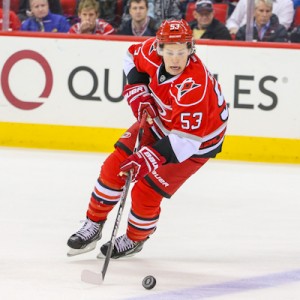 Splitting up the current lines could benefit all players. Jeff Skinner Jordan Staal and Andrej Nestrasil is a solid second line behind Eric Staal, Kris Versteeg and rookie Brock McGinn. The first line has already shown a much-needed offensive punch. A third line of Nathan Gerbe, Elias Lindholm and Victor Rask could add a lot of energy and danger for opposing teams with the raw talent of the two young Swedish players and the veteran grit of Gerbe.
Even if it isn't Jeff Skinner, another veteran skilled forward needs to play big minutes with Staal to see if they can spark some extra offense. Versteeg could help out Jordan but Versteeg is already showing chemistry with Eric on the top line. Adding either Elias Lindholm or Victor Rask on a line with Jordan Staal could help but it would put them in unfamiliar positions.
This season Cam Ward and the talent filled young defense gave the team a chance to win. If they can throw even a few more pucks in the net this team could become a sleeper to contend for a playoff spot. Sparking Staal to produce more could truly have a great effect on the entire team. This is a big season for Jordan Staal. With thoughts of his brother possibly leaving the franchise for good after this season, this might be the last chance they have to find success. The Hurricanes will need more offense from Jordan Staal in an important season for player and franchise.